Yosemite National Park braces for 2021
Fewer campgrounds, lodging and facilities available this spring and summer in the park's phased re-opening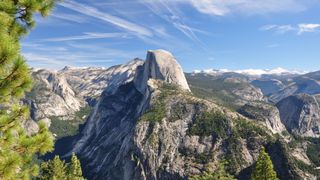 (Image credit: Getty)
If you're planning to head to Yosemite National Park this spring or summer, you'll need the right hiking and camping gear and probably a lot of patience, too.

The popular California park will begin its busy spring and summer season with more open campgrounds, more available hotel rooms and more dining spots than last year after re-opening after the Covid-19 shutdown. There's even a newly revamped bar and pizza place scheduled to open in April.

But park officials are making it clear that it won't be a return to normal as it was in 2019. All hiking trails will be open, but, with lingering pandemic health precautions, park officials are planning to have a phased re-opening with fewer staff and limited services and accommodations available this spring and into the summer. They haven't ruled out caps on park admission and requiring reservations for entry, as Yosemite did last summer.
"Summer operations will definitely have a modified stance, as they did last year," Yosemite spokesman Scott Gediman told the San Francisco Chronicle. "We're continuing to monitor conditions and look at things at a regional level and that will guide what we do. But it's our goal to offer as many services to visitors as we can."
Park officials have already decided that park shuttles won't be available, some campgrounds and hotels won't open and the internationally famed High Sierra Camps will remain closed. Visitor centers also will generally be closed, though rangers will staff outdoor information kiosks and be present at major attractions. Additionally, masks will remain a requirement indoors and on heavily trafficked trails, and occupancy in shops and dining areas will be limited to allow for social distancing.
The park is sticking to its usual schedule for the lottery for coveted Half Dome day-hiking permits. If you're eager to get one, you'll need to apply by 9 pm PT on March 31.
Assuming the Half Dome season will mirror traditional dates prior to 2020, it will result in about 225 day-hikers being allowed access each day from May 28 through October 12. Successful applicants will be notified in mid-April. (A permit will not be honored if the cables on the approach to the summit aren't installed on its stated date.)
A non-refundable fee of $10 will be charged for each application, which can cover a party of up to six hikers. When the permit is claimed, an additional $10 per hiker will be charged.
A person can submit just one application per season, and that person or the named alternate must be part of the hiking party that uses that permit. The request can be submitted for specified dates or a range of dates. Yosemite's website shows the most popular request dates of the last season.
For those who don't get a permit through the lottery, approximately 50 permits per day will be available in daily lotteries during the hiking season. For those lotteries, applications can only be submitted 48 hours in advance.
Backpackers who want to make Half Dome part of a longer trip should apply for a hiking permit via a wilderness permit and not through the day-hiking lottery.
In 2020, when the hiking season was cut short by Covid restrictions, 23,239 people applied for permits, and 36 percent received them. The previous year, there were 34,098 applicants and a 28 percent success rate.
The permit system was instituted in 2010 to control crowds on the popular trail. It had been drawing close to 1,000 hikers on many summer weekend days, and the wait to start up the cable section sometimes approached 45 minutes.
Known for granite cliffs and domes, abundance of towering waterfalls, giant sequoia groves and snow-capped peaks, Yosemite is one of the most popular parks in America's National Park Service system. It typically attracts more than 4 million people each year, but attendance dropped by more than a third because of the closure and precautions related to the Covid-19 pandemic.
Park officials are trying to accommodate vacation plans and the many gateway communities where hotels, restaurants and souvenir shops relay on park visitors while also making sure health and safety precautions remain a priority. Conservation groups are concerned about reopening parks too quickly after the pandemic, noting that the nation's wildlands could be overwhelmed – and damaged – without adequate staffing and services in place, like restrooms.
The National Parks Conservation Association, which advocates for park protections, has called for Yosemite to revive the day-use reservation policy.
"It is extremely difficult for our economy, businesses and individuals to plan for summer operations outside the park without knowing what limitations will be in the park," said Jonathan Farrington, executive director of the Yosemite Mariposa County Tourism Bureau.
All the latest inspiration, tips and guides to help you plan your next Advnture!
Brian is an award-winning journalist, photographer and podcaster who has written for Runner's World, The Times, Outside, Men's Journal, Trail Runner, Triathlete and Red Bulletin. He's also the author of several books, including Kicksology: The Hype, Science, Culture and Cool of Running Shoes. He lives in Boulder, Colorado, and loves to run, bike, hike, camp, ski and climb mountains. He has wear-tested more than 1,500 pairs of running shoes, completed four Ironman triathlons, as well as numerous marathons and ultra-distance running races.