A robust, practical, innovative and good-looking three-season hiking boot that promises plenty and delivers a lot.
Pros
+

Lightweight

+

Innovative features

+

Comfortable

+

Good grip
Cons
-

Men's in blue, women's in pink… really?
inov-8 Rocfly G 390: first impressions
inov-8 make some bold claims for their new inov-8 Rocfly G 390 hiking boots. The brand states the "unique Graphene-infused G-FLY foam supercharges your feet so you can hike further than ever before".
inov-8 was the first to use Graphene in their running shoes. Graphene is a very hardwearing material and inov-8 added it to the soles of their trail running footwear from 2018 to give durability and high levels of grip. inov-8 call the product Graphene Grip.
Then, earlier this year, came G-FLY Graphene foam, which inov-8 say delivers "25% greater energy return". It debuted in the award-winning Trailfly Ultra G 300 MAX trail running shoe. Now the same graphene foam has been introduced to these hiking boots.
The boots also have what's called an "Adapter Flex" groove, which allows it to react to the terrain "with the type of agility usually reserved for trail running shoes".
Graphene Grip rubber aids traction on rough ground, while a fabric upper offers comfort while balancing support, protection and breathability.
Further features of the invo-8 Rocfly G 390 hiking boots include a 6mm heel-to-toe drop (25mm heel / 19mm forefoot), a 6mm "power footbed" and a lug depth of 4mm.
The forefoot fit is Grade 5 – inov-8 fit scale in the toe box is 1 to 5, with 5 being the widest.
The boots are meant for use on hard and rocky terrain including paths, trails and the road. They feel lightweight at 390g each boot.
inov-8 Rocfly G 390 hiking boots have been severely trail tested by James Forrest, who wore them when setting a new record time for a solo and self-supported 500-mile hike of Great Britain's National Three Peaks.
Specifications
• RRP: $210 (US) / £175 (UK) / €200 (EU)
• Gender specificity: Male / Female
• Sizes available: Men's UK 6 - 13; US 7 - 14 Women's UK 3 - 8.5; US 5.5 - 11
• Materials: Fabric upper, with Graphene Grip outsole
• Weight (average): 390g
• Colors: Men's Black & Blue Women's Black & Pink
inov-8 Rocfly G 390: on the trails
Sizing
The inov-8 Rocfly G 390 boots feel very comfortable from the moment you slip your feet inside. They offer a roomy forefoot, which is good if you're going to be hiking long distances or on a warm day because this allows for a bit of natural foot swell. However, if you have a very narrow foot, the width '5' might be too wide for you.
Despite the room at the forefoot, the heel cup and lacing system allow you to get a secure foot fit. The ankle area is nicely cushioned.
Cushioning
The underfoot cushioning feels luxurious. It's not so cushioned that you can't feel the ground you're walking on but it provides the sense that your feet will not tire too quickly or ache. I am not sure about the "supercharge" claim but they certainly gave a bit of a bounce to my step and I greatly enjoyed walking in them.
Stability
As inov-8 suggest, these hiking boots feel like trail running shoes but with the support and stability of a boot. The ankle cuff is comfortable but not overly stiff. The sole feels agile and flexible. This means the boot has a great balance of flex but with adequate support.
Compatability
I have worn the boots for walking on tarmac, trails, muddy paths and over rocks and through water. They offer good traction on all these terrains. This review was written after some initial testing in autumn, but I will most likely use the boots in all seasons except high-level winter mountains. They are versatile and would suit a range of activities, from dog walking to hill hiking.
It's important to note that the uppers are water resistant and not waterproof, so this might affect when you choose to wear them.
Protection and breathability
The design of the upper combines protection and breathability. At the front and sides of the boot are durable overlays that are located where the fabric is most likely to need protection from rocks, stones and vegetation on the trails. There is a double-layered toe guard, which further increases protection.
Durability
Having tested other inov-8 products that include graphene I can report that they are long-lasting and durable. The chances are the sole will far outlive the upper but this is fine because, in many cases, the soles of shoes and boots made by other brands wear out before the uppers.
Design
I know that looks shouldn't matter when choosing a hiking boot, but the design and colors are great (although blue for boys and pink for girls is a bit lacking in imagination).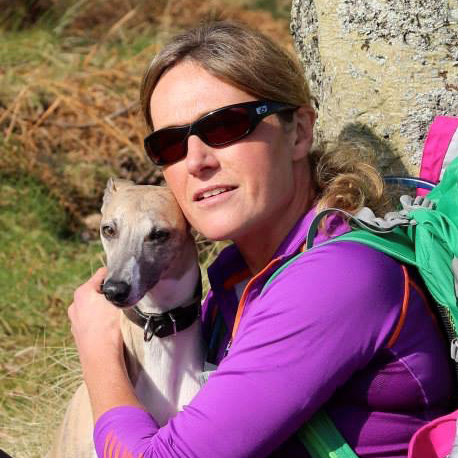 Fiona Russell is a widely published adventure journalist and blogger, better known as Fiona Outdoors. She is based in Scotland and is an all-round outdoors enthusiast with favorite activities including trail running, mountain walking, mountain biking, road cycling, triathlon and skiing (both downhill and backcountry). Aside from her own adventures, Fiona's biggest aim is to inspire others to enjoy getting outside and exploring, especially through her writing. She is also rarely seen without a running skort! Find out more at Fiona Outdoors.