How to clean a tent to keep it fresh and functioning well
Our easy guide to how to clean a tent makes sure your best gear lasts a long time so you can keep enjoying great adventures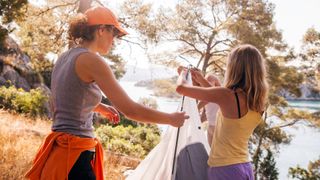 (Image credit: Getty)
Knowing how to clean a tent will make your shelter a much more pleasant place to be for adventures year after year. Us camping folk don't tend to mind a bit of rough and a little dirt, otherwise we wouldn't be in the game at all. If our tents didn't get dirty, we'd be doing something wrong. Grime on your gear is all part and parcel of the outdoor lifestyle.
However, even us adventurous types have to draw a line in the dirt at some point. Here at Advnture, we advocate giving all our gear a good clean once a year. A good spring clean gets everything spick and span for the trips to come. Better still, this increases the lifespan of our kit, not to mention making us look more presentable on Instagram!
As one of the most cherished pieces of kit, cleaning our best camping tent is part of this yearly ritual. It's likely your shelter will have been a sizeable investment and it makes sense to want to extend its lifespan and make it a pleasant place to be. Once you know how to clean a tent, you'll realise just how quick and easy it can be.
So, without further ado, roll up those sleeves, get the hot tap running and let's delve into how to clean a tent.
How to clean a tent: what you'll need
A large basin or tub of lukewarm water
A non-abrasive sponge
Fragrance-free, mild dish soap
Tent/gear cleaner (see bottom of this guide)
Step 1: Prepare your tent
Start outside on the driveway on a dry day or in your garage if possible to keep your home dirt-free. Unzip the doors of the tent and shake it out thoroughly to release as much sand and dirt as possible from the pockets and crevasses. You can also use your vacuum cleaner here – just be gentle, you don't want to cause damage to the fabric.
Step 2: Spot clean your tent
If there are stains on your tent, before soaking you'll want to take a damp sponge, add a few drops of dish soap and spot clean those areas first by rubbing them gently.
Step 3: Soak your tent
Next, move indoors so you have access to a large tub like your bath or sink. Fill the tub with lukewarm water and add the tent/gear cleaner per the directions on the bottle. Turn the tent inside out and soak it in the water along with the rain fly for the specified amount of time. Every so often, move the tent around with your hands to work the cleaner through. Make sure not to soak the tent for any longer than specified on the bottle as that could damage or weaken the fabric.
If there's a lot of dirt in the zippers, take an old toothbrush and clean them gently.
While the tent is soaking, you can wipe down any grimey poles or pegs.
Step 4: Rinse your tent
Empty the tub and refill it with clean water. Slosh the tent around gently in the water to rinse off any soap and cleaner.
Step 5: Dry your tent
If you have the space available, the best way to dry your tent is to pitch it away from direct sunlight for a few hours until it's completely dry. Alternatively, sling it over a clothes horse or drying line, and be sure to turn it over after a couple of hours.
After cleaning your tent, you may want to re-waterproof it as the treatment wears off over time allowing moisture in. Learn more in our article on how to waterproof a tent.
Once your tent is completely dry and feeling fresh, zip it back up and pack it away in its bag so it's ready for your next adventure.
Can you wash a tent in a washing machine? No
Your best one-person tent can stand up to the worst of the mountain elements, right? So, surely it can cope with a spin in the washing machine?
The simple answer is, no. Never launder your tent in the washing machine. There are loads of reasons why this is a terrible idea. For starters, the nylon in tent fabrics is liable to stretch way beyond what it reasonably should, weakening your tent. There's also the danger of the fabric's polyester tearing.
One of the big selling points of tent cleaning products is that they maintain your shelter's waterproofing or enhance its UV shield. However, washing your tent in the washing machine will damage or completely remove its waterproof coating and its UV protection, significantly reducing its ability to fend off the worst of the wet and the sun's damaging rays.
A tent's seams are sealed with tape, which relies on adhesive to stay in place. A tumble in the washer can cause the tape to lose its adhesion and come loose, opening up gaping holes in your fabric.
If we were able to go back in time and ask Sean Connery what he thinks of a tent in a washing machine, he'd likely say: "It's a bit of a mesh." And this is before we've even got onto the subject of mesh itself! Most tents feature mesh in their widows, doors and ceilings to enhance their breathability while keeping bugs at bay. However, it is way too fragile to be putting in the washing machine and will likely tear apart, leaving a gaping invitation for ticks, midges and mosquitos.
What's that Sean?
"Like I shaid, it's a bit of a mesh."
Best tent cleaners
Only the finest will do when it comes to your cherished adventure shelter or your best family tent. The best tent cleaners are designed to not only give the fabric a new lease of life but to also maintain their waterproofing and add UV protection.
Nikwax are industry leaders in terms of cleaning products for technical adventure gear and their Tent & Gear Solarwash gets out stamp of approval. Compatible with tent fabric, boat covers, backpacks and patio furniture, it features spray-on application that increases the strength of the fabric and adds UV protection. Best of all, it's water based, biodegradable and contains no PFCs. The Tent & Gear Solarwash maintains a tent's water repellency but doesn't add to it – for that, you can apply Nikwax's Tent & Gear SolarProof once you've finished the cleaning cycle.
Other leading cleaners include Fabsil's Tent + Gear Cleaner and Fenwick's Cleaner for Awnings and Tents. The Fabsil option removes dirt and odours from the fabric and, like Nikwax, protects the water-repellency of your tent without compromising performance. Fenwick's Cleaner is a great budget option and comes in a large, trigger spray bottle.
All the latest inspiration, tips and guides to help you plan your next Advnture!
Julia Clarke is a staff writer for Advnture.com and the author of the book Restorative Yoga for Beginners. She loves to explore mountains on foot, bike, skis and belay and then recover on the the yoga mat. Julia graduated with a degree in journalism in 2004 and spent eight years working as a radio presenter in Kansas City, Vermont, Boston and New York City before discovering the joys of the Rocky Mountains. She then detoured west to Colorado and enjoyed 11 years teaching yoga in Vail before returning to her hometown of Glasgow, Scotland in 2020 to focus on family and writing.