How to clean a tent to keep it fresh and functioning well
By Julia Clarke
Our easy guide to how to clean a tent makes sure your best gear lasts a long time so you can keep enjoying great adventures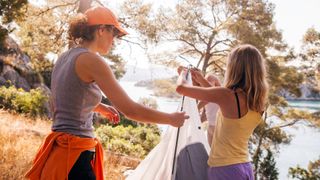 (Image credit: Getty)
Tents were made for sleeping outdoors and if you're doing it right, they'll get a bit dirty. Some grime on your gear is part and parcel of the adventure life, but after a while, your tent can start to get a bit smelly and dirt particles trapped in the zippers can make them difficult to open and close. We're giving you the rundown here on how to clean a tent to keep it fresh and functioning properly.
Let's face it, if you're going to buy the best tent for your great adventures you naturally want to make sure it lasts a long time and is pleasant to sleep in. If you camp regularly, you should clean your tent once a year, and as it turns out, it's not too arduous of a task so we break down the steps of how to clean a tent in this article.
Here at Advnture, we like to give all our gear a good yearly clean. Check out our tips on how to wash your backpack, sleeping bag and hammock too.
What you'll need to clean a tent
A large basin or tub of lukewarm water
A non-abrasive sponge
Fragrance-free, mild dish soap
Step 1: Prepare your tent
Start outside on the driveway on a dry day or in your garage if possible to keep your home dirt-free. Unzip the doors of the tent and shake it out thoroughly to release as much sand and dirt as possible from the pockets and crevasses. You can also use your vacuum cleaner here – just be gentle, you don't want to cause damage to the fabric.
Step 2: Spot clean your tent
If there are stains on your tent, before soaking you'll want to take a damp sponge, add a few drops of dish soap and spot clean those areas first by rubbing them gently.
Step 3: Soak your tent
Next, move indoors so you have access to a large tub like your bath or sink. Fill the tub with lukewarm water and add the tent/gear cleaner per the directions on the bottle. Turn the tent inside out and soak it in the water along with the rain fly for the specified amount of time. Every so often, move the tent around with your hands to work the cleaner through. Make sure not to soak the tent for any longer than specified on the bottle as that could damage or weaken the fabric.
If there's a lot of dirt in the zippers, take an old toothbrush and clean them gently.
While the tent is soaking, you can wipe down any grimey poles or pegs.
Step 4: Rinse your tent
Empty the tub and refill it with clean water. Slosh the tent around gently in the water to rinse off any soap and cleaner.
Step 5: Dry your tent
If you have the space available, the best way to dry your tent is to pitch it away from direct sunlight for a few hours until it's completely dry. Alternatively, sling it over a clothes horse or drying line, and be sure to turn it over after a couple of hours.
After cleaning your tent, you may want to re-waterproof it as the treatment wears off over time allowing moisture in. Learn more in our article on how to waterproof a tent.
Once your tent is completely dry and feeling fresh, zip it back up and pack it away in its bag so it's ready for your next adventure.
Julia Clarke is a staff writer for Adventure.com. She is an author, mountain enthusiast and yoga teacher who loves heading uphill on foot, ski, bike and belay. She recently returned to her hometown of Glasgow, Scotland after 20 years living in the USA, 11 of which were spent in the rocky mountains of Vail, Colorado where she owned a boutique yoga studio and explored the west's famous peaks and rivers. She is a champion for enjoying the outdoors sustainably as well as maintaining balance through rest and meditation, which she explores in her book Restorative Yoga for Beginners, a beginner's path to healing with deep relaxation. She enjoys writing about the outdoors, yoga, wellness and travel. In her previous lives, she has also been a radio presenter, music promoter, university teacher and winemaker.
All the latest inspiration, tips and guides to help you plan your next Advnture!
Thank you for signing up to Advnture. You will receive a verification email shortly.
There was a problem. Please refresh the page and try again.