Camping bucket ideas: tips for getting the most out of your multi-functional bucket
Don't leave home without one! As this guide shows, a camping bucket has numerous uses around the campsite...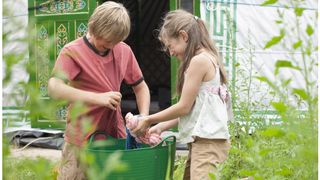 (Image credit: Getty)
We've compiled list of camping bucket ideas as broad and deep as… well, a 5-gallon bucket. Of all the things you can take camping, few have as many applications as the modest, unsung hero of the campsite, the watertight bucket.
From hauling gear from your car to your tent, lugging wood over to the fire pit and storing food, to washing hands, clothes and pots and even acting as an emergency toilet (all will be revealed), there are many ways you can put your camping bucket to use.
Gone are the days when it resembled a large paint tub with the kind of unergonomic handle that bit into your hand when weighed down by a substantial load. Today, camping gear manufacturers are designing more and more innovative models that fold away to nothing and are blessedly kind on the hands. See our guide to the best camping buckets you can buy for further enlightenment...
Camping bucket ideas: haulage
Of all our camping bucket ideas, those that involve lugging stuff around are probably the most obvious. After all, the bucket has been the go-to for carrying water since Jack and Jill went up the hill…
1. For hauling luggage
On a family expedition, the camping bucket is ideal for carrying all manner of trinkets, from bats and balls to sun cream and fishing nets. From your car to your large tent and back to the car for the trip to the beach, and then back in the car to the campsite and then over to the kids play area: the camping bucket is a fast and efficient way to transport such tools. Better still, by keeping these items out of your day pack, you're not worried about mud and sand getting everywhere.
2. Collecting firewood
Collecting firewood with the kids is always a great little micro-adventure before the campfire fun ensues. A 5-gallon bucket is a great size for collecting your medium sized sticks and twigs, as well as dry leaves for kindling. When you've removed all the fire's fuel, see if there are any creepy crawlies left in the bottom of the bucket to show the little ones.
3. Carrying your catch back to camp
If a spot of fishing is on the cards on you next camping trip, a bucket is perfect for transporting your catch.
Camping bucket ideas: storage
A bucket is watertight, which means nothing is going to leak out and, crucially, nothing is going to get in.
4. Keep your items out of the wet
A bucket can fulfil the same role as your dry bags, keeping your stuff out of the drink, should conditions turn a little bit nasty. On the other hand, it can also be used to store wet clothes, keeping them away from your other garments and saving your backpacks and suitcases from getting damp and smelly.
5. Keep your food away from scavengers
Foxes, raccoons and, in some places, even bears will be attracted to your campsite by the smell of food. You may well have brought a camping cooler box for any items that need to be kept fresh. For other food items, a bucket with a lid is the perfect storage solution.
6. Holding water for the campfire
You've already used your bucket to collect the firewood but, to ensure campfire safety, you'll also need a few liters of water ready. This is to provide the initial treatment should anyone get burned – which will hopefully never happen – and to make sure the fire is well and truly put out after use.
Camping bucket ideas: washing
7. A wash basin
A camping bucket can do the same job as your household wash basin. Heat some water on your stove and mix with cold water and you've got yourself some warm water for washing your hands, cleaning your your pots and pans, or doing a quick bit of laundry.
Camping bucket ideas: seating
8. As a chair
This is the simplest of all our camping bucket ideas. A bucket doubles up as an alternative camping chair for when you're relaxing, eating and chatting with your pals.
9. As a DIY emergency toilet
Another kind of seat your camping bucket can double up as is a toilet seat. Yes, you read that right. Simply get a 10-gallon waste bag, place it inside the bucket and add a handful of absorption medium (such as pine chips or saw dust). Fold a grocery store bag over – and slide pipe insulation around – the bucket's rim to make a soft circular seat. Add another handful of absorption medium into the smaller bag. After each use, drop the plastic bag to the bottom of the bucket and repeat until full. Dispose of contents responsibly.
Camping bucket ideas: campsite fun
10. Percussion for a sing song
Now we're not suggesting you re-enact the musical Stomp in the campsite, but along with an acoustic guitar and everyone's best singing voices, a bucket's percussive qualities add a lot to a campfire singing session. Even better if you bring a couple of different sized buckets; a 5-gallon will give you a pleasing low floor tom pitch, while a 3-gallon makes for an excellent high tom. Some parts of your multitool make for an excellent beater. Don't bring a cymbal – you'll only annoy your camping neighbours in the adjacent tent.
All the latest inspiration, tips and guides to help you plan your next Advnture!
Alex is a freelance adventure writer and mountain leader with an insatiable passion for the mountains. A Cumbrian born and bred, his native English Lake District has a special place in his heart, though he is at least equally happy in North Wales, the Scottish Highlands or the European Alps. Through his hiking, mountaineering, climbing and trail running adventures, Alex aims to inspire others to get outdoors. He is currently President of the London Mountaineering Club, training to become a winter mountain leader, looking to finally finish bagging all the Wainwright fells of the Lake District and hoping to scale more Alpine 4000ers when circumstances allow. Find out more at www.alexfoxfield.com