Why buy a proper water bottle: 6 reasons they're not just for drinking
Six of the best reasons why you should take a proper water bottle with you on the trails for your next adventure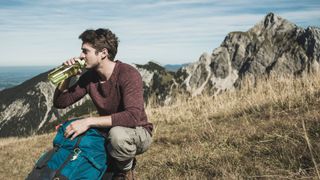 (Image credit: Getty)
The messaging around the production and purchasing of single-use plastic containers has been pretty hard to miss over the last couple of decades, so we're going to start this piece by assuming that you know the primary reason for using a reusable water container is to stop you going to hell for buying one of the estimated million plastic bottles a minute that are sold across the planet.
We've all been caught out at one time or another, parched and with no H20 source to hand, but if you're regularly grabbing a bottle of plain-and-simple cloud juice from the store instead of bringing some perfectly good tap water from home on your escapades, then there's a problem with your planning.
But there are several other good reasons to have a trusty reusable bottle with you on your outdoor adventures, besides simply saving your soul.
1. Hot water bottle
When you're camping, even in the warmer months, temperatures can suddenly head south after sunset, and shivering in your sleeping bag can make for a very long and uncomfortable night – possibly ruining what should be an enjoyable experience. One top tip from seasoned campers is to boil some extra water shortly before bed and make an impromptu hot water bottle from a good quality water bottle. When doing this, it's very important that you don't fill the bottle right to the top (leave around a quarter empty) and that you let the water cool a little bit before putting the lid on, because otherwise steam will expand in the bottle and that can have unfortunate consequences (lids and bottles can fail and scolding can happen). Once you have followed these instructions, pop the bottle in a hiking sock (to avoid burning yourself), stick it into your sleeping bag before crawling in, and voila! In addition to warming your sleeping bag up, you will have a bottle of pre-boiled safe-to-drink water right there waiting for you in the morning.
2. Camp cooking multitool
One of the oft unspoken truisms about backpacking and camping is that, once you're all set up and darkness has descended, there isn't much to do except gather around the fire/stove, chat and cook – the lack of modern distractions being one of the reasons we love it. But the point is, cooking the main meal can become the major focus of the evening, and yet you are out there with very basic and limited utensils and ingredients. A good quality bottle is invaluable in such scenarios, as a measuring jug – some Nalgene-style bottles have various amounts marked out on their sides, usually in liters, but regardless, you will know how much your bottle holds. A bottle can also be used to decant hot liquids – such as stock, sauce or soup – into while cooking, if you're working with one pot or pan.
3. Safe, all-purpose drinking vessel
The best reusable bottles are now all made with BPA-free materials, which means potentially harmful chemicals will not leach from the container into whatever liquid you are supping. Obviously, during the day when you're tramping along a trail, you're going to need to keep hydrated, so you will be sipping water from your trusty bottle. In camp, however, you can use such a bottle as a drinking vessel for anything from your morning coffee to a goodnight-Irene hot chocolate, or even as a holy grail for holding a tot of wine or a firewater nightcap – thus dispensing with the need to take a mug, if you're looking to save space or weight.
4. Water treatment device
If you're out on the trails or mountains for several days, you will need to replenish your liquid supplies from fresh water sources along the way – such as streams, springs and snow banks – and often this will necessitate purifying the water before it is safe to drink. One way to kill most harm-causing bacteria, pathogens, and organic impurities is to boil water for several minutes, but this of course then requires decanting the hot liquid into something until it has cooled down sufficiently to be drinkable – something like a good-quality bottle. Other purification methods involve adding doses of chemical elements such as iodine, chlorine or silver to water, but to do this effectively and safely, you need to know exactly how much water you are starting with – something can that can be achieved with a water bottle that has volume markings on the side (in ml or oz increments), or which you know to hold a certain amount.
5. Ease of carry
Many good water bottles designed for repeated outdoor use will be styled to fit in the purpose-made mesh bottle pockets found on the side of most backpacks, making them much less likely to fall out even if you take a tumble on the trail. Others will feature lids integrally connected to the neck of the bottle by plastic loops, which not only vastly reduces the risk of a lost cap (after which a bottle is rendered useless) but can also be looped through a bungee cord on a backpack, or even on the front of a kayak, to prevent the loss of the entire bottle.
6. High functionality
The best bottles out there are the ones specifically designed for use on the trails and in the campsite. There a many different styles available, and you need to decide what features are the most important to you, whether it's having an insulating double skin to keep drinks warm or cold for longer, or featuring a wide neck to make refilling pitstops quick and easy, or boasting a straw coming out of the top that you can access while you're moving, or being transparent and featuring volume markings on the side, so you can see exactly how much liquid you have to play with.
Remember, you won't get any of these things from a single-use plastic container, and it's pretty damn sweaty and hot in hell, so you're going to end up with quite the thirst to slake with an inferior bottle.
All the latest inspiration, tips and guides to help you plan your next Advnture!
Author of Caving, Canyoning, Coasteering…, a recently released book about all kinds of outdoor adventures around Britain, Pat has spent 20 years pursuing stories involving boots, bikes, boats, beers and bruises. En route he's canoed Canada's Yukon River, climbed Mont Blanc and Kilimanjaro, skied and mountain biked through the Norwegian Alps, run an ultra across the roof of Mauritius, and set short-lived records for trail-running Australia's highest peaks and New Zealand's Great Walks. He's authored walking guides to Devon and Dorset, and once wrote a whole book about Toilets for Lonely Planet. Follow Pat's escapades on Strava here and instagram here.