Best camping tech: innovative gadgets for every kind of camper
By Sian Lewis published
The best camping tech is designed to enhance your camping experience, whether in the campsite or in the wild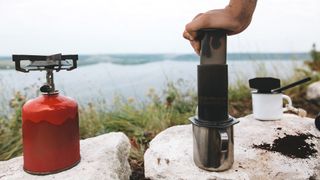 (Image credit: Getty)
There's no doubt that the best camping tech enhances any trip away, whether you're car camping, at a festival or backpacking. The best camping tech is designed to make your life easier, so that you can get on with doing whatever it is you came for, be it spending quality time with the family, worshipping your favorite band on the main stage or hiking your way to mountain summits.
But what do we mean by the best camping tech? Of course, one of the main reasons we escape to the outdoors to sleep in a shelter made only of thin fabric and fiberglass poles is to flee technology and the trappings of modern life, to get away from the constant hum of our cities and unwind with nature. So we're not suggesting you bring all your laptops, iPads and portable consoles along. The last thing you want is an email from work popping up when you're trying to relax.
Therefore, our list of the best camping tech is instead focussed on innovative gadgets and gizmos that slip seamlessly into your great escape, occupying a place in your tent but not detracting from the experience. Some of this tech is simply the best in its class for something you'd be bringing anyway.
You're going to be making coffee, so why not do it with the ingeniously efficient Aeropress. You're going to need to cook food, so why not do it with one of the best camping stoves out there: the BioLite Campstove 2, which can charge your other gadgets while you're at it?
So, here's a guide to our top 10 of the best camping tech out there...
The best camping tech: our top 10 picks
BioLite Campstove 2
This wood-burning camp stove is more than the sum of its parts. It doesn't just cook food and boil water (although it does both very well) – it also converts heat into electricity, so you can charge your phone, headlamp (see our best headlamps for compatible models!), camping light, or other tech whilst you cook dinner outdoors. There's even a dashboard to show you battery status. It's a hefty size and weight, so best used for camping holidays rather than backpacking trips.
We Drifters anti-insect sleepwear set
Tropical adventures and camping in hot climates are great – until you end up covered in insect bites. Come bedtime, pop on We Drifters' set of soft bamboo pyjamas, which are treated with a permanent anti-insect repellent to keep mosquitoes and other biters, including bed bugs and ticks, at bay (although you'll still need to spray your feet, hands and face - for this, check out our best insect repellents). Ideal for sleeping in midge country up in Scotland/Canada/Sweden as well as camping in warmer climates.
Biolite Nanogrid light
The clever little NanoGrid is a lighting and energy hub that's so compact it fits in the palm of your hand. This versatile gadget holds enough juice to power three smartphones, and also doubles up as a powerful torch, a softer lantern ideal for your tent, or even a set of bright fairy lights, which you can hang from trees or tents using a 6m cable. You'll never need another light for sleeping out-of-doors – and it'll keep your phone topped up when wild camping, too. The Nanogrid is featured on our list of the best camping lanterns.
Lifestraw personal water filter
The simple-yet-ingenious Lifestraw makes contaminated water safe to drink. This nifty straw contains fibers that filter water and will completely change how you go backpack camping. No more heavy water to cart along on your back - as long as there's a source of H20 along the route, such as a lake or river, you can filter any water (except seawater), cleaning out bacteria and making it totally safe. Lifestraw also uses some of its profits to provide schools with safe drinking water, so buying one is a win-win. For more on why you might want to buy a Lifestraw, check out hydration packs vs water purification.
Sitpack Zen camping chair
Believe it or not, this compact little tube is actually a comfortable chair just waiting to happen. Ideal for festivals and camping trips, the Sitpack Zen chair pops easily into a rucksack (or even into your bag's water bottle pocket), and folds out when you need it into a comfortable and durable one-legged chair made with carbon fiber and aluminum tubes, coupled with a nylon seat. Sitpack even reckons the ergonomic design of the Zen chair improves posture and helps with neck and back pain, which is ideal if you usually spend a lot of time sitting in a traditional chair. For more camping-specific pews, check out our best camping chairs.
Aeropress coffee maker
If you just can't function in the morning without a hot cup of joe, even when you're camping, swap heavy, fiddly cafetieres for a light, portable Aeropress, which is essentially a french press you can chuck in a rucksack. Just add fresh coffee, fill up with hot water and then plunge after a few minutes for a proper cup of coffee even when you're miles from civilization.
Highlander solar shower
Starting to feel a little crusty after a few days of camping? Do your tent mates a favour and have a wash with this nifty solar shower. Leave it out in the heat of the sun for the day whilst you're off hiking and you'll come back to 20 litres of warm water to sluice yourself off with. This bargainous little bag is also great for doing the dishes, washing muddy dogs and hosing down wetsuits.
Tentsile Connect 2-man tree tent
Futuristic-looking Tentsiles are fantastic fun and are designed to be suspended between trees to create an elevated sleeping platform with a tented roof, a fusion of tent, hammock and slackline. We find them much comfier than sleeping on the ground - a good choice if traditional camping tends to hurt your back. On warm evenings you can sleep under the mesh outer layer and watch the stars, or put up the waterproof outer fly to stay protected in bad weather. One to buy if you already have a traditional tent and fancy something fun and different. It's simply one of the best 2-person tent models out there and one of the most innovative to boot.
Goal Zero Nomad 7 solar charger
Multi-day wild camping trips and long-distance trails are amazing ways to go exploring – but roaming far from power supplies will quickly drain your phone and camera, which isn't ideal if you want to track your route on a mapping app or take photos of your adventures. The solution is to strap Goal Zero's Nomad 7 solar charger to the outside of your backpack or tent. It charges up quickly when exposed to sunlight, and then you can plug your tech directly into it. It's also lightweight and folds up easily for storage. For more on-the-go power sources, check out our best solar chargers.
Gotenna Mesh GPS system
Another great innovation for explorers and more adventurous campers, Gotenna's lightweight GPS device is small enough to clip onto your rucksack – and comes into its own when you're out of phone signal. It allows you to send texts and your GPS location without any internet or WiFi access required, keeping you connected and allowing you to get help in the unlikely event you get into trouble in the mountains. One to invest in if you regularly camp in the wilderness.
An award-winning travel and outdoors journalist, presenter and blogger, Sian regularly writes for The Independent, Evening Standard, BBC Countryfile, Coast, Outdoor Enthusiast and Sunday Times Travel. Life as a hiking, camping, wild-swimming adventure-writer has taken her around the world, exploring Bolivian jungles, kayaking in Greenland, diving with turtles in Australia, climbing mountains in Africa and, in Thailand, learning the hard way that peeing on a jellyfish sting doesn't help. Her blog, thegirloutdoors.co.uk, champions accessible adventures.
All the latest inspiration, tips and guides to help you plan your next Advnture!
Thank you for signing up to Advnture. You will receive a verification email shortly.
There was a problem. Please refresh the page and try again.