The best men's running leggings and tights 2023: for warmth and comfort
Our selection of the best men's running leggings and tights for runs, day hikes, low-alpine treks and backpacking adventures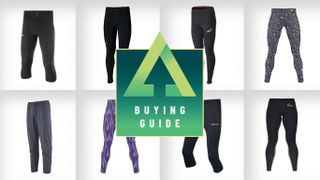 (Image credit: Future)
We have trail tested the best men's running leggings and tights for all seasons, comparing suitability for running, low-alpine trekking, and more rigorous multi-day hiking, and considering their value and aesthetics in different landscapes and weather conditions.
The best men's running leggings and tights – you can also check out our selection of the best women's running leggings – provide protection against the cold and various hazards that come with exposing your bare legs to the great outdoors, such as sunburn and aggressive flora and fauna, including ticks and leeches, and stinging plants like nettles.
Alongside the best trail running shoes, leggings can be classified as an essential piece of kit for runners, especially in colder climates (but also for protection against the sun in hotter climes and at altitude, where the air is thinner and UV radiation is more intense). Hill walkers, hikers, bikepackers and backpackers wear leggings for layering, particularly in cold weather and in the mountains, and they can even be used as thermal bottoms if you're getting cold in your sleeping bag while camping.
Some people wear leggings for extra insulation, some for protection and others for muscle compression (due to oscillation) and for aiding venous return. Your primary reason for seeking out the best men's running leggings and tights will inform your decision on which style to choose, and we have covered a wide range of options here. Leggings can also be versatile, as we explain in this handy guide to 5 non-running uses for running leggings.
The key elements we've highlighted in the best men's running leggings are next-to-skin comfort, breathability, stretchability, durability, as well as value for money and their environmental impact based on the materials used.
The best men's running leggings and tights
Stretchy, extremely comfortable and well-featured three-quarter length men's running leggings that work brilliantly in various conditions
Specifications
Compatibility:
Trail running, mountain running, running, mountain hiking in warm temperatures, climbing
Reasons to buy
+
Three pockets
+
Fast-drying
+
Good odor control
+
Reflective details
Montane are mountain endurance specialists, so you know you're getting a top notch product when it's branded with their logo. Although these leggings are three-quarter length, they work well in different temperatures, due to their unique odour control and Quartz skin fabric, which offers cooling in hot conditions. The X-Skin hyper stretch material means they don't feel too tight or restrictive, as some leggings can. Another big plus is the Apex dry mesh panels behind the knee, which mean less chafing and enhanced ventilation. There is some reflective detail on the logo, a safety feature when you're wearing them on lanes at night, and they boast plenty of storage, with two side pockets and one zipped back pocket.
Read our full Montane Via Trail Series ¾ Length Running Tight review
Versatile, high-performing and smart-featured leggings that have been well-thought-through by people who run trails
Specifications
Compatibility:
Trail running, road running, hiking, skiing, orienteering, cycling, field sports
Reasons to buy
+
Stylish and sleek
+
Moisture wicking
+
360-degree stretch elastane allows for a full range of motion
+
Durable construction
Inov8 make runner-friendly gear that is easy on the eye, so there is no problem with the aesthetics of these leggings. The high-back waist, complete with soft gripper tape, provides a stylish and comfortable fit and makes the Elites a versatile piece of kit that can be worn for other activities, besides running. The durability of these tights is enhanced by their calf panels, which add protection against hillside foliage and rocky outcrops. They were an excellent fit on test, and never too tight, which suggests a good trade off between compression and comfort. Sweat wasn't a problem due to the wicking properties of the fabric, which expels excess moisture away from the body. Ankle zips make them pleasingly easy to get off in cold weather, and pockets are always welcome for stashing gels and keys. A reflective panel at the back helps keep you safe when sharing lanes with vehicles after dark. They do have a slightly synthetic feel next to your skin, and polyamide is yet another petroleum based material, but these are problems that are ubiquitous at the performance end of the leggings market.
Read our full Inov-8 Race Elite Men's Leggings review
3. Patagonia Strider Pro
Outdoor-active non-tight leggings that provide protection from wind, rain, flora and fauna on the trails
Specifications
Compatibility:
Trail running, running, day trekking, climbing (before and after)
Reasons to buy
+
Ethically made from recycled materials
+
Silk-like comfort
+
Wind-resistant
Reasons to avoid
-
No gusseted crotch or extra panels
-
No compression
A cross between a legging and runner bottoms, the Strider Pros are the perfect pants for long runs in the mountains or on multi day treks and runs, where you need a bit of extra warmth and wind resistance. They both look and feel extremely comfortable, although their thin material would rule them out for both climbing and cycling. They are very pack-downable, so if you need to take them off and stow them in a pouch or running pack, that's a tick. Indeed, they pack away into themselves, with an internal pocket (handy for carrying gels/keys while you're running) doubling up as a stuffsack when you take them off. Light and stretchy is the verdict here, while the snaps on the bottom of the legs make it easy to get them off over trail running shoes, which in cold conditions, is a massive bonus. Other features include a reflective logo on left thigh for safety on dark lanes. And, true to Patagonia's general outlook, the Strider Pro are made from 100% recycled polyester (which is an ultralight and ultrafast-drying material) as well as being a certified Fair Trade sew product.
Ankle-length running tights that perform well on the trail
Specifications
Compatibility:
Trail running, road running, hiking
Reasons to buy
+
Good wicking
+
Comfortable next to skin
+
Rear zipped back pocket
Reasons to avoid
-
Sizes are large
-
Not as light as others
-
Limited colors
First off, the Columbia-Montrail Bajada look and feel good and are very comfortable next to the skin. They are an ankle-length legging, which makes them suitable for bashing through thicker foliage and ploughing through gloopy mud. Their USP is Columbia's Omni-wick trademark properties, which pulls moisture away from the skin to allow sweat to evaporate. Other features include a zip pocket at the rear, which is useful for essentials (gel, credit card, keys). Billed as being 'built for speed and comfort', we had no problem with that description and found that they performed well on a variety of trail-running terrains and while out in various different temperatures. The sizes seem to come in large compared to most European models, so check the size guide carefully.
Read our full Columbia Bajada II review
5. Salomon S-Lab NSO Mid Running Tights
Super technical running tights that perform at the highest level
Specifications
Compatibility:
Trail running, mountain running, swim running, hiking (as undergarment)
Reasons to buy
+
Extremely quick drying
+
Functional fly opening
+
Super lightweight at 80g
+
Two to three year warranty
Lets start with the real life measurables (we'll get to the techie jargon later). We first took these beauties out of the box for a spin in conditions close to zero (with wind chill) and they kept us perfectly warm. The next day we wore them in warm spring-like temperatures, and they felt nice and cool. We loved their feel and lightness, and although they're intended as an undergarment – the base layer to be worn under shorts and a popper belt if you need extra storage – these extra appendages are probably unnecessary. Made from Polyamide and elastane, the levels of which are graduated through the layers, Salomon's technology team have called the system they have come up with here 'Advanced skin active dry technology'.
All NSO products use ceramic particles to 'naturally activate the body's own energy flow'. The circular patches on the Salomon NSOs grip on to the skin but not in a tangy, rubbery way. Salomon call them the 'Enso' circle, and they're located at trigger points around the legs and 'symbolise the flow of energy between mind and body'. Rather prosaically, Salomon's French experts claim the system 'reflects and self activates the body's energy flow', helping the body to recover during exercise. The Salomon next-generation team claim they help to enhance muscle tone, recovery and balance while keeping the body temperature to 37.5 degrees using infrared reflection, through their metallic oxides. It's hard to measure all that out on the moor, but we did like their performance levels. There was absolutely no chafing, even when they were wet through, and they dry super quickly. Other features include easily accessible side pockets, and there's even a functional fly at the front.
Tailor made to highly accurate bespoke measurements, these are top-end high-performance leggings
Specifications
Compatibility:
Trail running, road running, hiking, skiing, orienteering, cycling, rugby, field sports, gym
Reasons to buy
+
Excellent (graduated) compression fit to reduce muscle soreness
+
Silver treated to combat odor
+
Suitable for asymmetrical body types
Reasons to avoid
-
Hard to get on
-
Only come in black
You already know you're getting the five-star treatment from UK-based Kurio, as handmade leggings are their USP and their bespoke 3D measuring service is second to none. This is reflected in the price (which can be reduced by 30 per cent by submitting your own measurements through their website). The skintight fit makes getting the leggings on slightly tricky, although the Performance tights, which come marked with P stitched on the back, are slightly roomier. Their other categories are Recovery and Travel. Once on, they are comfortable and sufficiently warm to wear in most temperatures. The fabric offers UV protection and is coated on the outside with silver (an anti bacterial agent), which protects against build up of odor.
Read our full Kurio Performance Compression Tights review
Super comfortable, eco-conscious leggings that perform well in any conditions
Specifications
Compatibility:
Trail running, road running, hiking, skiing, orienteering, cycling, field sports
Reasons to buy
+
Extremely soft and comfortable
+
Suitable for warm or cold conditions
+
Durable and machine washable
Reasons to avoid
-
Heavier than some performance-end leggings at 200g
-
Stretchy around the waist, but not so much around the knee
If you've worn bamboo clothing before, you will know what you're getting with these leggings, as the clue is in the name. If you haven't had the pleasure, we can confirm that bamboo is as soft as a baby's bottom when worn as a fabric against the skin, and has the added bonus of being a much more environmentally friendly material than synthetics. In fact Bamboo calculates that buying one pair of these tights is equivalent to saving 360 days of drinking water (compared to other production methods and materials, presumably).
Straight off the bat, these looked and felt warm, snug and comfortable. Bamboo Huccaby's calf panels help set them apart from the often monotone world of men's leggings and they are easy to get on or off, with their elastic waist pull. They can be used as a base layer, but they're aesthetically appealing and tough enough to be worn on the outside too, and bamboo's natural properties mean they are suitable for warm or cold conditions. The zipped back pocket is also handy for stashing gels or a key.
Read our full BAM Huckaby Bamboo Running Leggings review
Warm but breathable leggings with pockets, which are unmissable on the trail
Specifications
Compatibility:
Trail running, road running, hiking, skiing, orienteering, cycling, field sports
Reasons to buy
+
Warm for winter runs
+
Surprisingly breathable
Reasons to avoid
-
Color an acquired taste
-
Synthetic materials
You will either love or hate the look of the Flanci Purple Flames. If you like to stand out in a crowd – then these are for you. But if you are someone who likes to blend in with nature rather than startle it, the inclination, as you get ready to run, may be to wait until dark. But it has to be said, there's nothing wrong with having a mixed wardrobe to match the occasion and in some weathers you can do with all the cheer you can get. Suffice to say, Flanci targets their leggings at people who like their colors sunnyside up, which may rule out a lot of middle aged men. In terms of performance, they are definitely thick enough to stay warm in, and didn't feel claggy on the trail. And they also come with pocket pouches on both the thigh and back area, which is a big tick.
Read our full Flanci Purple Flame review
9. Flanci Buffalo
A slightly lighter legging, comfortable in milder weather, guaranteed to get you noticed on the tracks and trails
Specifications
Colours:
Navy blue with assorted buffalo icons
Compatibility:
Trail running, road running, hiking, skiing, orienteering, cycling, field sports
Reasons to buy
+
Comfortable
+
Back pocket
+
Breathable
+
Colorful
+
Good value
Reasons to avoid
-
Too colourful!
-
Synthetic materials
It is hard to know which of Flanci's leggings are more controversially colorful. The Buffalo are definitely flamboyant, which once again may rule out a lot of less-attention-fond runners and riders, but might appeal to those who don't mind standing out from the pack. The Buffalo leggings are comfortable next to the skin, if you're more used to wearing polyester, with just the right degree of stretch. They are thinner than the Flanci Flames, ideal for when the worst of the winter is behind you. Unlike the Flames, there is no thigh pouch, but the back pocket gets a big tick.
How to choose men's running leggings
Leggings are leggings, right? Well, not really – there is a wide selection of garments out there that can be grouped under the title 'leggings', and they vary enormously. The best men's running leggings depend on what you're looking for them to do. Following are some considerations about features and fabrics that you should factor in when making a decision about what constitutes the best men's running leggings and tights for you.
Do I need pockets?
For most people, pockets are have become an absolute prerequisite in their running gear, whether you like to drive to your start point, race in your leggings, run with a dog (when you'll need to take poo bags), or just go for long-distance outings that require you to carry gels and maybe a compass or car keys.
Can you/should you wear them under a second layer?
Some of the best men's running leggings are designed as undergarments, while others can be worn on their own. Lots of people do prefer to wear shorts over the top when running or hiking, and if conditions are really cold then you may need another long layer.
How environmentally friendly are they?
Many synthetic products are petroleum based, so ask yourself how good is this to be near your skin? But we have yet to find more than a couple of companies who can combine the elasticity and durability with a material that is fully sustainable. Keep pushing though and they will have to find the answer. Bamboo is a natural material that will biodegrade. Look out for the Blue Sign label and check their origins.
Thickness and durability
Although these two things often come hand in hand (the thicker a garment the tougher it is), that's not always the case. And you need to factor in breathability too – leggings can definitely be too warm. The best men's running leggings will feature different material thickness in various key areas. Look for details like a change of fabric or mesh behind the knee, to allow for better breathability. Also, ask whether the manufacturers have considered chaffing around the crotch area? The best men's running leggings build measures to prevent this into their design.
How quick drying are they?
This is a question worth asking, as some products are made for warmer climates, rather than northern hemisphere downpours, which renders them fit for two or three seasons only. For all their environmental downsides, synthetic leggings don't take on too much weight when they get wet, they continue to offer warmth even when damp, and they dry quickly.
Should they be tight?
No necessarily, although most running leggings will be close fitting to cut down on material flapping around in the wind, which is annoying and will impact performance. Compression is considered to aid recovery, as well as performance, but it's still an unproven science.
All the latest inspiration, tips and guides to help you plan your next Advnture!
Founder of Wild Running and Wild Running Events, and a regular podium-placer at trail running events around the South West, Ceri has a background in journalism. He started and edited an outdoors supplement for a daily newspaper, has written for several national outdoors magazines and newspapers, and produces his own podcast. He can trace his interest in adventure back to when, as a slightly precocious six-year-old, he convinced his cousins and older sister to walk through the night into the centre of Newcastle in their pyjamas for a dare – an escapade that ended in a lift home in a police car. More recently, he became the de facto UK Snowshoe Running Champion when he was the first Brit to cross the finish line at the 2019 World Snowshoe Championships in Fondo, Trentino.