5 non-running uses for your running leggings: from yoga to travelling in comfort
Your trusty running leggings have more than one use – here we take tights off the tracks and trails and put them through their paces in other ways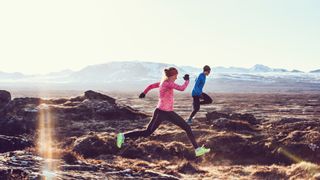 (Image credit: Getty)
A great pair of running leggings is a must in any runner's kit, but there's a lot more you can do in them than simply run. From stretching into downward dog to winterizing your cycling kit, your running leggings can be repurposed for many of the other activities you get up to when you aren't out running.
Here are five ways to get more wear out of your favorite pair. Just think of the money and drawer space you'll save!
1. Yoga
A popular rest-day choice for runners, yoga gets high points for stretching out all those tight spots runners earn, such as taut hamstrings and overworked quads. Several companies sell dedicated yoga wear, but in many cases, running leggings will do the job just as well. While baggy is definitely a yoga-no, running leggings that are form-fitting, flexible, light-weight and wicking will keep you feeling – and looking – cool in the studio. Remember, the label doesn't have to say 'yoga' for a pair of leggings to be a useful part of your yoga kit.
2. Travel
Anyone who travels frequently knows that comfort-wear is crucial to a good journey. Buttons, snaps, tight waistbands, really anything that impinges, are unwelcome traveling companions. In other words, goodbye jeans, hello running leggings! Whether you're traveling by plane, train or automobile, a cozy pair of running leggings offers a high level of comfort along with a touch of chic when paired with boots and a sweater. Another plus? Switch that sweater out for a soft, cotton tee on an overnight trip, and just like that, you're in your PJs. Running leggings with broad, high waistbands and slightly less-compressive materials make particularly comfortable travel-wear.
3. Cycling
Cycling is a fun and complementary sport to running, but many runners don't want to invest a lot of money in cycling gear when running is their main squeeze. That includes spendy leg warmers. Happily, running leggings under your padded cycling shorts will keep you perfectly toasty on those blustery fall and winter rides. The downside is that you can't ditch the running leggings as easily as you can leg warmers, should temps warm up en route, so leggings work best on those truly bone-chilling days when you know you're going to need to stay layered up.
4. Camping and backpacking
Outings with just you, a pack, and the great outdoors are all about simplicity, communing with nature, star gazing and, at times, toughing out some pretty cold temps. Being prepared for unpredictable weather is crucial, but at the same time, you want to keep your backpack as light as possible, paring down what you bring to a minimum. Running leggings make a great base layer under your waterproofs or hiking pants, adding welcome warmth when temperatures drop or the sun goes down. And when you don't need them, they pack small and are light to carry.
5. Hiking
If running leggings work well on your trail run, it makes sense that they will work well on your hike, too. True, technical hiking pants have lots to recommend them, and in wet, thorny or otherwise surly conditions, take note: running leggings aren't made to withstand lengthy time in tougher elements in the way that hiking pants or gaiters are. But here is what running leggings do have going for them: they're comfortable, with lots of give and stretch, they fit well (many hiking pants don't offer a nuanced fit, so if you're particularly curvy or otherwise outside the basic S-M-L zone, fit can be problematic) and you already own them. So for those low-key hiking outings, a comfortable pair of running leggings – especially ones with pockets for keys, nutrition and a phone – are a great choice.
All the latest inspiration, tips and guides to help you plan your next Advnture!
A seasoned writer and editor in the endurance sport space, Casey has worked with top athletes and coaches on training books and memoirs. A regular contributor to Women's Running, she especially loves writing about running and hiking adventures, which have taken her on trails around the world – including to the Indian Himalaya, the DMZ in Korea and the Tibetan Plateau. She lives in Colorado, where she's slowly chipping away at hiking all the state's '14er' mountains.