The best solar chargers: for keeping your phone, camera, GPS and MP3 player topped up in the wilderness
Check out the best solar chargers to keep your devices juiced up throughout the day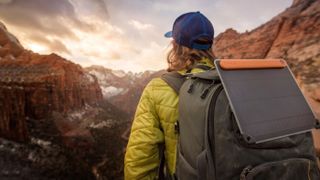 (Image credit: BioLite)
The best solar chargers have quickly become a vital piece of backpacking gear. Old timers may puff out their cheeks and scratch their beards in dismay at the way technology is invading the once-simple activity of backpacking, but the truth is that most of us now carry a phone, and frequently an MP3 player, GoPro, GPS and digital camera on our hikes. All of these power-hungry gadgets need the support of the best solar chargers to keep functioning during off-grid adventures.
Harnessing the energy of the sun is green, sustainable and a smart way to source power on multi-day trips. Portable solar panels can clip to your rucksack or hang on your tent, converting the sun's rays into electricity either directly to charge your devices or to power up a battery storage pack, which can subsequently recharge your devices overnight.
The best solar chargers are efficient in their ability to generate electricity, light to carry and easy to attach to a pack. Multiple USB ports allow several devices to recharge simultaneously, but don't expect charge speeds to rival mains power. Online user reviews also frequently express disappointment with solar panels, too, especially when used on overcast days.
The best solar chargers you can buy today
Biolite Solar Panel 5+
With an in-built battery this panel can store the power it generates during the day to power up your devices at night
RRP: $60 (US) / £80 (UK) | Weight: 390g / 13.76oz | Dimensions: 25.7 x 20.8 x 2.4cm / 10.12 x 8.12 x 0.94in | Peak power generation: 5 watts | Integrated battery: Yes – 2200mAh | USB port: 1
Solid stand
In-built sundial
Onboard battery
Corner holes to attach to a pack
A fixed, not folding panel
There's a neat little analogue sundial in this solar panel to help you align the monocrystalline panel directly at the sun's rays. Biolite reckons that a misaligned panel could cost you 30% of the available watts. The handy pull-out kickstand lets you position or hang the panel almost anywhere in camp, while there are corner holes to attach the panel to your rucksack during the day.
The in-built battery is particularly useful, storing electricity generated during the day as you walk, and then powering your devices after sunset. The device is a similar length to an iPad, but wider and thicker, which is worth considering when you assess how you will pack your rucksack. It doesn't come with a case, but it is built of tough, scratch-resistant materials. There's also the option to pre-charge the in-built battery from the mains before your trip.
Goal Zero Nomad 14 Plus
This folding panel maximises the solar area while minimising pack space
RRP: $150 (US)/ £170 (UK) | Weight: 862g/30.4g (with kickstand) | Dimensions: 31 x 40 x 0.2cm / 12.2 x 15.75 x 0.08in (folded: 31 x 20 x 1.3cm / 12.2 x 7.87 x 0.5in) | Peak power generation: 12 watts | Integrated battery: No | USB port: 1
Neat folding panels
Good potential power output
Zip pouch
Pricier and heavier than rival panels
Point the Goal Zero towards the sun, and a series of LEDs provides a guide to the strength of solar conditions – it's a good way to ensure you keep the panel facing the sun for maximum power generation, a theoretical 14 watts, hence the product's name. Plugging your device into the panel leads to an all-day trickle charge, or use the Nomad to power up a battery pack for subsequent use.
The case is notably robust, which will be welcome for any backpacking trip and clumsy camper, which helps to explain why Goal Zero is the brand you're most likely to find in the best outdoor gear suppliers.
RAVPower 21W 2-Port Solar Charger
This bargain-priced charger offers an easy entry point to solar power, and has a useful two USB ports
RRP: $60 (US)/ £44 (UK) | Weight: 585g/1lb 4.6oz | Dimensions: 29.6 x 15 x 3cm / 11.65 x 5.9 x 1.18in | Peak power generation: 21 watts | Integrated battery: No | USB port: 2
Neat folding panels
Light weight
Two USB ports
Competitive price
No sun power indicator
Three solar panels harness the energy of the sun in this competitively-priced charger that folds neatly for stowage when not in use. There are two 2.4A (max) USB ports, although trying to recharge a pair of devices simultaneously from any portable solar panel is a tough ask. RAVPower has, however, installed smart frequency technology that is says can detect all connected devices' input and use this to distribute power output accordingly.
As an aside, the manufacturer also warns against positioning the solar panels on any high heat conducting surfaces, such as sand or rock, in direct sunlight, as this can cause the panel to overheat, which significantly reduces its power generating efficiency.
BigBlue 28W Solar Charger
With two USB ports and the potential for 28W power generation, this four-panel charger ups the ante in every aspect of solar chargers
RRP: $80 (US)/ £70 (UK) | Weight: 594g/1lb 5oz | Dimensions: 84 x 28.2 x 1.1 cm / 33 x 11 x 0.4 (folded: 28.2 x 16 x 3.4cm / 11 x 6.3 x 1.34in) | Peak power generation: 28 watts | Integrated battery: No | USB port: 3
Three USB ports
Four solar panels
Digital amperemeter
All four panels need to be exposed to the sun to generate electricity
It's only when you see the BigBlue 28W Solar Charger unfolded that the impressive surface area of solar panels really becomes apparent. Supplied with four karabiners it hooks to the top of a large backpacking rucksack and then unfurls all the way to the foot of the pack.
The four panels are capable of 28W input and even generate electricity in slightly overcast conditions. There's also an auto-restart function so that if the BigBlue stops working due to cloud cover, it will automatically resume charging devices when the sun comes out again (some solar chargers need to have devices unplugged and re-plugged to start working again). All this performance comes with a size penalty, but it's a small price to pay for efficient charging.
Powertraveller Falcon 21
Lightweight, splashproof and dustproof, this is an ideal solar charger to consider for outback treks
RRP: $175 (US)/ £135 (UK) | Weight: 470g/1lb 0.58oz | Dimensions: 66.5 x 28 x 0.33cm / 26.2 x 11 x 0.13in (folded: 15.7 x 28 x 1.1cm / 6.18 x 11 x 0.43in) | Peak power generation: 21 watts | Integrated battery: No | USB port: 1
Lightweight
Splashproof (IPX4)
Easy to attach to a pack or tent
Pricy
In bright, sunny conditions there's the opportunity to recharge two devices simultaneously from the Powertraveller Falcon 21, one via the 5V USB port and the other via a 20V DC connector, designed for laptops (up to 40W).
The charger's light weight for a 21W panel makes it an attractive choice for backpacking where every gram counts, and it's easy to hook on to a rucksack or tent thanks to metal eyelets and carabiners (included in the box). The three solar panels fold up to a neat size, too, when not in use, and their IPX4 rating means they'll withstand water splashes and dust.
Powertraveller Solar Adventurer
This clamshell solar panel includes a battery to store power generated by the sun
RRP: $130 (US)/ £74 (UK) | Weight: 265g/9.35oz | Dimensions: 17 x 9.6 x 2.3cm (folded) / 6.69 x 3.78 x 0.9in | Peak power generation: 3 watts | Integrated battery: Yes | USB port: 1
Storage battery
LED charging indicator
Robust case
Only 3W generation
With a full charge, the internal batteries on this solar charger can recharge a smartphone or GPS one to two times, a GoPro two to three times, and a smartwatch as many as 15 times.
As it harnesses the power of the sun through the day, a four-colour LED indicates the level of charge in the 3500mAh battery. MPPT (Maximum Power Point Tracker) technology helps the solar panels to keep generating electricity in lower light conditions, and when darkness falls the charger folds into a neat, compact package, which will keep supplying energy from its battery to your devices. Plus, you can pre-charge the battery from the mains before you set off.
Choosing the best solar charger for you
1. Power generation
As a rule of thumb, the higher the power figure (watts) the quicker a solar charger will recharge your devices; so a 28W charger is better than a 21W charger, which in turn is better than a 14W charger. The pay-off, however, is the correlation between the size of the solar panels and their ability to generate electricity – the more panels the higher the generation, but also the greater the size, weight and price of charger. As a guide, look for at least 7W to charge a phone.
2. USB ports
A pair of ports lets you recharge two devices simultaneously – it's unlikely to be fast, but over the course of a day it could give a boost to your phone and GoPro or keep you in the good books of your trekking partner.
3. Storage battery
Most solar chargers don't come with an in-built battery to store power, but those that do offer certain advantages. Firstly, there's the opportunity to pre-charge the in-built battery from the mains before you head off-grid, so the first evening's recharge is easy. Secondly, any unused power generated during the day can be stored and used to power up devices once the sun has set. Batteries are, however, heavy and add cost to a solar charger.
4. Long charge times
Advertised figures for power generation tend to be based on a panel facing directly into the sun on a cloudless day. Solar chargers hooked to a backpack or tent are unlikely to maintain this perfect position for long, and as soon as the sky clouds over the power generation falls. Overheating can also compromise power, so be careful where you put the charger (not on rock, sand or cement that will heat up).
In addition, the time it takes a solar panel to recharge devices such as a phone is significantly slower than the mains – battery percentages will only rise slowly. And plugging in two devices at the same time will only slow down the recharge time.
5. Size and weight
You don't want to be carrying a solar farm on your back, so weight matters, as does the folded pack size when you're trying to squeeze all the gear you need for an off-grid trek into your rucksack.
All the latest inspiration, tips and guides to help you plan your next Advnture!
Thank you for signing up to Advnture. You will receive a verification email shortly.
There was a problem. Please refresh the page and try again.