Best water shoes
You wouldn't go hiking barefoot but we regularly jump into water without anything on our feet. These specialist shoes are designed to get wet, help you grip and protect your feet when you take the plunge.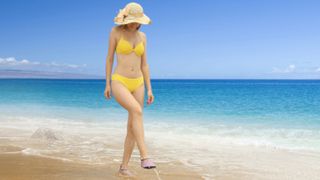 (Image credit: Amazon)
As anyone who's been caught by an unexpected wave while walking along the beach will tell you, the last thing you want to get wet is your shoes. But water shoes are designed to be worn in the sea, rivers or lakes. They are the footwear to put on when you're in the water and your feet need protection and grip.
Typically, they have rubber soles for traction and are made of mesh or neoprene to allow water to drain away which makes them ideal for water sports like surfing, kayaking, paddle-boarding and boating. Even just for pebble beaches and rocky river beds though, one of the best things about water shoes is that let you get into water that you wouldn't usually be able to access if your feet were bare. Although rare, some beaches also have stonefish that can be dangerous (and agonizingly painful) if stepped on. Water shoes mean that's one less thing to worry about. Ideally, we all want to be free and unencumbered in the water. With the best water shoes, you'll soon forget you're wearing them and be able to get on with the serious business of having fun.
Best overall
Stay-on shoes with plenty of drainage
Made from stretchy mesh material with a rubber sole, these shoes will stay on in rough water thanks to an elastic lacing system with a locking mechanism. The sole also has drainage holes and a bumpy texture to give you more traction on slippery surfaces. They come in men's and women's sizes and over 25 colors and designs.
Best lightweight shoes
Sock-like fit and pack up small
Water shoes don't get much more lightweight than these unisex one-piece socks. Importantly, they have non-slip rubber soles to protect your feet with a quick-drying stretch fabric upper that comes in over 40 designs. They can be rolled up tightly so are easily carried in any bag, ready for when you need them.
Best for the beach
Fun slips-ons for wet and dry wear
These iconic slip-on plastic clogs are classic beach shoes. With a vented shoe to let water and sand out and a robust sole with plenty of grip, they're at home in any wet environment. Easy to slip in and out of, a pivoting heel strap gives more security when they're on. They're so comfy, many fans find it hard to wear anything else and there are colors for every possible occasion.
Best for fit
Fits like a glove – only on your feet
For a barefoot feel and brilliant grip on a slippery board or deck, Body Glove has given their water shoes three individual toe pockets. This makes them easier to slip on than a full five-toe system but the stretchy upper and adjustable shoelacing keeps them snug on your feet. The Integrated Drainage System allows for good breathability and lets water flow out.
Bottom line
For most water sports or when on beaches with more pebbles than sand, water shoes are essential footwear. Step on a rock or slip off your boat and you'll wish you were wearing them. They give you a secure feeling of knowing that you can put your feet down, even when you can't see the bottom clearly, so you can relax and enjoy yourself. Our recommended pick for most people are SIMARI Water Shoes. They are up to the job of keeping your feet safe and protected in the water with good, grippy souls and a mesh construction that sees water drain away. Thanks to the elasticated laces they will stay on too.
If you want a more advanced water shoe that's comfortable enough to walk around in when you're not in the water, the Body Glove Men's 3T Barefoot Cinch Water Shoe is a good option. The toe pocket design will attract some curious glances but there's no doubting how comfortable and effective these are for any occasion where your feet will get wet.
All the latest inspiration, tips and guides to help you plan your next Advnture!
Thank you for signing up to Advnture. You will receive a verification email shortly.
There was a problem. Please refresh the page and try again.