Why 10,000 steps? Where does the magical number originate?
Why 10,000 steps? We delve into the Holy Grail of this fitness mantra and offer tips for reaching the target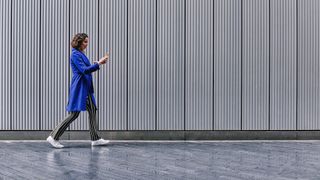 (Image credit: Getty)
The goal of "10,000 steps" is a Holy Grail of health and fitness targets for so many people. The magical figure of 10,000 is almost engrained into the fabric of everyday conversations between work colleagues, friends and families. For many people, it's a goal of 10,000 steps daily, while others keep track of the time it takes to reach the 10,000 steps.
Today, 10,000 steps is also commonly used as the default goal on fitness trackers, wearables, smartphone apps and the best GPS watches.
But is there any scientific reasoning to the 10,000 steps mantra and who came up with the idea in the first place?
10,000 steps: A magic number?
It's claimed that the 10,000 steps concept originated in the mid-Sixties when a Japanese pedometer called "manpo-kei" was launched. Manpo-kei roughly translates to "10,000 step meter" in English. The Japanese character for "10,000" also resembles a person walking.
Although it's not thought that there was any scientific reasoning behind the choice of 10,000 steps, it is easy to see how the number caught on because it's a clean, round number and offers walkers and runners a significant but achievable goal.
A analytical study in Lifestyle and Behavioral Magazine also looked at the relationship between the goal of 10,000 steps per day and reduced cardiovascular disease (CVD). Although there is no reason to set 10,000 steps as a target, the researchers did conclude that "higher steps/day are associated with progressively lower risk of CVD".
Therefore, "monitoring and promoting steps/day can be a simple, easy to interpret metric used for clinician-patient communication and population health to reduce the risk of CVD".
Why track your 10,000 steps?
To start with, an average person with a stride length of approximately 2.1ft to 2.5 feet, takes 2,000 steps to walk a mile. So 10,000 steps equals around five miles. This should take most people around an hour and 40 minutes to complete.
If you are a runner, the steps taken are likely to be shorter and of higher cadence and so it will take less time to run the 10,000 steps.
Most health experts also recommend we take at least 150 minutes of moderately intense exercise per week, or 30 minutes five times each week. This roughly equates to the 10,000 steps over the period of a week.
According to research in the Canadian Medical Association Journal, the benefits of this regular cardiovascular exercise are lower BMI, reduced waist size, increased energy and reduced risk of various diseases, especially heart conditions and Type 2 diabetes.
Walking as a regular activity can help to reduce incidence of heart disease, according to The Cardiovascular Health Study, an analysis of more than 4000 older Americans.
Another piece of research in the Journal of the American Medical Association concluded that older women who take more than 4,400 steps a day over the course of a week have 41% lower risk of dying than those who took 2,700 steps a day during the same period.
Walking is also a way to improve mental health and there are a number of studies to show this, such as one study in Scielo that looked at how walking can improve levels of depression and anxiety.
How to achieve 10,000 steps per day
It's important to build up to the 10,000 steps goal, especially if you are hoping to do this daily or a few times each week.
You'll need a way to count the steps and most people use an activity device such as a Fitbit, a shoe app or a sports watch.
Start by keeping track of the number of steps you already walk. You should aim for about 2000 steps per day and then build to 4000 steps the next week. After that, you should be able to build by an extra 2000 per day over the next fortnight until you are at 10,000 steps daily, or 10,000 steps on three days of each week.
To add steps to your daily count you can try some of these tips:
Walk instead of driving short journeys. For example, you could walk to the shops, or to drop the kids at school or to get to the gym. If work is too far for you to reasonably walk each day, could you walk part of the journey by making use of public transport and walking?
Park further away. When going to the supermarket, cinema or similar, aim to park further away rather than closer. That way you add steps to each outing and it's not really a lot more effort.
Walk more at work. An obvious way to walk more is to take the stairs not the lift. Also, instead of texting or emailing a colleague, why not walk across to them? When arranging a meeting, why not suggest it's a walking meeting where possible?
Use your breaks or lunch hour for a walk. Enlist a colleague or two to do the same for improved motivation.
Set off earlier for a meeting. By allowing extra time to reach a meeting, whether it's work related or with friends, you can incorporate an element of walking into your trip.
Walk and talk. Instead of meeting a friend for a chat over a coffee or a glass of wine, why not agree you'll walk and talk. You could always take a coffee with you in an insulated cup, but by walking while you talk you'll add steps to your day.
Although there doesn't appear to be a scientific reasons for the magical 10,000 steps target, it's clear that aiming to take more steps daily and weekly can improve both physical and mental health.
All the latest inspiration, tips and guides to help you plan your next Advnture!
Fiona Russell is a widely published adventure journalist and blogger, who is better known as Fiona Outdoors. She is based in Scotland and is an all-round outdoors enthusiast with favourite activities including trail running, mountain walking, mountain biking, road cycling, triathlon and skiing, both downhill and back country. Her target for 2021 is to finish the final nine summits in her first round of all 282 Munros, the Scottish mountains of more than 3,000ft high. Aside from being outdoors, Fiona's biggest aim is to inspire others to enjoy the great outdoors, especially through her writing. She is also rarely seen without a running skort! Find out more at Fiona Outdoors.