What is an air tent? Everything you need to know
What is an air tent? We explain how the inflatable beams work plus the pros and cons of these easy-to-use tents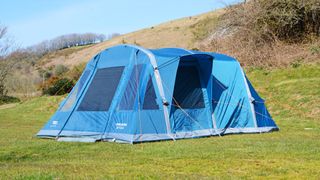 (Image credit: Pat Kinsella)
What is an air tent? Well, it's kind of a cross between a bouncy castle and a tent. Actually, you can't expect to bounce up and down on top of it. You'll be pretty disappointed if you try to jump on an air tent and just crush it… quickly becoming more like a very flat air bed than an air tent. But when you start to pump up an air tent, it is the same kind of idea… using air to fill and create the structure of an inflatable object. Confused? We'll explain.
What is an air tent?
An air tent is just a normal tent but with the poles replaced by air. It has the sleeves for poles, but sewn closed, so that you can pump them up like a football – or the top half of a bouncy castle. Although maybe someone will make ones with built-in camping mat floors. (Checks Google – oh, no wait someone already has!)
Air tents are the kind of tents you might see on large campsites, but not the sort of tents you'd often see when you're wild camping out in the sticks. We'll explain why in a minute, but first let's go over the pros of an air tent and why they were invented in the first place.
The pros of air tents
Air tents solve a few issues people have when camping. Have you ever had trouble putting tent poles together, broken them or even completely forgotten to bring them? Well, this is no longer a problem if you eliminate the need for poles altogether.
Arguably, the lack of poles would make the tent potentially more lightweight and compact, but let's be honest, these aren't the sorts of tent you carry in a backpack And it's questionable whether the different materials used to make the tent inflatable, never mind adding the weight of the pump ,don't completely cancel out any gains made by removing the poles.
Really, the main appeal of an air tent is the simplicity and ease. You don't have to worry about which pole goes where, or how they fit together. You just pump it up. Or better still, just plug the pump in and let it inflate your tent while you do something else. It makes putting up the family tent much quicker and easier.
The cons of air tents
On the other hand, it's quite easy to see the flaws in an air tent. If you get a puncture – and can't find it to fix it – your entire tent is unusable and you're driving home or looking for a hotel. You have to be extra careful where you pitch your tent and what it's next to, just in case. Air tents are generally made of fairly sturdy material, but when even a pinprick hole can flatten your night time accommodation, the stakes are high (excuse the pun).
The other trouble with removing poles from a tent is that you take away most of the structural stability. If the weather gets stormy – especially If you're camping in the wind – then a metal pole will withstand a strong gust much better than compressed air in a fabric tube. Arguably, you could break a tent pole in high winds, so at least that won't happen. But the tent itself won't stand up so well to a storm. It'll very likely get flattened. Still on the fence? Read more in our article on air tents vs pole tents.
All the latest inspiration, tips and guides to help you plan your next Advnture!
An adventure writer based on Dartmoor, England, Emily is an active member of Mountain Rescue and a summer Mountain Leader, but loves all things adventure – before her third birthday she had lived on three continents. Founder of Intrepid magazine, she works to help break stereotypes about women in the outdoors. Her expeditions have included walking all Dartmoor's 119 tors in a single two-week outing, cycling to Switzerland and back, and riding the Rhine from source to sea.