Camping in the wind: is it safe and how do you prepare?
We cover everything you need to know about camping in the wind, including when to pull the plug on your plans and how to stay safe when it's windier than you hoped for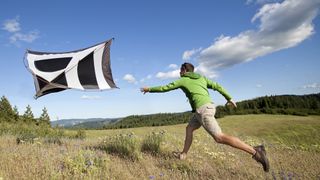 (Image credit: Jordan Siemens)
Camping in the wind ranges from uncomfortable to downright dangerous and while no one enjoys it, it can't always be avoided. So what should you do when you've pitched your tent and the winds pick up?
While prolonged winds on a camping trip can certainly dampen the experience, they don't necessarily mean you have to pack up and go home. However, there are certain steps you can and should take to make sure you stay safe while you ride out the storm. This article contains everything you need to know about camping in the wind, including when to pull the plug on your plans and how to stay safe when it's windier than you anticipated.
How windy is too windy for camping?
First, let's take a look at when you should rain check your camping plans due to wind conditions. Before going camping, check the weather forecast for where you're going and pay attention to wind speed, including wind gusts. Though wind isn't known for its predictability, according to the Beaufort wind scale, once winds reach 25mph, you can expect large branches moving, wind whistles in the air, and difficulty using an umbrella. At this level, camping is likely to be difficult and could be dangerous – all it takes is a big gust and weak branch to ruin your trip, or worse. So even though your tent may be built to withstand winds of up to 30mph, you may not have a very good time.
Meanwhile, if wind speeds are forecasted between 19 and 24mph, you can expect small trees to sway and the waves to crest if you're heading to the coast, which means you probably can't have a campfire and will be sleeping through some vigorous tent flapping, but you might decide you can live with that if it means you can get outdoors. If winds are predicted to be anywhere between eight and 18mph, you're looking at swirling dust and leaves fluttering which may be annoying at worst.
Tips for camping in the wind
If you've decided the winds aren't too high to handle, or if you've already arrived to find conditions windier than expected, follow these safety guidelines for pitching your tent, ditching the fire and using your stove safely.
1. Bring the right tent
Of course you always want to bring a good tent camping that is designed to withstand severe weather, but by that, we don't just mean sturdy. After all, your 4-person tent with a porch is probably really robust, but it will also be less aerodynamic than a smaller tent. For windy conditions, bring a dome-shaped tent with a relatively low peak height and good ventilation – though it will feel more exposed, it will be better equipped to handle the gusts.
2. Pack a tent repair kit
Hopefully you won't be camping in conditions severe enough to break a tent pole, but it does happen and you'll want to be prepared. Bring a tent repair kit in case of a worst case scenario (a good tent will come with its own kit) and it's helpful to bring a roll of duct tape to make emergency repairs in the field. If there is bigger damage that needs looked at when you get home, read our article on tent repairs before you replace your tent.
3. Seek shelter
The rules about where not to camp become especially important when it's windy. Stay away from trees as branches can break off and cause injury or damage and avoid camping on high, exposed ridges and cliffs, even though the views may be better. Seek out lower, sheltered areas.
4. Find or build a wind block
If you can, find a wind block behind which to set up your tent, or make one. This could mean finding a large boulder, using your car if you're car camping, or setting up your tarp to block the wind.
5. Pitch your tent properly
If your tent is a pyramid shape, pitch it with the lower part facing the wind. Pitch your tent so that the door is facing away from the wind so you don't risk ripping the door every time you unzip it. Keep your tent door zipped up at all times when not using it to avoid damage.
6. Harness the power of tent pegs
Bring good, steel tent pegs – or even special wind-resistant pegs – and a camping hammer and make sure to hammer each tent at a 45 degree angle all the way down into the ground. Peg your tent as you go, starting with the side closest to the wind.
7. Forget the rain fly if it's not raining
If you don't need it, avoid all that extra flapping by leaving your rain fly off – this will allow the wind to blow through the ventilation in your tent making it more aerodynamic and less rocky.
8. Forget the fire
Unless you're at the beach or desert camping where you can be sure to be well away from any vegetation, you should forget about having a campfire if the wind is strong enough that the trees are swaying. It will be more difficult to maintain and control and could spark a dangerous wildfire quickly.
9. Don't use your stove inside
When the conditions are unpleasant, you may be tempted to bring your camping stove inside your tent and cook dinner in peace – don't. As we explain in our article on how to use a camping stove, though the best tents and best sleeping bags are often treated with fire retardants, the material they are made from is intrinsically flammable and one wrong move could send things up in smoke. In fact, according to official advice from the UK Government, a tent can be destroyed by fire in under a minute.
Instead, use your body, your tent or your windblock to shield the flame of the camping stove so you can cook safely – then feel free to eat inside your tent once your stove has been put out.
10. Bring a book
If worst comes to worst, you may be best off just hanging out in your tent until things die down, or until daylight rolls around and you can pack up and head home. Bring along one of the best hiking books, curl up in your sleeping bag, switch on your best headlamp and make the most of it.
11. Don't be afraid to call it a day
If the conditions feel like they're becoming more dangerous than you signed up for, there's nothing wrong with packing up and heading home early. If you've missed your opportunity, stay safe inside your car until things settle down.
All the latest inspiration, tips and guides to help you plan your next Advnture!
Julia Clarke is a staff writer for Advnture.com and the author of the book Restorative Yoga for Beginners. She loves to explore mountains on foot, bike, skis and belay and then recover on the the yoga mat. Julia graduated with a degree in journalism in 2004 and spent eight years working as a radio presenter in Kansas City, Vermont, Boston and New York City before discovering the joys of the Rocky Mountains. She then detoured west to Colorado and enjoyed 11 years teaching yoga in Vail before returning to her hometown of Glasgow, Scotland in 2020 to focus on family and writing.