Amazon Prime Day hiking deals: the best deals available right now
The massive Amazon Prime Day online sale is under way! Follow our advice for the best hiking deals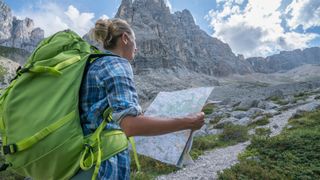 (Image credit: Getty)
Amazon Prime Day is the annual sale across all Amazon platforms – and it's now underway. Running across Monday June 21 and Tuesday June 22, 2021, it's a fantastic chance to pick up discounted products from the world's largest online retailer ahead of Black Friday.
Now that the event is underway, we've set up this page as a hub of the best Amazon Prime Day hiking deals that Advnture readers can look forward to, along with advice on how to spot a good discount. Be sure to bookmark this page as we'll be regularly updating it with discounts as and when they appear, and check out our Amazon Prime Day camping deals for more reductions.
Over the next two days, this page will be populated with the biggest discounts on hiking equipment available at Amazon and elsewhere. Seeing as Amazon stocks so many items, we will sift through them to bring the ultimate price-cuts to your attention. These will be the sort of Amazon Prime Day hiking deals we'd want to take advantage of ourselves, so rest assured you're snapping up the choicest deals.
If you've taken part in Amazon Prime Day before, you'll know that you need to sign up to Amazon Prime to get these deals. Once you're signed up, you'll also be able to enjoy the benefits of Amazon Prime's music, streaming and free delivery, so there is real value in becoming a member. And with Amazon offering Prime trial periods for free, you can enjoy these deals at no extra cost – just make sure you cancel your subscription before you get a surprise fee!
Today's best Amazon Prime Day hiking deals
With so many retailers specialising in outdoor equipment, Amazon might not seem like the most obvious choice for hiking deals. Overlook it at your peril though. With such a massive and diverse portfolio of items, Amazon is sure to offer a reduction that's hard to beat either on hiking boots, trail shoes, and clothing.
Keep in mind that Amazon also likes to offer lightning deals. These are usually incredible discounts that are available for a very limited time or while stocks last. We'll be keeping you up to date with Amazon Prime Day hiking deals as the sales event rolls out, and we're going to share offers on hiking gear that caught our eye.
Amazon Prime Day hiking deals US
WintMing 70L Camping Hiking Backpack | Save 34%
Was $70 | Now $45.99
At a whopping 70 litres, this hiking backpack can store you sleeping gear, shoes and general luggage. Waterproof and capable of attaching other hiking gear, this spacious all-rounder is now more affordable than ever.
UsoGood 12X50 Binoculars | Save 31%
Was $79.99 | Now $54.95
As well as letting you get a good look at all the stunning scenery on your trails, these binoculars come with a smartphone adaptor so you can capture beautiful views for posterity.
Amazon Prime Day hiking deals UK
Danish Experience outdoor walking socks | Save 20%
Was £30.95 | Now £24.76
Keep your feet dry and comfortable on the trails with these Danish Experience walking socks made out of merino wool. And thanks to extra cushioning and padding, they also reduce the risk of blisters and hot spots.
TrailBuddy Walking Poles | Save 30%
Was £30.99 | Now £21.69
Keep the pace during your hikes with these TrailBuddy walking poles. Crafted from a light aluminium 7075, these light but tough walking poles are perfect for hikers looking to tackle rough terrain.
UsoGood 12X50 Binoculars | Save 34%
Was £60.99 | Now £39.99
American shoppers aren't the only ones who can snap up a bargain on these UsoGood binoculars that allow you to capture your findings on your smartphone. UK Amazon users can now also grab them for less.
Columbia Women's Newton Ridge hiking shoe | Save 25%
Was $100 | Now $75
Made from rugged materials, this all-terrain hiking shoe will keep your feet dry as you tackle the trails. And with 25% off over Amazon Prime Day, this Columbia gear will also look after your bank balance, too.
Karrimor Bodmin Mid IV Weathertite Men's Shoes | 29% off
Was £80 | Now £56.45
Another hiking boot with a variety of discounts depending on the size and colour you choose. Equipped with a suede and mesh upper, this waterproof shoe will keep your feet dry on long walks, and at this price it won't break the bank either.
Buff Merino Wool Multi Functional Headwear | Save 22%
Was £22.00 | Now £13.49
So much more versatile than a scarf, this wool buff can also be worn as a neckerchief, balaclava or covering your nose and mouth. Made from Merino wool, it will keep your face and neck warm and wick away moisture, making it ideal for many outdoor activities, particularly with nearly a tenner off the price.
Merrell Men's Intercept Low Rise Hiking Shoes | Save 20%
Was £100 | Now £79.99
Get over £20 off these air-cushioned hiking shoes with an abrasion resistant toe cap this Amazon Prime Day. Ideal for trail walking and forest treks, but you might want to upgrade to some of the boots below for mountainous climbs.
Trespass Albus Backpack, 30 Litre | Save 61%
Was £39.99 | Now £15.69
If you want a cheap and cheerful backpack for short hikes, they don't get much better value than this waterproof one from Trespass. Now half price, it has three zipped compartments, internal pockets and a keyring to keep your gear safe and organized.
How to get Amazon Prime Day hiking deals
You can use this page to help you snap up the best Amazon Prime Day hiking deals.
It's our goal to save you the time and hassle of trawling through Amazon for deals so you don't have to do any hard work. As well as highlighting the biggest discounts, we will also alert you to any vouchers that could save you big chunks of money.
But remember, even the juiciest of Amazon Prime Day hiking deals is only up for grabs if you have an Amazon Prime account. We can't stress this enough. To avoid disappointment, why not sign up now? If you like the perks of being a member you're of course welcome to stay, but if you're just after a free trial, remember to unsubscribe right after Prime Day is over.
Amazon Prime Day hiking deals from everywhere else
Here at Advnture we're dedicated to bringing you the best prices on outdoor brands, whether you need hiking gear, tents for camping, or accessories to make your adventures more enjoyable. During Amazon Prime Day we'll bring you the choicest deals so you can purchase safe in the knowledge that you're getting the cheapest bargains.
Outside of this event though we're also working hard to direct you to discounts on outdoor gear. Covering tents, sleeping bags, backpacks and more, our buying guides are bursting with the best prices from Amazon and beyond.
Our buying guides are broken down by product and pursuit, with brand goods making frequent appearances. And because we update these pages regularly, you'll always be up to date with the latest price cuts. Check them out for yourself:
What is Amazon Prime Day?
Amazon Prime Day is a two-day day sale where the internet retailer brings prices crashing down on a variety of items. And while not every single item is reduced, Amazon Prime Day is a rare chance to pick up a deal on high end goods that may otherwise be too expensive for your budget. The discounts are available exclusively to Amazon Prime customers, so make sure you set up an account before you buy.
When is Amazon Prime Day?
Amazon Prime Day 2021 is happening now, running from June 21-22. If it feels like only yesterday that you were making a saving on Amazon Prime Day, that's because the last one took place in October. This was due to Covid restrictions, but for 2021 Amazon Prime Day has moved back to its normal June slot.
All the latest inspiration, tips and guides to help you plan your next Advnture!
Thank you for signing up to Advnture. You will receive a verification email shortly.
There was a problem. Please refresh the page and try again.