Are blackout tents worth it?
We answer your questions on blackout tents to see if we can help you get a better night's sleep at camp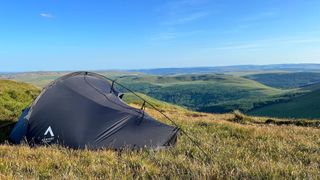 (Image credit: Craig Taylor)
Like all outdoor gear, tent technology has come a long way in recent years. Camping of yore meant waking up at the first signs of light in a stifling, sweaty tent while today, your camping tent can come with blackout technology to help you sleep deeper, for longer.
Getting a good night's sleep at camp isn't the easiest thing to achieve, thanks to the discomfort of sleeping on the ground, the unfamiliar sounds of wildlife around you and the difficulty blocking out light. It's only under dark conditions that your pineal gland produces the sleep hormone melatonin, so the more darkness you can create for yourself, the better you'll sleep. But are blackout tents worth it? They are usually more expensive after all, and how effective are they really? In this article, we answer your questions on blackout tents to see if we can help you get a better night's sleep at camp.
What is a blackout tent?
Also known as "dark room" tents, blackout tents are constructed using fabric that has light-absorbing or light-diffusing properties. Though you might ordinarily avoid a tent made using dark materials for fear that they'd be hotter, new fabric technologies mean that the dark tent walls can block out more of the sun's rays. This means that when the sun comes up, you're not wrenched from sleep by blazing light piercing the tent walls and may be able to enjoy more and better sleep when camping. Obviously, blackout tents are most handy in the summer months, late spring, early fall and anywhere closer to the equator.
Sometimes, the entire tent will be blackout, if it's a one-person or two-person tent. In other instances, larger family-sized tents like the Coleman Mackenzie 4 Blackout come with a blackout bedroom, or two, so that those who are sleeping can snooze away but the other rooms are usable for those who are awake. The Coleman tent claims to block out 99 percent of daylight, and we've found it to be among the best we've tested, so they can be quite effective if you are light-sensitive or camping with your children and you want a lie in.
Do blackout tents stay cool?
In addition to staying dark after sunrise, blackout tents promote better sleep by keeping the inside of your tent cooler. This is of course because when an object like your tent absorbs UV rays, it heats up. Blocking those rays, you can offset that greenhouse effect, though perhaps not as much as staying inside a stone-walled building on a sunny day.
Tents such as the Outdoor Revolution Camp Star 350 claim to reduce the inside temperature by up to 5°C during the day, which isn't insubstantial. That means a 70°F day feels more like 60°F (or 20°C feels like 15°C) which definitely makes for more comfortable sleeping conditions. Of course, you may be able to increase this effect by using vents to allow airflow.
Do you need a blackout tent?
Obviously, blackout technology adds a value and versatility to your tent, though they also come with a higher price tag, so you might be wondering if it's worth the money, and the answer is, it all depends on you and what kind of camping you're doing.
If you have a lot of trouble sleeping when you're camping once the sun comes up, then it could be a great way to make camping more enjoyable. This holds especially true if you're doing a lot of higher latitude, lower altitude summer camping where early sunrises and warm conditions are an issue. You might also consider a blackout tent if you're camping with the kids and you want the little ones to sleep past 6 a.m., or if you're doing some fun festival camping where you're not exactly looking to get up early and hit the trails first thing.
If, however, you're going backpacking and planning on being up most days at first light to get on the trail anyway, it might not be worth upgrading your tent, especially if you're not too far north in the summer.
If you feel that you could benefit from more blackout in your tent but don't really want to upgrade, consider something simple like bringing an eye mask, and read our articles on how to blackout a tent and how to stay cool while camping for more ideas.
All the latest inspiration, tips and guides to help you plan your next Advnture!
Julia Clarke is a staff writer for Advnture.com and the author of the book Restorative Yoga for Beginners. She loves to explore mountains on foot, bike, skis and belay and then recover on the the yoga mat. Julia graduated with a degree in journalism in 2004 and spent eight years working as a radio presenter in Kansas City, Vermont, Boston and New York City before discovering the joys of the Rocky Mountains. She then detoured west to Colorado and enjoyed 11 years teaching yoga in Vail before returning to her hometown of Glasgow, Scotland in 2020 to focus on family and writing.