Backcountry ski gear: what you need to get the secret stash
Ski touring takes specialized gear in addition to gumption, and our backcountry ski gear checklist helps you get kitted out for winter expeditions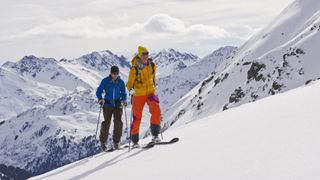 (Image credit: Westend61)
Backcountry skiing is like having an all access pass to winter. There's no expensive lift tickets to be bought or long lift lines to stand in between runs, just miles of untouched powder waiting to be yours if you're willing to put in the effort it takes to hike in and get it. If you're thinking about trying backcountry skiing this winter, you'll need some specific gear in addition to gumption though, so we came up with a quick backcountry ski gear checklist to help you get kitted out for your winter expeditions.
What kind of gear do you need for backcountry skiing?
The following is a list of the essentials you'll need to get started with backcountry skiing, whether you're planning on Alpine Touring or Telemark skiing. Though it might look like a lot, try not to be discouraged as some of this stuff you'll likely already own. That said, the initial investment can be a bit hefty, so if you're not sure you'll even like backcountry skiing, definitely rent a set up before you commit.
Skis
One of the biggest questions around backcountry ski gear is, can you use regular skis for backcountry skiing? The answer is yes. You can pretty much attach AT or telemark bindings to most alpine skis so this is definitely an area where you can avoid making a big purchase.
That said, if you're looking to buy new skis specifically for backcountry skiing, there are a couple of things to consider. If you plan to do lots of steeper uphilling, look for skis that are light, short and wide. This way, you're not trying to pull too much weight up the hill, and you'll be able to float over deep powder on the way down. Of course, if you're in an area where the snow isn't powdery, there's no real benefit to wide skis.
If you're planning to do more cruising over rolling hills, you might consider backcountry skis with fish scales on the bottom (also called waxless skis) so that you can switch between uphill and downhill without taking the skins on and off your skis constantly.
Bindings
Where you can easily use most alpine skis for backcountry skiing, you'll want specific bindings that allow your heel to come free so you can climb uphill while wearing your skis. This is not possible using alpine bindings where your heel is locked in because you won't have the ankle mobility required.
Basically, there are two types of bindings you want to look at: AT bindings, or telemark bindings. For uphill travel, they're not all that different. Both free your heel while telemark bindings have a cable that can be shortened or lengthened and AT bindings do not. The big difference is in the downhill. With AT bindings, when it's time to ski down, you'll click your heel in and ski down in the alpine style. With telemark bindings, you have to telemark ski down, meaning your heel stays free. So, if you're already a telemark skier, you actually already have most of the kit for backcountry skiing. If you're not, you need to decide if you want to learn a new style of skiing in addition to getting off piste. In short, decide what type of skiing you want to do and get the bindings required for that style.
There is one further option which is to simply hike up in your ski boots with your skis attached to your backpack, then ski down. This saves you from having to invest in special bindings and skins, but chances are that once you see other people effortlessly gliding uphill wearing their skis, you'll wish you had just gone all in.
Boots
Another common question is, do you need special boots for backcountry skiing? Once again, the answer is yes. Your regular alpine boots will be too heavy and stiff for backcountry skiing. Alpine Touring ski boots often look quite similar to modern ski boots, but they are much lighter and have a lot more flexibility, and usually adjustable buckles that give you even more flex. Also, they'll work with your AT bindings.
Telemark boots range from ones that look similar to AT boots to ones that better resemble winter hiking boots and again are light and flexible but offer lots of protection. You'll simply get the boots that work with the bindings you've chosen.
Skins
As we already mentioned, you might get fishscale skis for rolling terrain, however regardless of what type of skis you choose, you'll still want skins for going up anything steep. Skins are made from a textured, felt-like material and have an adhesive side so you can stick them onto the bottoms of your skis when you're going uphill. You can't ski downhill wearing them so they'll need to come off at the top and go in your backpack.
Now, while the adhesive material keeps your skins in place, they also have an attachment on each end that clips onto your ski. Some of these are only compatible with certain types of ski, for example requiring your ski to have a hole in the end, so just check that they will work with your skis before you buy.
The only other thing to consider is the size. If you're cutting your skins to fit your skis, make sure they're bigger than your skis to begin with. The easiest option is to pick a pre-fitted pair or have the ski shop or manufacturer cut them for you.
Poles
There's no special kind of backcountry ski poles you need to invest in – just use regular ski poles. They'll help you climb on the way up and of course you'll want them for your turns on the way down.
Avalanche gear
If you're planning on being on or near slopes that are at a 30-degree angle or steeper, you absolutely must be well versed in avalanche safety. Avalanches occur frequently in the backcountry, they're often triggered by skiers and they can easily be deadly. This counts for both skiing up a steep slope and skiing along, say, a track or road where the slope to one side is steep. In both of these cases, an avalanche can occur. For backcountry skiing, you'll need the following:
You need to take an avalanche safety course to properly learn how to use this equipment. Of course, if you're touring around mellow terrain, you don't need this equipment.
Backpack
Unlike with resort skiing, you'll have to carry a ski backpack when you go into the backcountry. In it, you'll have your avalanche gear, the bag that your skins come in plus the piece of material that they stick to so that you can avoid them losing adhesiveness by picking up dirt or snow. You'll also want to carry your helmet and goggles for the descent, a spare base layer to change into since you'll likely get sweaty on the way up and water and snacks of course. You'll need to make sure your bag isn't packed to the brim as you'll need a little room in case you get warm and end up putting clothing like your ski jacket, ski gloves or hat in your pack. So, a regular hiking backpack will do, just make sure it's big enough for all that.
All the latest inspiration, tips and guides to help you plan your next Advnture!
Julia Clarke is a staff writer for Advnture.com and the author of the book Restorative Yoga for Beginners. She loves to explore mountains on foot, bike, skis and belay and then recover on the the yoga mat. Julia graduated with a degree in journalism in 2004 and spent eight years working as a radio presenter in Kansas City, Vermont, Boston and New York City before discovering the joys of the Rocky Mountains. She then detoured west to Colorado and enjoyed 11 years teaching yoga in Vail before returning to her hometown of Glasgow, Scotland in 2020 to focus on family and writing.