Uphill skiing: how on earth do they do that?
We explain everything you've always wondered about uphill skiing, including how you do it, what gear you need and where you can do it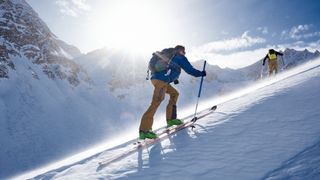 (Image credit: Cavan Images)
If you've ever been on the chairlift and noticed someone down below you somehow defying gravity by skiing uphill, you've probably wondered how on earth they do that. As you no doubt know, try to head uphill on your alpine skis and you'll simply slide backwards and look like an idiot. So what exactly is required to make uphill skiing possible? Why does anyone do it? And is it as hard as it looks? We take a dive into the diehard world of uphill skiing and come up with some answers on this tough winter sport.
What is uphill skiing?
Uphill skiing is a common term for the winter sport better known as Alpine Touring, AT skiing or skinning. It involves using special skiing equipment to climb a snow covered slope, eschewing the lift rides of alpine skiing and using strength and endurance to get to the top. Once at the top, you ski down.
How do skiers go uphill?
Uphill skiing involves either an AT setup, or a telemark setup. In either case, you will stick textured skins made of a felt-like nylon material on the bottom of your skis that grip the snow.
In addition, you need either AT or telemark bindings on your skis, both of which allow your heel to come free to make it easier to climb up. These will often have different settings for different levels of steepness, so if you get to a particularly steep section, you can lift your heel higher. Finally, you'll need AT or telemark boots, which have a bit more give and allow more flexion in your foot and ankle for hiking. These are much more comfortable than regular alpine boots. As you might have guessed, the initial setup is quite a hefty investment, so it's a good idea to rent some gear first and make sure you love uphill skiing before you go all in.
Once you've got your setup, you'll grab your poles and start heading uphill. When you get to the top, you can change out of your sweaty base layer into a dry one and then take the skins off your skis and put them in your backpack. Next, adjust your bindings to downhill mode (if you have an AT setup, this means alpine mode where you clip your heel back in), tighten your boots and down you zoom.
Is uphill skiing hard?
Yes, uphill skiing is pretty hard. Rather than stepping uphill like when you're hiking or snowshoeing, you slide one ski forward then the other, which makes for a serious quad burner. It's an extremely cardiovascular activity, and of course if you're doing it in a high altitude zone, you'll be breathing even harder.
It also requires a bit more specialized use of more technical gear when it comes to your boots and bindings, but this doesn't take long to learn, as well as carrying items like a helmet, goggles, gloves and dry clothes in a backpack, which adds a little extra weight.
What are the benefits of uphill skiing?
Why, you might ask, would anyone put so much work into getting uphill on skis when a chairlift is available? Well, as we already mentioned, it's a great form of physical activity, and you do get some downhill skiing in at the end as your reward.
It also means you can ski on some resorts for free, since the access charge is only to ride the lift, and that's a big perk for an expensive sport like skiing. You also may be able to access ski resorts out of hours, like at sunrise before the lifts start up, or in the evening after last chair, and enjoy the rare treat of getting the mountain all to yourself – something people pay a pretty penny for.
And finally, with uphill skiing, you don't need a chairlift and that means you can explore the backcountry, which means less people, more adventure and deeper powder.
What does uphill access mean?
Uphill access is when a ski resort allows you to travel uphill on skis or snowshoes, and not all of them do. It's very important to find out whether you're allowed to do it before you head to a resort. Many ski resorts do offer uphill access, but there are virtually always limitations, so check ahead to find out which runs are open.
Once you've got that information, you want to be very careful to stay way off to the side of the run on your way up to keep out of the way of downhill skiers. If you're approaching a blind corner, move out a little and hold your pole out to alert any downhill skiers rounding the bend to your presence. It is their job to be looking out for people and obstacles down hill from them, but you being smack bang in the middle of the run is a recipe for disaster.
Finally, uphill skiing at night is tremendously fun, but nighttime is when ski resorts blow snow and groom their trails and it's extremely dangerous to be around these types of operations. Avoid areas where grooming is taking place.
All the latest inspiration, tips and guides to help you plan your next Advnture!
Julia Clarke is a staff writer for Advnture.com and the author of the book Restorative Yoga for Beginners. She loves to explore mountains on foot, bike, skis and belay and then recover on the the yoga mat. Julia graduated with a degree in journalism in 2004 and spent eight years working as a radio presenter in Kansas City, Vermont, Boston and New York City before discovering the joys of the Rocky Mountains. She then detoured west to Colorado and enjoyed 11 years teaching yoga in Vail before returning to her hometown of Glasgow, Scotland in 2020 to focus on family and writing.