Best gifts for runners: perfect presents for lovers of road and trail
Make the runner in your life feel extra special special with our best gifts for runners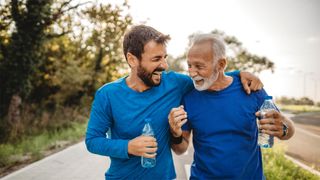 (Image credit: Getty)
Do you wonder what to buy the runner who has everything? Struggling to find the perfect gift for your trail-loving dad or partner? Our guide to the best gifts for runners offers up gadgets or goodies that should fit the bill whatever budget you're on.
From socks and T-shirts to watches and headphones, if you know a runner, chances are that one, more, or all of the items below will bring a smile to their face. Whether it's a present for a special occasion or just because, Advnture's best gifts for runners are ready and waiting to put your shopping journey on the right track. Enjoy!
The latest in bone-conduction headphones (bone-phones anyone?) delivers the best quality sound yet for a design which sends the sound waves directly to your inner ear, keeping your lugholes free to hear traffic noise, marshals' safety instructions and cheering. At 29g you won't notice the Shokz (formerly known as Aftershokz) OpenRun Pros looping over your ears and round the back of your head. They last for 10 hours and charge up quickly, with a quick 5-minute boost giving enough power for 1.5 hours of playback time. If you're a music- or podcast-loving runner who also wants to hear the sounds of the streets or trails, these are essential.
This watch does everything besides make you a delicious post-run smoothie! Powered by the sun via tiny solar panels in the screen, the new Garmin Forerunner 955 records every single bit of data you could possible want about your run, bike or swim including heart rate, pace, daily stress, menstrual cycle tracking and tons more. It stores up to 2,000 songs, allows you to navigate with detailed, full-colour, on-screen mapping, there's an altimeter, compass and thermometer. There are on-screen workout animations and muscle maps for the suggested workouts it gives you – and it even tells the time. If this watch doesn't do it, you don't need it.
Adidas Terrex Agravic Pro
The latest trail running shoes from Adidas boast a snazzy BOA lace closure system called the PerformFit Wrap – basically a turny-turny dial like the ones you see on ski boots and cycling shoes. Simply press down and turn the dial to tighten the shoe laces, then pop it outwards to release them and slide your foot easily out of the shoe. It's got to be the quickest way to tighten your laces, and it's also offset to the outside of the shoe to distribute the pressure evenly over the top of the midfoot and allow the toes to move freely. Combine this with a 4mm drop, grippy 5mm deep Continental rubber lugs and you have a winner.
Proviz Reflect360 Hydration Backpack
How often do you wear a high viz top or jacket for running only to cover it up with a hydration pack or running vest? Well, now you can be the beacon of brightness you've always wanted to be with the Proviz Reflect360 Hydration Backpack. Amazingly for this price there is a 1.5L hydration bladder and 2 x 500ml soft bottles included that slot into the two front pockets. The pack is made from a breathable mesh and there's an adjustable front chest strap to adjust the fit. This pack is better for larger frames so it would be good if they did a smaller size too, but we just love the extreme reflectiveness of this running pack!
Artilect Sprint Tee
Available in men's and women's fit, this new lightweight merino wool running T-shirt from Artilect is the ultimate in comfy stretchy performance-wear. The fabric is naturally anti-pong so you can wait longer before it walks itself to the washing machine or your running buddies start giving you a wide berth; and washing it less is also better for the environment. The high performance 115gsm Nuyarn merino wool dries extremely quickly – they say 5 times faster than normal and the length is generous too, so you can tuck it into your best running leggings on cooler trips. Looking good…
The Drinks Edit
What could be better than the gift of no hangover in the morning? The Drinks Edit promises exactly that with their new online compilation of the best no and low alcohol bevvies on offer right now. Alcohol is well known for enhancing your ability to enter races at midnight, but did you know it also wreaks havoc with your sleep and is a diuretic that makes you pee more often, leading to dehydration. Both lack of sleep and dehydration are a combined hammer blow to good running performance and quick recovery so try these low and no alcohol wines, spirits and beers to enjoy the best of both worlds.
Zwift Runpod
We all know that running outdoors is best, but for one reason or another, sometimes you have no option other than to hit the treadmill. It's incredibly boring, but the Zwift Runpod can help. Simply attach it to your shoe (it twists onto a neat holder that threads onto your laces), connect it to your phone or tablet, and you'll see yourself as a virtual avatar on-screen. It's not quite the same as feeling the sun on your face and the breeze in your hair, but running through Zwift's simulated landscapes and greeting fellow virtual runners is the closest thing you can get in the gym or your garage. Your speed and distance are shown on-screen, and you can even join virtual club runs if you like.
1000 Mile Lite Anklet
If you're routinely hobbled by blisters ruining your running then look no further than these impressive double-layered running socks. The 1000 Mile Lite Anklets are made from the latest recycled materials from Repreve to create comfy, moisture-wicking socks with an elasticated arch brace for ultimate support. How does it work? The unique double-layer construction helps stop friction between your foot and your shoe, absorbing the rub between its layers and stopping blisters in their tracks. Ready to run blister free? The Lite Anklets are waiting for you!
All the latest inspiration, tips and guides to help you plan your next Advnture!
The co-founder and former editor of Trail Running magazine, Claire now runs the YouTube channel Wild Ginger Running, creating films packed with trail- and ultra-running content. An award-winning journalist, writing for outdoor and adventure sports magazines and websites, her first book The Ultimate Guide to Trail Running 5k to 50k is out in January 2021. Claire also speaks and presents at events and races.