When is the best time to go hiking?
We examine the benefits of both morning and evening walks to help you figure the best time to go hiking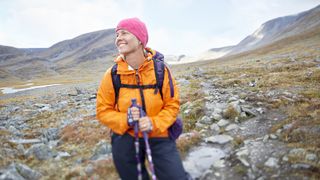 (Image credit: Johner Images)
You probably know by now that planning a hike involves much more than just selecting a route from the internet and packing a nice lunch. There's so much to consider, from weather and crowds to bugs and bears. All of these factors can make your hike considerably more unpleasant, but they can also often be mitigated in large part by what time you hit the trail. So when is the best time to go hiking? Let's take a look at what you need to consider before you go, plus the pros and cons of morning and evening hiking.
When is the best time to go hiking?
Now, a hiking purist will tell you that early morning is the golden time for hiking, and we'll explain why for a moment, but before you set the alarm for 5am, it's helpful to remember that the answer to this question does depend on a few other factors. Primarily, you'll need to consider where you are in the world, as well as what season you're in, how popular the trail is likely to be and whether you mind hiking with lots of other people.
Starting with your location, suffice to say that not all hiking is created equally. Let's take Colorado as an example. A popular hiking destination, Colorado's trails can be positively overrun on the weekends, so it can be common practice among locals to get out very early, and on weekdays instead of weekends. The middle of the day can get really hot even at high altitude and in summer afternoons, lightning can be prevalent, while certain wildlife like mountain lions are more active at dusk, so early midday and evening hiking is less than desirable. But head east to Vermont or west to Washington and you won't necessarily have to worry about extreme heat, frequent lightning or lions, so while they're still popular hiking spots, you could arguably go safely at other times of day and might even find that waiting until the morning crowds have cleared is preferable.
Of course, season plays a huge role in what time of day you go hiking. Summer brings long days for hiking, but biting bugs are most active around dawn and dusk, so you might want to avoid those times or arm yourself with a good insect repellent. Then you've got the question of protecting your skin from the sun. It's a good idea to avoid being outside during the peak sun hours between 10 a.m. and 4 p.m. although you can also use our sun protection tips to help mitigate the threat from UV rays.
However, hiking season isn't just limited to summer and a lot of these issues go away when things start to cool off, making other times preferable. As the days shrink, your window for hiking does too and unless you like hiking in the dark, you're going to set off a bit later. An upside here is that trails are quieter in the fall, and quieter still come winter, so you don't really need to worry about traffic jams at all, nor do you need to worry about lightning. Once the cold months arrive and you're wearing Yaktrax or Microspikes to trek the snow-covered trails, it's quite reasonable to wait until midday when the sun is as high as it's going to get and the snow has softened up a little.
Finally, you need to be able to predict how busy a trail is likely to be and whether that matters to you. Busy trails can mean that you're not even able to park at the trailhead and the walking can be slow going if it's difficult to pass people. You might not mind that at all but on certain trails like Vernal Falls in Yosemite National Park, there are areas where it's single file only, so a busy day can mean lots of queuing. If you get your hiking boots on as a means to escape throngs of people, then you'll do well to get out at sunrise, since even in hiking-centric places, the masses don't get out till after breakfast. Of course, you can also just choose less popular trails and hike whenever you'd like.
So as you can see, the best time to go hiking is influenced by quite a few factors that may change throughout the year and of course, it might just come down to your lifestyle and schedule. The good news then is that if you're not an early bird or don't have a particular flexible schedule, you can still spend time in nature. Of course, if you're going on a long hike, you'll want to leave as early as possible no matter where you are in order to maximize your daylight hours.
Why is it better to hike in the morning?
As we mentioned, hiking enthusiasts will maintain that early in the morning (meaning 6 a.m. to 10 a.m.) is usually the best time to hike, and you've already got some good ideas as to why that might be the case. Even if afternoon thunderstorms aren't a regular occurrence where you're going, the weather is often better in the early morning hours just about everywhere. This is because the warming period in the middle of the day is what tends to bring patterns of instability, so early morning hikes usually deliver the best opportunity for calm, clear weather. In any location, the temperature will be lowest in the morning, which can make hiking a lot more enjoyable.
There may be health reasons for hiking in the morning, too. Though exercising at any time of the day has benefits, morning exercise in particular may burn more fat and improve your sleep, according to an article in CNET. Then there's the less-quantifiable but very real benefit to your mood. There's something extremely satisfying and energizing about kicking off your day out in nature that really sets you up for the day and may positively influence your behavior and productivity going forward.
Is it OK to hike in the evening?
Morning hiking is sounding pretty good, but let's say you can't get out in the morning, and don't need to worry about early nightfall, stormy weather or peckish wildlife – is it OK to hike in the evening? Definitely – in fact, despite the aforementioned health benefits of morning exercise, it should come as no surprise that you'll probably be lower on fuel and not operating at your peak performance level first thing.
Evening exercise has also been shown to improve sleep and allows for longer and better performance. If you leave your hike until the evening, there is always the risk that you'll run out of steam and hit the couch instead, but if you make it to the trail then you can also enjoy cooler temperatures, quieter trails and if you're lucky, beautiful sunsets too. Just make sure that you're prepared with a headlamp in case you end up out on the trail later than expected.
All the latest inspiration, tips and guides to help you plan your next Advnture!
Julia Clarke is a staff writer for Advnture.com and the author of the book Restorative Yoga for Beginners. She loves to explore mountains on foot, bike, skis and belay and then recover on the the yoga mat. Julia graduated with a degree in journalism in 2004 and spent eight years working as a radio presenter in Kansas City, Vermont, Boston and New York City before discovering the joys of the Rocky Mountains. She then detoured west to Colorado and enjoyed 11 years teaching yoga in Vail before returning to her hometown of Glasgow, Scotland in 2020 to focus on family and writing.