The best waterproof trousers: for wet weather walking and hiking through fall and winter
By Jonathan Manning published
Stride out and stay dry in our selection of the best waterproof trousers, no matter what the clouds chuck at you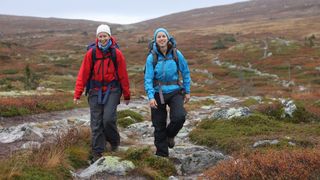 (Image credit: Getty)
The best waterproof trousers are available, like Henry Ford's famous Model T, in any color you like… so long as it's black. And they speak volumes about their owners.
At one end of the hiking spectrum are the eternal optimists, convinced the skies will stay clear and their waterproof trousers can spend their lives rolled up in a pouch and stowed in their hiking backpack. In the middle are the realists, who acknowledge that we're often at the mercy of unpredictable weather systems, which means that the skies will occasionally fill with rain clouds and that walks can be soggy affairs unless decent waterproof protection is close at hand. And at the far end of the spectrum are no-holds-barred hikers, the ones who already know all about how to waterproof hiking boots, striding to the summit or walking the next stage of a long distance path, fearless of the monsoon set to accompany them throughout the day.
These differing attitudes dictate the investment required in waterproof trousers to complement your best waterproof jacket, from a cheap and cheerful pair that you can slip on in an emergency, to a serious outlay for a pair required to defy the deluge, day after day.
Here's our selection of some of the best waterproof pants and overtrousers for walkers, so that you can hope for the best while preparing for the worst.
The best waterproof trousers and overtrousers
Rab Kangri Gore-Tex Pants
Waterproof trousers as tough as the mountain adventures you're going to tackle
Specifications
RRP:
$275 (US) / £200 (UK)
Gender specificity:
Men's / Women's
Materials:
70D three-layer Gore-Tex
Weight (men's size medium):
435g / 15oz
Reasons to buy
+
Three-layer Gore-Tex for exceptional waterproofing
+
Articulated knees for ease of movement
+
Full-length, two-way side zips
+
Under-boot loops
Designed for days and weekends when you know the weather will be hostile, the Rab Kangri deploys three-layer Gore-Tex for waterproof protection, with an outer fabric made from recycled material. The result is a pair of trousers as rugged and robust as any waterproof jacket that you'd rely on to protect you from the elements on a winter's hill walk or multi-day hike.
The full-length side zips make them easy to pull on quickly over walking boots, while poppers mean you can leave the zips undone for ventilation when conditions allow. And when you need to batten down the hatches, the waterproof zips with internal storm flap will keep the heaviest downpour at bay.
There's a fully adjustable, elasticated waistband with a Velcro-style adjustment for a comfortable fit, and loops to attach an under-boot cord to secure the Kangri to your hiking boots in order to keep your lower legs dry in long, wet grass. All of which secures the Rag Kangris a firm place in our selection of the best waterproof hiking pants.
A superb pair of waterproof trousers that hit the sweet spot, offering top-quality performance for an affordable price
Specifications
Gender specificity:
Men's / Women's
Weight (men's size large):
374g / 13oz
Sizes:
XS / S / M / L / XL / XXL / XXXL
Reasons to buy
+
Great waterproof protection
+
Top performance-to-price ratio
+
Convenient three-quarter length sizes
Reasons to avoid
-
Neither the smallest nor lightest to carry
-
No pockets
Slim fitting and comfortable, the robust Berghaus Deluge 2.0 waterproof pants don't billow like Zeppelins in a strong wind, so you may find you'll quickly forget you're wearing them at all. Their protection comes in the form of Berghaus's own two-layer Hydroshell fabric, which helps to keep their price competitive compared Gore-Tex alternatives, while still combining excellent rain protection with impressive breathability.
The three-quarter length zips make them easy to pull on over boots, and the press-stud closures give the option of leaving the zips open for extra breathability when walking through fog rather than rain. The waistband is wide for comfort and there's a draw cord for a snugger fit.
Craghoppers Ascent Overtrousers
Shop wisely and you'll find these richly featured packable waterproof trousers for a bargain price
Specifications
Gender specificity:
Unisex
Materials:
polyamide / polyester
Weight (men's size large):
275g / 9.7oz
Sizes:
XS / S / M / L / XL / XXL
Reasons to buy
+
Available in Small, Regular and Long leg lengths
+
Two zipped pockets
+
Pack into a small pouch
+
Lightweight
+
Competitive price
Reasons to avoid
-
Shorter side zips than others on test
When you have these rolled into their small, neat pouch, it is really very easy to forget that you're carrying the easily packable Craghoppers Ascent waterproof trousers.
Fortunately, the designers haven't forgotten to add a host of useful features. Alongside an elasticated waist with drawcord, Velcro-style tape at the hem keeps them tight around your boots, while two zipped pockets offer a waterproof sanctuary for a phone and wallet.
The side zips only go as far as the knee, so they are not as easy to pull on as some other pairs in this round-up of the best waterproof trousers, but they will still slip on over a pair of boots. Think of them as more of an emergency pair of waterproof pants rather than an all-day downpour pair, and you'll be happy with your purchase.
Montane Pac Plus Waterproof Pants
Enjoy all-day breathable protection from these waterproof trousers thanks to Gore-Tex Paclite Plus fabric
Specifications
RRP:
$150 (US) / £125 (UK)
Gender specificity:
Men's / Women's
Weight (men's size large):
215g / 7.6oz
Sizes:
S / M / L / XL / XXL
Reasons to buy
+
Gore-Tex fabric
+
Fully-taped seams
+
Articulated knees for freedom of movement
+
Three-quarter length side zips
+
Ankle hem adjustment
It's a triumph of fabric technology (with a dusting of marketing genius) that many walkers go into an outdoors shop and ask for a Gore-Tex jacket, rather than a specific brand (other breathable waterproof fabrics are available). For any walker who wants similar confidence in the waterproofness and breathability of their overtrousers, the Montane Pac Plus tick all the key boxes. They are made from Paclite Plus, a two-layer waterproof and breathable fabric designed to be thin, light and packable. For all-day, every day deluges there are heavier, more robust versions of Gore-Tex, but as a balance between performance and packability these are hard to beat. They are also available in both regular and short leg lengths.
Mountain Warehouse Pakka Waterproof Overtrousers
A bargain-priced, super-light option for occasional use
Specifications
Gender specificity:
Men's / Women's
Weight (men's size large):
155g / 5.5oz
Sizes:
XXS / XXS / XS / S / M / L / XL / 2XL / 3XL / 4XL
Colors:
Black / Khaki / Navy
Reasons to buy
+
Very lightweight
+
Comes with stuff sack
+
Taped seams
+
Three colors available
Reasons to avoid
-
No side zips make them difficult to pull on without removing boots
Tipping the scales at less than 6oz (155g in size Large), the Pakka are exceptionally light trousers and ideal for stowing away in a small daypack on a just-in-case basis. Their competitive price (you can find them even cheaper than the already very reasonable RRP) also makes them a useful option if you need waterproof trousers for a compulsory kit list but don't want to invest much in them (be that for a scout camp of an ultra running event).
If called upon, the Pakka will certainly fend off rain and the taped seams are arguably more waterproof than trousers with side zips. However, without zips they can be tricky to pull on over large, muddy boots without smearing mud up the inside. The legs are reasonably wide to although Velcro-style fastenings at the bottom hem stop the ankles from flapping like flares.
Best all-in-one waterproof trousers for hiking
Páramo Velez Adventure Trousers
Proper walking trousers that are fully waterproof and breathable
Specifications
RRP:
$240 (US) / £155 (UK)
Gender specificity:
Men's / Women's
Materials:
Nikwax Analogy
Weight (men's size medium):
392g / 14oz
Reasons to buy
+
The full comfort of normal trousers
+
Short, regular and long leg lengths
+
Breathable fabric plus thigh vents
+
Knee and leg articulation
+
Two zipped pockets
Reasons to avoid
-
Price
-
More washing care required if worn regularly as trousers
For walkers who can't bear the rustle and boil-in-the-bag sweatiness of overtrousers, the Páramo Velez Adventure Trousers offer an excellent alternative. Deploying Páramo's Analogy waterproof fabric system, the trousers are comfortable in wet or dry conditions – they've been lab tested to keep out four hours of steady rain.
Nor will you get wet from the inside through sweat; the fabric is breathable and the thigh ventilation zips provide extra climate control options when the uphill going gets a tad warm.
A wide range of waist sizes and leg lengths makes it possible to ensure a goof fit, and Velcro-type ankle fastenings make them easier to squeeze below gaiters. To maintain this performance, however, they do require regular care with specialist cleaning and waterproofing products.
These waterproof overtrousers provide all-day comfort and protection from the elements for hiking and trekking
Specifications
RRP:
$300 (UK) / £215 (UK)
Gender specificity:
Men's
Materials:
3L Cutan 103g/m2 (100% Recycled Polyamide), Fluorocarbon-free bluesign-approved fabric with Icebreaker recycled polyester reinforced areas
Weight (men's size medium):
407g / 14oz
Sizes:
XS / S / M / L / XL / XXL
Colors:
Raven / Granite Grey
Reasons to buy
+
Fully waterproof trousers
+
Full two-way side zip
+
Zipped hand pockets
As a rule of thumb, the further north a gear manufacturer is based, the tougher its kit will be, which is why many mountaineers turn to Scandinavia for their gear. A harsh climate, long winters and powerful outdoors culture have inspired a number of high performance brands, including Sweden's Klättermusen.
The Ran Pant are overtrousers made from recycled, fluorocarbon-free fabric, which is durable and fabulously waterproof – at least the equal if not the better of overtrousers – and it's breathable, too (with ventilation boosted by full-length side zips). Two zipped pockets plus pre-bent knees make them even more useful for hiking and trekking whatever the weather.
What to look for in the best waterproof trousers
Whether you're looking for a pair of the best waterproof pants for hiking in monsoon conditions, or lightweight overtrousers that you can slide on over the top of your trekking trousers in showery weather, there are various considerations that need to be factored in before you make a purchase.
Fabric
The material from which waterproof trousers are made is the business end of their performance. While all fabrics should keep you dry in a downpour, ultra-lightweight fabrics are ideal for packing away in your best hiking backpack as an emergency precaution, while heavier fabrics will prove more robust against rocks and thorns and will likely keep you drier for longer. (See also: Waterproof versus water-resistant: fabrics and equipment.)
All waterproof trousers promise that they're breathable, but if you're working hard in humid conditions (and rain is 100% humidity), it's difficult for sweat to evaporate through a fabric and out into the open.
Waist
The deeper the waistband, the more comfortable the trousers is a general rule of thumb when it comes to the best waterproof hiking trousers; many pairs also have a draw cord for a more personalised fit. While overtrousers tend to come in standard S, M and L sizes, some waterproof trousers are available in the same waist size and leg lengths as denim jeans, so you can find a pair that fits perfectly.
Pack size
How much spare capacity is there in the rucksack you typically pack, and how likely are you to walk when the forecast is for rain? Emergency overtrousers can pack down very small into their own stuffsacks, ideal for mountain marathon runners, but don't expect the same protection and performance as you'll get from a bigger, heavier pair that will occupy more space in your pack. (See also: How to pack a backpack.)
Zips
The ability to pull on waterproof trousers in a flash when the heavens open is vital; you certainly don't want to be hopping around on one leg while you take a boot off to get your foot through the trousers. The longer the side zips, the easier it is to pull on overtrousers. Zips also offer ventilation options, but they can be weak points for water ingress, so look for storm flaps behind the zip to keep you perfectly dry.
Ankles
No one wants to walk with the bottom of their waterproof trousers flapping in the wind, rain and mud, so a stud or Velcro-type fastening at the hem is a useful feature to keep the ankles tight.
Pockets
Pockets represent a potential weak point for rain to sneak in, so many overtrousers don't feature them. If you need pockets for a ski pass or phone, it's easier to find them in a jacket than trousers.
Care
Waterproof trousers and overtrousers don't stay waterproof forever. The more you wear them, the more frequently they will need reproofing with specialist cleaning and waterproofing agents. This is particularly the case with trousers worn all day, rather than occasional use overtrousers. (See also: How to use waterproofing spray.)
Top tip!
Pack waterproof overtrousers in a plastic supermarket bag. When you need to pull on the trousers, put your boot into the bag – it will slip more easily into the overtrouser leg and will avoid smearing mud up the inside of your overtrousers.
After spending a decade as editor of Country Walking, the UK's biggest-selling walking magazine, Jonathan moved to edit Outdoor Fitness magazine, adding adrenaline to his adventures and expeditions. He has hiked stages or completed all of the UK's national trails, but was once overtaken by three Smurfs, a cross-dressing Little Bo Peep, and a pair of Teletubbies on an ascent of Snowdon. (Turns out they were soldiers on a fundraising mission.)
All the latest inspiration, tips and guides to help you plan your next Advnture!
Thank you for signing up to Advnture. You will receive a verification email shortly.
There was a problem. Please refresh the page and try again.