Cold weather hiking: keep your adventure season going year-round
Cold weather hiking is a different beast to summer hiking, but with the right gear and preparation, it can be a magical way to find solitude in the backcountry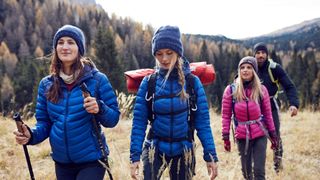 (Image credit: Getty Images)
Do you consider the arrival of fall a signal that it's time to hang up your hiking boots till next summer? If that's your initial reaction, hang on a moment – there are plenty of great reasons to embrace cold weather hiking and keep your outdoor season going year-round.
Summer is by far the high season for hiking, but once the weather turns, instead of packing your boots away, you might find you really enjoy scrunching down a frosty trail as your breath billows out in front of you. Cold weather hiking is quite a different – and magical – experience to summer hiking and it requires some unique preparations, but once you know what you're doing, you can do it safely and you might even prefer it to the busy trails of hot summer days.
Our guide to cold weather hiking covers the benefits, safety aspects and gear required for a safe and enjoyable hike. If you're keen to stay active in the outdoors in winter, you'll also want to check out our guides on winter running and camping.
Why should you try cold weather hiking?
First, the trails will definitely have fewer people on them. As outdoor activities increase in popularity, the chances of enjoying solitude in the backcountry diminishes. Cold weather hiking often means you get even the busiest summer trails all to yourself which can allow for a more peaceful and meditative experience, and also can mean you'll have a better chance of seeing more interesting wildlife.
You also burn more calories hiking in the cold, as your body has to work harder to maintain your inner temperature, so if you hike for exercise, you'll get more bang for your buck.
How cold is too cold?
The answer to this question really varies from person to person, but it really comes down to having proper gear. Without it, once temperatures fall below 40ºF (4ºC), you'll probably find hiking quite uncomfortable. If you're properly dressed and prepared however, you can hike in subzero temps, but generally speaking once the temperature falls below -18 degrees, you should take extra care exercising outdoors.
Beyond the temperature, there are a few other factors that will shape your comfort level, such as whether it is sunny or cloudy, humid or dry, windy or still and snowing or clear. None of these factors will mean it's automatically too cold, but they will change how cold you feel. Figuring out what conditions you can tolerate takes a bit of trial and error, but remember that once you get moving and more often than not be stripping off layers. When it comes to cold weather hiking, getting out the door is half the battle.
Is it safe to hike in the cold?
As long as you're healthy to begin with, dressed properly, and not hiking somewhere like Antarctica, it is safe to hike in most cold weather conditions according to the American College of Sports Medicine. That said, there are health risks involved with cold weather hiking that can be mitigated with good preparation.
Though many people believe that it is dangerous for your lungs to exercise in the cold, there doesn't seem to be any scientific evidence to back this claim up. However, as air gets colder it tends to become drier which can be irritating to your airways. While not necessarily dangerous, it can be unpleasant.
More immediate concerns of cold weather hiking are frostbite and hypothermia. Frostbite is an injury caused by freezing of the skin and is more likely to develop in cold, windy conditions. Though it's more likely to occur on areas of exposed skin that stick out (think: face, ears and fingers) it can occur on covered skin too and at any temperature below freezing. The main thing to keep in mind is to keep your skin as covered as possible, avoid high wind chill days and hike with a friend who can spot any frostbite appearing on your face.
Hypothermia is rare and occurs when your body temperature becomes dangerously low because you're losing heat faster than you can produce it. It can be caused by overexertion in cold temperatures and overexposure to cold temperatures and one of the first signs is shivering. The key to preventing hypothermia during cold weather hikes is to dress properly, keep moving without overexerting, and plan for shorter hikes.
That brings us to one important piece of advice, which is that when it comes to cold weather hiking, you're probably doing it in months that have shorter days. Consequently, you should plan to get started a bit later in the morning than on a summer hike to allow things to warm up a bit, and plan for a shorter day overall so that you're hiking safely in daylight hours.
What do you wear hiking in cold weather?
Your best defence against the cold is to wear proper clothing. The three rules for dressing for cold weather hiking are avoid cotton, dress in layers and avoid sweating if you can.
Cotton traps moisture and holds it against your skin keeping you cold and clammy. Choose clothing made from moisture-wicking materials instead, such as polyester, nylon and wool.
When it comes to layers, make sure the layer closest to your skin is a moisture-wicking base layer. Over that, layer a fleece or down jacket and wear your best hiking pants with venting zips. You'll also want wool socks, shell gloves and a winter hat to keep your extremities toasty.
The key to staying comfortable is to avoid sweating. It might feel fine on the uphill, but when you're coming back down and exerting yourself less, wearing damp clothes will cool you down faster than you want. Plan on wearing most of your clothes when you set off from the trailhead. As soon as you start to feel warm, items like your jacket, hat and gloves can come off and go in your backpack where they'll stay dry, and you can unzip the vents on your pants. You can start to layer up again on the descent or any time you feel cold.
Depending on on the conditions you plan to hike in, these are some other items you might want in your kit:
Microspikes or snowshoes: these will help you grip if you're hiking on snowy or icy terrain. Snowshoes are best for deep snow to keep you on the surface.
Hiking poles: these help keep you upright on slippery terrain and you can use them to gauge snow depth before you step in.
Neck gaiter: these help block out any draughts to keep you warm and you can also pull them up over your nose and mouth to trap moisture and help you breathe more comfortably.
Sun protection: this sometimes gets forgotten in cold weather, which has no bearing on the intensity of sunlight, while snowy conditions actually increase your risk of sunburn due to the reflection of light. Carry sunscreen and wear sunglasses to avoid glare and protect your eyes.
Headlamp: winter days are short and you don't want to be hiking after dark which increases your chances of getting cold and lost, so it's a good idea to carry a headlamp to help find your way down if your hike goes a bit longer than expected (see our guide to the best headlamps for some good options).
Hydration pack: as we mentioned earlier, cold air tends to be drier and more dehydrating, but cold weather seems to suppress the thirst response and we're often less inclined to drink a lot of water than on a hot day. Carrying a hydration pack encourages you to sip water more frequently than if you have to stop each time and rummage around in your backpack, and in cold weather you might want lukewarm water instead of ice-cold water.
All the latest inspiration, tips and guides to help you plan your next Advnture!
Julia Clarke is a staff writer for Advnture.com and the author of the book Restorative Yoga for Beginners. She loves to explore mountains on foot, bike, skis and belay and then recover on the the yoga mat. Julia graduated with a degree in journalism in 2004 and spent eight years working as a radio presenter in Kansas City, Vermont, Boston and New York City before discovering the joys of the Rocky Mountains. She then detoured west to Colorado and enjoyed 11 years teaching yoga in Vail before returning to her hometown of Glasgow, Scotland in 2020 to focus on family and writing.