Camping with dogs: tips and tricks for canine overnighters
Our tips for camping with dogs include everything from safety to sleeping arrangements to help your dog have as much fun as you do when you're out in the wild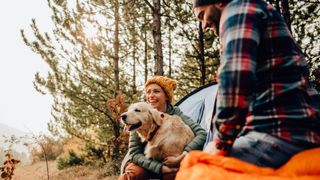 (Image credit: AleksandarNakic)
No dog owner wants to kennel their canine companion when they travel, least of all when it's for a camping trip and there's all that fresh air and outdoor fun to be had. While your dog will relish the opportunity to do lots of new sniffing and exploring, if you are going camping with your dog, there are lots of some special preparations you'll need to make to keep your dog comfortable and safe as well as making sure other campers aren't inconvenienced. Our tips for camping with dogs include everything from safety to sleeping arrangements to help your dog have as much fun as you do when you're out in the wild together.
Once you've read these, check out our articles on hiking with your dog and trail running with your dog to get the most out of your time outdoors.
1. Check permissions
If you're planning on camping in a developed campground, naturally you'll want to call ahead and check that they allow dogs. Campsites are often pet-friendly, but they will have certain guidelines you'll need to adhere to. Dogs are generally welcome in National Parks and National Forests as well as when you're camping on BLM land, but don't think yours can just roam free as they will often need to be kept on a leash.
Once you're sure you have permission, you should also consider your dog's temperament. Dogs that are untrained or bark all night long probably aren't ready to come to campgrounds where other campers are trying to sleep.
2. Bring enough food and water
In addition to packing your camping cooler with your own food, you'll of course need to bring enough nosh for your pooch. If you're car camping, you could just throw the whole massive food bag in your car, but this can be a bit cumbersome, or impossible if you're backpacking, so it can be helpful just to portion out what you need for the number of days that you're gone. Don't forget to bring a food bowl for your dog, too – if you're backpacking, invest in a lightweight, collapsible bowl that can clip to your backpack or your dog's collar and consider a doggy harness so your dog can carry its own food on the trail.
Meanwhile, at home, your dog can stay hydrated as long as you keep the water bowl full, but out in the woods they're likely to dehydrate faster. Chances are, your dog will be panting more – this may be because the weather is warm or they're more active if you're hiking together, or if they're a bit stressed or excited with all the newness going on. Ideally, camp somewhere with a natural water source nearby or if you're car camping, pack in a lot of water and definitely bring a collapsible water bowl on any type of camping trip.
3. Pack a leash, tether and collar
Chances are, your dog will need to stay on leash the entire time you're at the campsite, which will keep it safe from hazards like the campfire and camping stove and ensure it doesn't stray into other people's camps looking for spare sausages. In addition to the regular leash you use for walkies, make sure to pack a longer tether for hanging out at camp which you can secure to something solid like a nearby tree or picnic table. If you're camping out in the backcountry, you may want to leave the tether at home but do bring a leash so you can secure your dog on the trail or if there are any wildlife encounters.
Not only should you keep your dog's collar on in case it goes for a wander, it's a good idea to attach a small LED light to it so you can find it in the dark.
4. Provide plenty of shade
If your dog is small enough, underneath your camping chair might do, but it's important to make sure your dog has a decent source of shade for hanging out outdoors all day. Obviously, in warm weather your tent and car will be off limits as they'll heat up fast, while picnic tables can provide some shelter in addition to crumb opportunities, but it's a good idea to pack a tarp and erect a shelter so your dog doesn't overheat, and if you're backpacking, look for shady spots in the trees to rest.
5. Keep the campsite clean
You're probably used to carrying a few poo bags no matter where you go, but bring the whole roll for a camping trip. Not picking up your dog poo doesn't just make for an unpleasant campsite – it's also bad for environment. Many dog owners are under the false impression that their dog's excrement helps to fertilize the soil, but a recent study out of Belgium found that it increases gases like nitrogen and phosphorus by levels that would be illegal on farmland. Don't make the mistake of thinking that you get a break from picking up your dog's poo just because you're out in the woods.
6. Consider local wildlife
Speaking of wildlife encounters, you don't necessarily need to leave your dog at home if you're camping in areas where there is wildlife like bears, moose and mountain lions. In fact, your dog may actually serve as a deterrent to these animals, though dogs can attract wildlife so you will want to be extra vigilant, keep your dog close by at all times and make sure its food is packed away in a bear canister.
7. Make up a good bed
Where does your dog sleep at night? There are a few possibilities, and of course, it all depends on your dog which is best. If you want your dog in the tent with you, you'll want a tent big enough for every person to sleep plus extra room. So, even if it's just you and your pooch, you might want to bring a 2-person tent.
Another option is to bring a tent with a sealed vestibule and use that for your dog so that it can be close by but won't keep you awake all night or get too hot. For these options, it's helpful to bring a waterproof dog bed that you can wipe clean, and if it's going to be chilly overnight, bring a blanket for your dog.
Further ideas include bringing a kennel, or having your dog sleep inside your car, which is the safest option if you're camping in bear country. Naturally, you'll want to wait for the weather to cool down before loading your dog up for the night.
8. Use tick repellent
We've previously written about how to avoid tick bites, which is good information for any camper, but of course it's a bit harder to keep Fido covered up in base layers and out of long grass. Invest in some tick repellent for your dog and make sure it's well doused before any adventures.
All the latest inspiration, tips and guides to help you plan your next Advnture!
Julia Clarke is a staff writer for Advnture.com and the author of the book Restorative Yoga for Beginners. She loves to explore mountains on foot, bike, skis and belay and then recover on the the yoga mat. Julia graduated with a degree in journalism in 2004 and spent eight years working as a radio presenter in Kansas City, Vermont, Boston and New York City before discovering the joys of the Rocky Mountains. She then detoured west to Colorado and enjoyed 11 years teaching yoga in Vail before returning to her hometown of Glasgow, Scotland in 2020 to focus on family and writing.