Trail running shoes vs road running shoes: what are the differences?
We compare off-road and on-road running footwear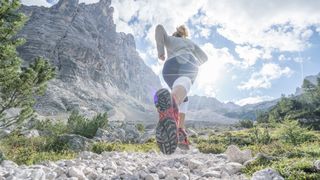 (Image credit: Getty)
When choosing your footwear, it's important to understand the differences between trail running shoes and road running shoes.
There are multiple differences between trail running shoes and running shoes and, in general, runners choose their type of running shoes to suit the terrain. Trail running shoes are designed to cope with rougher and softer terrain, while road running shoes are meant for running on harder and smoother surfaces, such as tarmac.
Trail running shoes vs running shoes: outsole
The sole of a running shoe comprises the outsole and the midsole. Each of these components will be structured and designed differently in road running and trail running shoes, making them more suitable for the type of terrain they will be used for.
The outsole is the part of your shoe that is in direct contact with the ground. A trail running shoe therefore needs to have greater traction or grip because runners will be on a range of surfaces, such as wet rock, mud, grass, stoney paths and steep slopes.
If you look at a trail running shoe outsole there will be a design, including lugs or studs, to grip the rough terrain.
Trail running shoes usually have a stickier compound on the sole to ensure runners have grip on rocky and uneven terrain. The depth of the lugs will vary depending on what the trail running shoes are intended for, from rough park paths to mountain tracks. Other trail running shoes feature materials, such as graphene, to offer improved grip on a range of trails.
In contrast, a running shoe for roads will generally have a smoother sole. There is much less need for traction on tarmac and so the focus of the running shoe will be on a smooth and fast cadence.
Trail running shoes vs running shoes: cushioning
The midsole is the part of the running shoe that sits between the outsole and the insole. This is the area of the running shoe that provides the most cushioning. It is usually made from a foam material and the levels of cushioning varies in a number of ways.
In general, road running shoes are typically more cushioned than trail running shoes because they are meant for hard surfaces. Meanwhile, trails are generally softer underfoot and create lower levels of pounding impact so the cushioning is usually lower in a trail running shoe.
In addition, when trail running, proprioception is important. Proprioception is described as the sense of self-movement and body position and refers to how the muscles, tendons and joints work together to provide awareness on uneven surfaces.
When you are running off-road, you need to be able to trust in your footwear and the sense of where your foot is and therefore it is often better to have less cushioning underfoot and greater "ground feel".
Find out more by reading: how to choose trail running shoes: drop, sole, grip, weight and more explained.
However, there are some trail running shoes, especially from brands such as Hoka One One, that have higher than average levels of cushioning. There are also road running shoes that have reduced levels of cushioning, for example, a lightweight and minimalist road running shoe that is meant for races, compared to a road running shoe that will be used for ultra distance running training and races.
In addition, it will depend on the needs of the runner. Some runners like more cushioning, whether they are running on trails or tarmac, while other runners prefer more minimalist, in-contact-with-the-ground cushioning. It's often a personal choice when choosing the best trail running shoes or road running shoes.
Trail running shoes vs running shoes: heel-to-toe drop
Heel-to-toe drop refers to the difference in the thickness of the the midsole, from heel to toe. With road running shoes, the drop is usually larger to protect the Achilles tendon and legs from the pounding impact of running on tarmac.
Meanwhile, with trail running shoes, the heel-to-toe drop is generally lower, which means the foot is closer to the ground. This helps to provide improved ankle stability and, as above, it enhances a runner's proprioception.
Trail running shoes vs running shoes: medial post
The medial post is an insert of harder-density foam that is positioned on the medial side (inside) of the midsole of the shoe. The aim of the medial post is to control excessive pronation, depending on your running gait.
Road running shoesd that are classed as "stability road shoes" will have a medial post, while most trail running shoes have no medal post so there is no restriction in the natural motion and movement of the foot.
Trail running shoes vs running shoes: upper
The upper in a running shoe comprises fabric, rand and heel collar, as well as tongue and lacing. If you compare trail running shoes vs running shoes, you'll see that the upper is made of sturdier and tougher materials to protect your feet and so as to withstand trail terrain and hazards, for example stones, rocks, vegetation and tree roots.
Trail running shoes will have a more robust and protective rand. This is the area of the shoe between the upper and sole and where a material overlay circuits the shoe. The road helps to maintain the fabric upper by adding protection against natural hazards and obstacles.
The addition of a toe cap or heel protector also ensures greater durability of a trail running shoe.
Trail shoe uppers might also have a water repellency treatment or a Gore-Tex liner to keep feet drier. However, some trail shoes are deliberately designed with a breathable mesh to stop feet from becoming too hot and also to allow water that gets into the shoe to also escape again.
With road running shoes, the upper is usually lighter and thinner, providing greater breathability.
The shape of the upper and the fit and feel will be different from brand to brand, whether it's a trail running shoe or a road running shoe. It's a good idea to try on shoes before buying them.
Trail running shoes vs running shoes: lacing
The tongue and lacing is the part of the shoe that can be adjusted to allow your foot to slip inside and also then to provide support when you run.
The tongue of a trail running shoe might be designed with a stone guard, so as to keep small bits and pieces of the stone, grit and vegetation out of the shoe.
Trail running shoes should also support a runner's feet throughout a run on rough terrain. Look for "stay-tied" laces, such as those with locks or knobbles along the length of the lace.
Some brands have developed lacing systems to keep feet supported, such as the Salomon quicklace that uses a toggle lock to allow for an even adjustment of lacing along the shoe and also to keep laces tied. La Sportiva have also recently developed a BOA Fit System for their Cyklon trail running shoe.
The tongue and lacing area of a road running shoe should also be comfortable and easily adjusted and laced to offer good support. However, because road running is a more even and repetitive activity, with far less foot and ankle movement compared to off-road, there is less requirement for a highly technical tongue and lacing system.
Trail running shoes vs running shoes: price
Trail running shoes often command a higher price tag because of increased need for R&D (research and development), plus a need for greater technical design and features to increase longevity of the footwear when subjected to the rough nature of trails.
Read running shoes will generally be a bit cheaper due to a more straightforward design.
However, the above is a generalisation and it will depend on the brand and how the trail and road running shoe is developed, designed and manufactured.
Swipe to scroll horizontally
Trail running shoes vs road running shoes

| | | |
| --- | --- | --- |
| Row 0 - Cell 0 | Trail running shoes | Road running shoes |
| Outsole | Material, design and lugs to provide traction on trails | Smoother outsole for speed on tarmac |
| Cushioning | Generally less cushioning for greater ground-feel | More cushioning to reduce pounding impact |
| Heel-to-toe drop | Lower drop so the foot is closer to the ground for improved proprioception | Larger difference to protect the Achilles tendon and legs from tarmac impact |
| Medial post | Less likely to have a medial post | Medial insert to help with stability on flat ground |
| Upper | More details for improved durability, plus water resistant or waterproof | Lightweight and less requirement to have extra durability features |
| Lacing | More technical lacing for support on rough trails | More straightforward lacing system |
| Price | Can be more expensive due to greater need for technical design and features | Usually cheaper because the shoe will be more straightforward |
There are many differences when comparing trail running shoes vs running shoes and they will vary from brand to brand but generally the aim of the different types of shoe is to provide comfort and safety to the runner on different terrains.
All the latest inspiration, tips and guides to help you plan your next Advnture!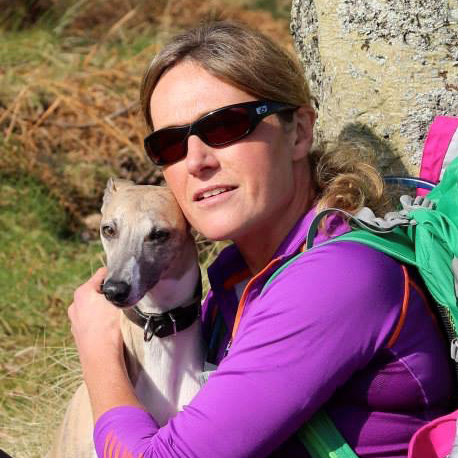 Fiona Russell is a widely published adventure journalist and blogger, better known as Fiona Outdoors. She is based in Scotland and is an all-round outdoors enthusiast with favorite activities including trail running, mountain walking, mountain biking, road cycling, triathlon and skiing (both downhill and backcountry). Aside from her own adventures, Fiona's biggest aim is to inspire others to enjoy getting outside and exploring, especially through her writing. She is also rarely seen without a running skort! Find out more at Fiona Outdoors.