Looking to mix things up on the trail? Try fartlek training
The fartlek training method has been shown to improve muscular endurance, VO2 max and resting heart rate among long distance runners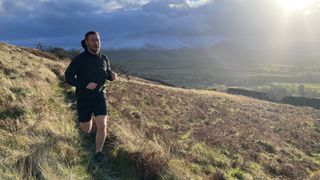 (Image credit: Alex Foxfield)
It's a Tuesday morning and I'm running on one of my favorite trails, part of the Dumgoyne hill loop near Glasgow that offers rolling terrain on a mettle road and spectacular views of Loch Lomond, Ben Lomond and the Trossachs. Many days, I get my running headphones on and just get in the slow zone, my trail running shoes hitting the ground with a steady cadence until I reach a gate at the 6km mark, then I turn back. Today, though, I'm trying a different approach. About 100 meters up ahead of me, the track crosses a bridge and takes a tight left hand turn, so I pick up the pace to a faster clip until I reach the bend, then jog slowly down the hill that follows, recovering. Soon, I cross through a farm gate and a little further ahead lies another water feature, part of the pipeline that carries water from Loch Katrine down to Glasgow. I speed up again until I reach it, then resume my easy pace for a short uphill.
I've been incorporating the fartlek training method into my running routine for the past year, after reading a 2020 study that found it improved endurance among cross country runners, which basically means that those runners can run for longer and their muscles can better withstand injury and recover faster. I'm not training for a marathon or trying to get faster really, but I like the idea of being able to go longer and feel better afterwards, particularly as I started to feel the odd tweak in my hip and knee upon nearing 40. Since beginning the fartlek method, I've noticed that I'm now able to sustain a better pace on longer runs, pain-free and it's a great option for those of us who aren't really interested in structured interval training and sprint workouts.
What is the fartlek method?
The word fartlek is a Swedish word that translates to "speed game" or "speed play" and in fartlek training, you essentially play with your speed while you're running over long distances. Unlike the structured format of sprints, where you might run as fast as you can for a specific number of short bursts with rest or near-rest sessions in between, fartlek training involves picking up the pace for short distances within a workout that is usually at least 45 minutes long. That could mean that you're on a walk and you increase your pace to a jog between two landmarks, such as two trees or telephone poles, or you're on a run and pick up the speed to race pace or sprinting.
The faster-paced segments of your workout don't have to happen at regular intervals, nor do they have to be specific lengths. Basically, you just mix up your pace as you go, using landmarks to help you, then resume your normal pace until you feel recovered, then go again. Some of my "sprints" are probably not much more than 100 meters, while others might be closer to three times that.
Fartlek training is usually associated with running, but it could be applied in other disciplines such as swimming, too. It can be approached in a more structured way, if you have a specific goal in mind such as running a half marathon at a competitive pace, but the basic principle remains that you work the intervals into a longer distance workout.
What are the advantages of the fartlek method?
In addition to the previously mentioned study correlating fartlek training with increased endurance, a 2014 research paper indicated it with improved VO2 max and resting heart heart, so at least in controlled environments, there seem to be some arguments for implementing fartleks for performance. Essentially, what the approach seems to do is teach your body how to handle, and adapt to, different paces over a longer period of time, rather than just teaching it to sprint short distances and run slowly over long distances. In a race setting, this could allow you to outrun your opponents without running out of steam, while in any trail run, it can give you the stamina to adapt your pace to the lay of the land, speeding up on flat or downhill sections to cover more terrain, faster.
In addition to helping to improve your fitness and stamina, fartlek has a couple of other, more practical advantages in my opinion. First, you can still get your long runs in. Whether, like me, you simply don't really want to do sprint workouts, or you don't have a lot of time in your schedule, this allows you to vary your training without having to add in more runs per week.
Second, because you're using visual landmarks to plan your fast running, and slowing down until you feel like your heart rate has returned to baseline, you don't have to rely on a GPS watch to do the training properly, though you might like having it for other reasons such as tracking your overall distance or calories.
Finally, if you're tired, you can still do a fartlek session, but you just don't have to run as fast, as long, or as often to get the benefits. But ultimately, you shouldn't take it from me – why not mix things up next time you're on the trail and see if you can get ahead?
All the latest inspiration, tips and guides to help you plan your next Advnture!
Julia Clarke is a staff writer for Advnture.com and the author of the book Restorative Yoga for Beginners. She loves to explore mountains on foot, bike, skis and belay and then recover on the the yoga mat. Julia graduated with a degree in journalism in 2004 and spent eight years working as a radio presenter in Kansas City, Vermont, Boston and New York City before discovering the joys of the Rocky Mountains. She then detoured west to Colorado and enjoyed 11 years teaching yoga in Vail before returning to her hometown of Glasgow, Scotland in 2020 to focus on family and writing.