When is camping season? We check out the best times to pitch up
When is camping season? And what time of year is best to camp? We discuss the pros and cons of camping in different seasons throughout the year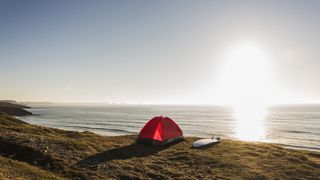 (Image credit: Westend61)
When is camping season? If you're kitted out with a brand new tent and one of the best sleeping bags, and planning on spending a lot of nights sleeping under the stars this year, you're likely asking yourself this question. The term "camping season" is thrown around a lot, but when exactly is it? After all, you should be able to pitch a tent any time you like, so is camping season like basketball season, with a regular annual schedule? Or like hunting season, where you need to apply for permits in advance? We take a look at what camping season really means in this article, and also discuss the pros and cons of camping in different seasons throughout the year so that you can figure out exactly how many nights you can get out in the wild.
When is camping season?
Camping season generally refers to the months from April to October in the northern hemisphere. These months generally feature the warmest – or at least mildest – temperatures and are therefore the safest and most comfortable for sleeping on the ground with just a thin layer of canvas between you and the cool night air.
Naturally, camping season will vary somewhat depending on where you are. In Glacier National Park for example, snowy conditions tend to persist for most of the year so the camping season there is remarkably short, lasting only from mid-June until early September. In contrast, many Floridians will find that the summer months are far too hot and humid to be outdoors all day and night so they wouldn't dream of camping in July.
Many developed campgrounds, and particularly those in National Parks, do adhere to a regular camping season where their campsites open to the public around April or May and close in September or October to take advantage of the best weather.
What time of the year is the best to camp?
Just because many National Parks limit their campground access to spring through fall doesn't mean that you can't camp at other times of year, however. After all, in the US you can go camping on BLM land for free at any time of year, and in parts of the UK you can always go wild camping.
Further, while mild, dry temperatures certainly make for the most enjoyable camping experience, that doesn't mean you're limited to fair weather adventures. Alfred Wainwright famously wrote about hiking that there's no such thing as bad weather, only the wrong clothes, and many people believe that the same rings true for camping. With technological advances in outdoor gear, you could certainly invest in a sleeping bag, sleeping pad and tent designed for extreme cold.
But anyway, to answer the question of what time of the year is the best to camp, the answer is, it depends on where you are and your own preferences. Do you want peace and quiet or do you enjoy getting to know other campers? Do you prefer hot or cold weather? Do roaring waterfalls trump mosquito bites in your book? To better understand let's take a look at what you might expect from each season so you can decide for yourself:
Spring camping
Spring camping is popular because most of us have been cooped up indoors all winter long and are just ready to get outside, but the conditions can be surprisingly challenging. While spring is warmer than winter, the conditions are often blustery and changeable, and in many parts, April is the rainiest month of the year. Certainly, spring camping can be lovely and not too hot, but if you're thinking about it, read our article on how to camp in the rain before you go and know that in cold temperatures, that rain can turn to snow. Two advantages of spring camping, however, are that it's likely to be quieter, and any nearby waterfalls will be in full flow (this is why we recommend heading to Yosemite National Park in the spring).
Summer camping
In most places, summer offers the best conditions for camping. If the climate is milder to begin with, temperatures can be extremely comfortable during the day and not too cold over night, plus these months are usually drier. In hot climates however, summer camping can be downright uncomfortable unless you're by a river or lake that you can safely do some wild swimming or water sports in. The downsides of summer camping generally are the increase of biting bugs like mosquitoes and midges and that it's by far the most popular time to camp with school holidays in full swing, so it can be harder to find solitude unless you're backpacking and able to get yourself somewhere remote.
Fall camping
When summer's heat fades and the kids return to school, fall can provide a much more comfortable and quieter time for enjoying camping trips. These months will be a little colder at night, so you'll want to make sure your sleeping bag temperature rating will hold up against the overnight lows, but before the snow comes, these months are usually dry, which does mean water sources can be low, but in return it will be less buggy.
Winter camping
Finally, for the truly adventurous, there's winter camping. Of course, there are plenty of locations that don't see any snow in winter and all that's required is a sleeping bag meant for below-freezing temperatures, but in snowy locales, you'll need to know how to build a campfire in winter and you might require some kind of traction devices for hiking in, whether that means snowshoes, crampons or cross country skis. To get started, read our article on how to go winter camping and be aware of the possible dangers such as frostbite, hypothermia and avalanches. Now that those warnings are out of the way, winter camping can offer you some of the sparkliest and most breathtaking vistas out there and you're highly unlikely to have to share it with anybody, ever.
All the latest inspiration, tips and guides to help you plan your next Advnture!
Julia Clarke is a staff writer for Advnture.com and the author of the book Restorative Yoga for Beginners. She loves to explore mountains on foot, bike, skis and belay and then recover on the the yoga mat. Julia graduated with a degree in journalism in 2004 and spent eight years working as a radio presenter in Kansas City, Vermont, Boston and New York City before discovering the joys of the Rocky Mountains. She then detoured west to Colorado and enjoyed 11 years teaching yoga in Vail before returning to her hometown of Glasgow, Scotland in 2020 to focus on family and writing.