Fleece vs down jacket: which do you need?
We take on the fleece vs down jacket debate to find out how these two classic outdoor garments perform in challenging conditions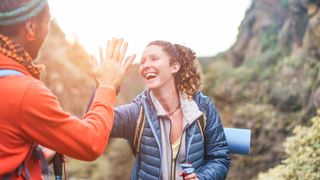 (Image credit: DisobeyArt)
Are you in the market for a new jacket to keep you warm during your outdoor adventures? Fleece jackets and down jackets are considered essential kit in any season, whether you're expecting cool nights at camp or heading up into high alpine environments – but which is best? Or do you need one of each? We take on the fleece vs down jacket debate here to find out how these two classic outdoor garments perform in challenging conditions.
What's the difference between fleece and down?
Fleece and down jackets are both warm jackets but similarities pretty much end there. Rather than being two different fabrics, these are two different methods of insulation. Fleece is a soft synthetic material made using spun polyester fibers and can be used in the shell of a jacket, otherwise known as a fleece jacket, or as the lining of many different types of jackets. Meanwhile, down refers to the insulating stuffing of a down jacket which is made using duck or goose plumage (the soft, fluffy stuff under their feathers). The shell of a down jacket is usually made from a synthetic material like nylon or polyamide. The difference in the two approaches means that each type of jacket has distinct advantages and disadvantages that you'll want to understand before making your decision.
Fleece vs down: warmth
Obviously, if you are choosing a fleece or a down jacket, the first thing you want to know is how much warmth will it provide? Fleece and down both trap air in a similar fashion, by holding it close to your body where your body heat warms it, and in turn that warm air then heats your body.
There are lots of different types of fleece out there with varying degrees of warmth, while how warm a down jacket will be depends on its fill power and how much down it contains. However, it's generally agreed upon that down is warmer than fleece per ounce of jacket, but you can compensate for that a little by layering up your fleeces and wearing two for more warmth.
Ultimately, it's not necessarily an either/or situation here. If you're venturing out in very cold weather, you'll want a down jacket with at least 700FP (fill power) and you might wear a fleece underneath it as your mid layer. For cool spring and fall hikes, a fleece will usually suffice while a lighter down jacket may work too, and in milder summer temperatures, a down jacket will be far too warm. So purely in terms of warmth, it all depends on where and when you're planning to get outdoors.
Fleece vs down: weight
The good news is that both options are lightweight, though of course the weight of a jacket will depend on other factors, like size, whether or not it has a hood and thickness of the fleece or amount of insulation in a down jacket. That said, most of the best fleece jackets do come out a little lighter than their down counterparts.
Fleece vs down: packability
While fleece jackets often weigh a little less than down jackets, they are also a bit bulkier whereas down jackets usually pack down very small. If you don't have any room to spare in your backpack and you're looking for maximum warmth, you'll want a down jacket that has a smaller quantity of higher fill power down.
Fleece vs down: waterproofing
In lots of places where you might like to hike, the temperature is not so much the issue as the precipitation. If you're expecting lots of rain, you're going to want to consider how your jacket performs when wet.
Sadly, neither fleece nor down jackets are waterproof, and in fact, neither option continues to insulate when wet. That said, fleece is water resistant and it does hold up well against a light mist or shower, plus it's quick drying, whereas down will get soggy and takes a long time to dry, so fleece does have a definite edge here. However, for rainy days, you'll want to layer a waterproof jacket over either option.
Fleece vs down: breathability
So both a fleece and a down jacket will let moisture in, but will they also let it escape? If you're planning on working up a sweat on the trail, you want your jacket to be made from moisture wicking materials and the good news is that fleece jackets offer great breathability which is why they're so popular among hikers.
Some down jackets are more breathable than others depending on what the shell is made of, but generally speaking, they're designed to keep you really, really warm and if you work up a sweat in a down jacket, it will get damp and stay damp. Some down jackets have breathable panels in places where you sweat a lot, like under your arms, and these might be a good option if you really need the insulating power of a down jacket but plan to exert yourself.
Fleece vs down: durability
You only need to glance at a fleece jacket and a down jacket side by side to know that fleece is made of tougher stuff. Being made from synthetic material, your fleece jacket will last a long time if you take good care of it and it will hold up against sharp branches, rock abrasions and backpack rub. However, it is prone to pilling which doesn't affect its performance but is not aesthetically pleasing.
Down jackets are pretty fragile, as the shell outer can tear easily, which means you end up leaking down and losing warmth. They also just naturally leak feathers over time, though some companies like Rab do offer services to refresh the down in your jacket. You'll want to take extra good care with yours and know how to patch a down jacket in case you spring a leak.
Fleece vs down: price
Fleece jackets really run the gamut when it comes to pricing, but since synthetic materials are cheaper to produce, they're typically much more affordable than down, even from brands that are generally on the pricey end. Meanwhile, a good down jacket will always set you back a pretty penny.
Fleece vs down: ethics and sustainability
In all honesty, there are issues with both types of jacket when it comes to ethics and sustainability. Fleece is a synthetic material so it's worse for the environment to produce and it won't biodegrade when it gets to the landfill. That said, a good fleece that's well looked after could last you the rest of your life, so it does earn back some points there.
Meanwhile, even though down filling is natural, the shell is usually synthetic and there are definitely ethical questions surrounding down insulation, with revelations of mistreatment of fowl. If you're going with a down jacket, look for "ethical" and "fully traceable down." Also, because of your down jacket's more fragile nature, it's more likely to end up in the landfill sooner if you don't take good care of it.
The good news is that increasingly, major outdoor brands are manufacturing both types of jackets using recycled materials, which helps to offset some of their carbon footprint.
Swipe to scroll horizontally
Fleece vs down jacket

| Header Cell - Column 0 | Fleece jacket | Down jacket |
| --- | --- | --- |
| Warmth | Varying degrees of warmth, but not as warm as down | Anything above a 550 fill power will provide lots of warmth in cold, dry conditions |
| Weight | Lightweight | Lightweight |
| Packability | Bulkier | Generally compress down small |
| Waterproofing | Water resistant, dries quickly, won't insulate once soaked | Not water resistant, won't insulate when wet, slow to dry |
| Breathability | Usually highly breathable | Not as breathable, slow to dry when you get sweaty |
| Durability | Tough fabric will withstand rocks and branches, but prone to pilling | Fragile and tears easily |
| Price | Generally affordable | Always expensive |
| Ethics and sustainability | Synthetic materials are more damaging to produce, won't biodegrade, but will last longer | Ethical concerns with down production, more likely to end up in a landfill sooner |
Fleece vs down: the verdict
So will it be fleece, or down? Clearly it comes down to how cold it's going to get on the trail, whether you're expecting a lot of rain, and what you plan to do in your jacket. If you're looking for something that will hold up to tough adventures in cool, moist conditions, fleece is the easy choice, but if what you need is some seriously toasty insulation for cold, dry weather that packs down small, grab a down jacket. If you think you'll be hiking in all types of conditions, head on over to our article on hiking layers to learn about how to use your fleece and down jacket together.
All the latest inspiration, tips and guides to help you plan your next Advnture!
Julia Clarke is a staff writer for Advnture.com and the author of the book Restorative Yoga for Beginners. She loves to explore mountains on foot, bike, skis and belay and then recover on the the yoga mat. Julia graduated with a degree in journalism in 2004 and spent eight years working as a radio presenter in Kansas City, Vermont, Boston and New York City before discovering the joys of the Rocky Mountains. She then detoured west to Colorado and enjoyed 11 years teaching yoga in Vail before returning to her hometown of Glasgow, Scotland in 2020 to focus on family and writing.