What is a mid layer and why they form a crucial part of your layering system
What is a mid layer? We answer the important questions and consider why they are so important for your backcountry adventures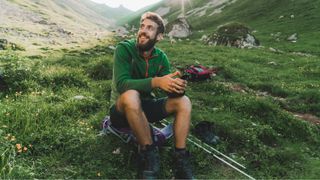 (Image credit: Getty)
What is a mid layer? Simply put, a mid layer is an item of clothing that goes between your skin-hugging base layer and your waterproof or water-resistant outer layer. Depending on conditions, hikers will often wear multiple mid layers as part of their layering system. They can be long-sleeved technical tops, fleece jackets, down jackets, sweaters, softshells or anything that helps to keep you warm while on the trails.
After all, a day on the hill can be an absolute roller-coaster in terms of body temperature, which is why layering is important, especially in winter. For example, at a valley trail head, it's likely to be relatively cold but, as soon as you start to work your way up the mountain, you're going to warm up. Meanwhile, the air temperature drops the higher you ascend so, while you may be toasty while you're moving, as soon as you stop you are going to start to feel the cold. Add in variables like wind chill, which increases as you gain more exposed land, and you soon see that you have a very fluctuating picture when it comes to your body temperature.
By having a number of removable, thin mid layers, you can adapt to the conditions and your exertions. Stopping for a brew high on a freezing ridge line? Pop on your best down jacket to keep the cold at bay. A strenuous ascent making you sweat? Remove everything apart from your base layer and your best fleece jacket, but have your hardshell jacket ready at the top of your pack in case it starts to rain. Managing your layers comes with experience and most hikers have their own preferred systems.
What is a mid layer and why are multiple layers important?
Now, when you are preparing to leave the warmth and coziness of the indoors, it might be tempting to only put on a big coat, or possibly just one enormous down jacket that makes you look and feel like a marshmallow. But that leaves you with only two choices of temperature: coat on or coat off, hot or freezing. By taking a less extreme outer layer and topping up with lots of thinner mid layers, you can maintain a comfortable temperature throughout the day. You've got a sliding scale of warmth based on how many mid layers you're wearing.
For example, if we're heading out for a day of winter mountain walking, we would take a selection of layers. We'd have a merino base layer, a selection of fleeces or softshells (how many is purely down to personal preference), a waterproof jacket and possibly even a down jacket.
What to wear in different situations
Depending on the weather (and how brave we were feeling!) we'd probably start off wearing a base layer and two fleece jackets. There's a saying among hikers: "Be bold and start cold." What this means is that it's worth being a little nippy to begin with because you'll be pulling those cozy layers off once you get into your stride and especially if you start heading uphill.
What is a mid layer without its trusty outers? In the event that it is raining or snowing, we'd have a softshell or waterproof on top, depending on the severity of the conditions. On an extended ascent, pay attention to what your body is telling you. Even on bitterly cold days, if you start to heat up and sweat beneath all your layers, it's worth removing one. The last thing you want is to be soaked in sweat in cold conditions.
All the latest inspiration, tips and guides to help you plan your next Advnture!
An adventure writer based on Dartmoor, England, Emily is an active member of Mountain Rescue and a summer Mountain Leader, but loves all things adventure – before her third birthday she had lived on three continents. Founder of Intrepid magazine, she works to help break stereotypes about women in the outdoors. Her expeditions have included walking all Dartmoor's 119 tors in a single two-week outing, cycling to Switzerland and back, and riding the Rhine from source to sea.