What is a mid layer and why they're important for keeping warm
A quick guide to what a mid layer is and why you want to be wearing one outdoors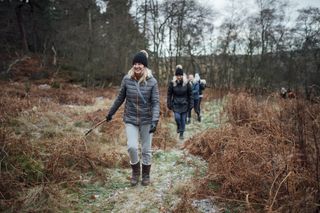 (Image credit: Getty Images)
A mid layer is, rather simply, a middle layer of clothing that makes up the bulk of your warm layers – the filling of your clothing sandwich. On one side, closest to your skin, is a base layer. On the outside is (you guessed it!) the outer layer. Everything in between counts as a mid layer.
The idea behind mid layers is to have lots of thin layers of clothing worn one over they other – typically fleece jackets or micro fleeces. This enables better temperature regulation and traps more warm air to keep you toasty.
Anyone who's walked up a hill in cold weather knows that temperature regulation can be challenging. You get out of your house or vehicle bracing yourself for the cold, wrapped in every item of clothing you own. As you plough up the hill, you get hotter and hotter from the exertion. Very soon, those warm layers are going to start coming off. Finally, you reach the summit, stand around, eat some food, take some pictures and promptly feel cold again. Over a day in the hills this can become a temperature roller coaster.
Now, when you are preparing to leave the warmth and cosiness of indoors, it might be tempting to only put on a couple of big coats. Or possibly just one enormous down or puffer jacket – check out our guide to the best down jackets and puffers you can buy – that makes you look and feel like a marshmallow. But, that leaves you with only two choices of temperature: coat on or coat off, hot or freezing. By taking a less extreme outer layer and topping up with lots of thinner mid layers, you can maintain a comfortable temperature throughout the day. You've got a sliding scale of warmth based on how many mid layers you're wearing.
For example, if I'm heading out for a day of winter mountain walking in Scotland in January, I would take a selection of layers. I'd have a merino base layer, at least two fleeces, a softshell, a hardshell waterproof jacket and a down jacket (here's more on how to choose a down jacket) or belay jacket. Depending on the weather (and how brave I'm feeling!) I'd probably start off wearing a base layer and two fleeces – as people say, "Be bold and start cold." More likely it'll be raining or snowing so I'd have a softshell or waterproof on top. On an extended ascent, I'd take off a fleece. If we're stopping for a while, I'd throw on my insulated jacket over the top to stay warm. But it would come off again before we start moving.
All the latest inspiration, tips and guides to help you plan your next Advnture!
Thank you for signing up to Advnture. You will receive a verification email shortly.
There was a problem. Please refresh the page and try again.