10 hiking books that will inspire your next adventure
Our favorite hiking books include heartfelt memoirs and imaginative novels where you can lose yourself on a rainy day and find fresh inspiration get off the beaten path again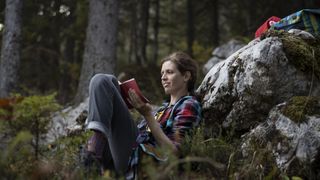 (Image credit: CasarsaGuru)
At Advnture, when we're not out on the trails, we're thinking about being out on the trails, so it should come as no surprise that we love reading hiking books. Whether it's a personal account of a spiritual pilgrimage, or a fictitious search for treasure in ancient lands, the theme of humans taking a long walk is one that has pervaded literature since pen first met paper.
Our list of our favorite hiking books barely scratch the surface of this vast genre, but they still offer you countless ways to get lost when it's too rainy to hit the hills, find yourself again on a rest day and inspire you to dust off your hiking boots and get on your next adventure.
1. A Walk in the Woods by Bill Bryson
Bryson's account of walking the 2,200 mile Appalachian Trail is one of the quintessential walking books. The Iowa native recounts the good, the bad and the ugly of attempting to hike America's beloved long distance trail, all with his signature wry sense of humor and knack for delivering compelling facts and witty observations about sociological phenomena. Whether he's struggling through the humid woodlands of the deep south with his overweight hiking partner or lamenting environmental pollution in Pennsylvania, you'll be captured by the desire to try the thru-hike and laughing out loud along the way.
2. Into Thin Air by Jon Krakauer
Do you harbor secret dreams of summiting Mount Everest? You might not after reading this memoir. Krakauer, now a well-known author, was a journalist for Outside magazine in the 1990s when he was assigned to write a piece about hiking to Base Camp. The assignment reignited the former climber's early dreams of summiting Everest and he ended up being part of an ill-fated expedition that ended up being one of the most deadly days on Everest. His harrowing recollection of the chaotic events will leave you up there on the mountain long after you turn the final page.
3. Wild by Cheryl Strayed
Cheryl Strayed's detailed memoir of the Pacific Crest Trail was turned into a blockbuster movie starring Reese Witherspoon that you can watch in under two hours, but it's well worth taking the time to read the book. Strayed's 1,100 mile journey is one of redemption after suffering tragic personal loss and surviving an addiction to heroin, and when she first sets foot on the trail in the Mojave Desert, she makes an unlikely player in an arena dominated by endurance athletes. With no hiking experience, Strayed's trial-by-fire foray into backpacking is both hilarious and heartwarming.
4. The Salt Path by Raynor Winn
Though the premise of this memoir – a middle-aged couple who have lost everything and are faced with a terminal diagnosis take up the 630 mile South West Coast path – set it up to be heartbreaking, the opening lines reveal an uplifting tale of hope and courage. Winn takes an honest yet artful approach to conveying the prospect of losing her lifelong partner set against the backdrop of the rugged beauty of the Devonshire coast, and thoughtfully depicts the unique struggles of being older, homeless hikers on a trail flooded with younger and more affluent trailmates. The result manages to be hugely inspiring and humble at the same time.
5. Into the Wild by Jon Krakauer
Chances are once you've read Into Thin Air you'll be seeking out more from Krakauer and you'll do far worse than Into the Wild. Though the subsequent movie starring Sean Penn (featuring a soundtrack by Eddie Vedder) may have stolen the limelight around this tragic tale, Krakauer's moving eulogy to a lost soul paints a remarkably clear picture of the challenges of surviving the Alaskan wilderness. In 1992, 24-year-old adventurer Christopher McCandless renounced his worldly possessions and was seen disappearing down a snowy track in Fairbanks with only a light backpack and meagre equipment. His remains were discovered in an abandoned school bus five months later (the bus was removed in 2020) and his journal revealed that he had survived 113 days in the wild. Using his journal, witness accounts and family testimony, Krakauer hypothesizes as to the final days of this perhaps naive but certainly adventurous wanderer.
6. Between a Rock and a Hard Place by Aron Ralston
In 2003, rock climber Aron Ralston set off alone to go canyoneering in a slot canyon in Eastern Utah near Canyonlands National Park without telling anyone of his plans. When climbing down a boulder in Bluejohn Canyon, it shifts and traps his hand. Unable to move, he spends five days trapped in the remote canyon before taking the most extreme, life-saving measure possible. This page turner of a book may not be the faint of heart, but it will teach you as much about basic hiking safety as it does about human perseverance. It also inspired Danny Boyle movie 127 Hours.
7. The Alchemist by Paulo Coelho
Though not a hiking book so much as an iconic tale of a young man's epic journey of self-discovery, The Alchemist is a classic that any lover of the outdoors will love. Coelho's bestselling novel sweeps you up in the dreamy journey of Santiago, an Andalusian shepherd who travels by foot to the Egyptian pyramids in search of hidden treasure. The book is a parable about listening to your intuition, reading nature's cues and following your path and has captured the imaginations of people across the globe.
8. The Living Mountain by Nan Shepherd
Nan Shepherd wrote this poetic praise of the nature of mountains during the Second World War but it lay untouched for three decades. Today it is considered one of the foremost examples of nature writing and her prose will transport you to the harsh and exceptionally beautiful landscape of the Scottish highlands. You'll feel like you are living and breathing the mountain air as you follow along her journey into the wilderness in the treatise on the meditative influence of nature.
9. The Dharma Bums by Jack Kerouac
Beat generation author Jack Kerouac is best known for his counterculture novel On the Road, and its semi-fictional follow up is for anyone curious about the intersection of the outdoors, urban life and spirituality. The book's two main characters take a spiritual saunter from the fast-pace of San Francisco in the 1960s to the summit of Desolation Peak in Washington's High Sierras. Their journey takes them between hedonistic, days-long benders to silent spiritual awakening, all of which is loosely based on Kerouac's experimentation with Buddhism and mountaineering and told with his trademark lust for life.
10. Ten Million Steps by MJ Eberhart
Meredith Eberhart, otherwise known as Nimblewill Nomad, took up hiking in his fifties when his marriage was dissolving and he became estranged from his children. At first, the retired optometrist explored the Appalachian Trail which was near his home, but at the age of 61 he set off on a 4,400 adventure from the Florida Keys to Quebec. His humorous and insightful account is the only book about what has since become the Eastern Continental Trail and a true testament to human strength and endurance.
All the latest inspiration, tips and guides to help you plan your next Advnture!
Julia Clarke is a staff writer for Advnture.com and the author of the book Restorative Yoga for Beginners. She loves to explore mountains on foot, bike, skis and belay and then recover on the the yoga mat. Julia graduated with a degree in journalism in 2004 and spent eight years working as a radio presenter in Kansas City, Vermont, Boston and New York City before discovering the joys of the Rocky Mountains. She then detoured west to Colorado and enjoyed 11 years teaching yoga in Vail before returning to her hometown of Glasgow, Scotland in 2020 to focus on family and writing.