Can you go hiking in yoga pants?
Can you go hiking in yoga pants? We explain what to look for in your yoga pants so that you can maximize their usage on the trail as well as on the mat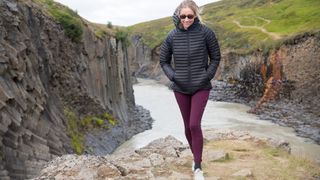 (Image credit: DutcherAerials)
When it comes to active wear, perhaps no item has become more ubiquitous more quickly than the versatile yoga pant. Yoga pants have become the standard uniform not just for yoga studio and gym goers, but for running, plane travel and popping out to the shops. Some brands of office wear have even designed stretchy pants that look like suit pants for maximum comfort at work. You can wear yoga pants anywhere these days, it seems, but can you go hiking in yoga pants? Or do you need a dedicated pair of classic hiking pants?
As we explain in our buying guide to the best women's hiking pants, not all the best hiking pants are created equal, and it's good to shop with an eye towards the types of conditions and terrain you're likely to be tackling. In this article, we explain what to look for in your yoga pants so that you can maximize their usage on the trail as well as on the yoga mat.
Can you go hiking in yoga pants?
You can definitely go hiking in yoga pants, in fact you can probably go hiking in most pants though we don't recommend hiking in jeans, or cotton clothing generally. Yoga pants, after all, are usually very comfortable, lightweight, breathable and stretchy, which allows you to tackle steep slopes without getting clammy or having your movements restricted.
On the downside, yoga pants aren't waterproof or insulated, so they may not be ideal for cold weather hiking. Rather, it's best to consider what type of terrain you're planning to tackle, and of course factors like climate and weather conditions. Let's take a look at some of the important features to consider when deciding when yoga pants are a good choice for you.
Comfort
Obviously comfort is a big deal when it comes to hiking clothes. The grade of the terrain and the mileage provide us with enough challenges as it is, so the last thing anyone wants is to add a chafing waistband into the mix. Generally speaking, yoga pants are going to be some of the comfiest pants you'll wear, which is why they're so popular. That said, yoga pants that are too tight, especially around the waist, are no good for hiking when you need to be able to breathe properly. Seek a pair of yoga pants that are snug enough that you don't have to keep pulling them up, but not so tight that you're turning blue in the face.
Breathability
Yoga pants are designed to sweat in, so they're typically made of moisture-wicking material meaning you won't overheat on a warm hike or get cold and clammy if you're on a steep trail in cold weather. Some hiking pants, on the other hand, sacrifice breathability for waterproofing and therefore can leave you feeling a bit damp.
Freedom of movement
Though hiking pants generally are getting stretchier and stretchier, your yoga pants are likely to have a higher spandex or elastane component than even your stretchiest shell pants. Not that you need to be able to get your leg behind your head when you're up a mountain, but good stretchy pants obviously do make life easier if you're climbing up a steep slope, scrambling over technical terrain, or just want to sit down comfortably for lunch.
Weight
On longer treks, you might be looking to cut weight anywhere you can, from choosing hiking shoes over hiking boots to carrying a water filter instead of liters of water. On average, a pair of yoga pants weighs in at about five to eight ounces, which is about half the weight of a light pair of shell pants.
Warmth
In general, yoga pants aren't designed to keep you warm, so they're unlikely to be insulated or even windproof, which is a strike against them if you're hiking in very cold weather. However, for cool hikes, a thicker pair of yoga pants will probably provide all the warmth you need.
Weather protection
Some important characteristics to look for in hiking pants are waterproofing, wind resistance and sun protection. Yoga pants are usually designed with any of these elements in mind, since you're meant to be wearing them indoors, but many outdoor brands are starting to make hiking leggings that look a lot like yoga pants but feature some water repellency, wind resistance and even sun protection. Though these won't be as hardy as technical trousers, if you're dealing with moderate weather conditions and not torrential downpours, you'll be happy enough with their protection.
Quick dry
With the popularity of hot yoga, most yoga pants are made using quick drying fabric. In certain weather conditions and climates, this can really make up for lack of waterproofing. After all, if you're likely to encounter a short shower and know you'll be dry again ten minutes later, you might want to forego the extra weight and rustle of waterproof hiking pants for the ease and breathability of yoga pants.
Storage
At best, yoga pants will usually only come with a small, hidden waistband pocket big enough for a key or credit card, while hiking pants might have deep, zipped rear and side pockets big enough to stash your map and hiking gloves. Hiking leggings tend to have thigh pockets so they can be a happy medium. This one really comes down to how you like to carry your gear. Do you like to be able to access certain items like your compass or beanie without taking your backpack off? If so, you may want to go with hiking pants. If you're not that bothered, you'll likely have ample storage in your jacket pockets and pack.
Durability
Your yoga pants probably weren't built to withstand the elements or hold up against abrasive rock surfaces or prickly bushes and might end up pilling or torn, whereas technical hiking pants will be made from tougher materials and reinforced in high-contact areas like your knees. If you plan on walking on well-established trails, there's really no reason why a good quality pair of hiking pants won't do the job.
The verdict
Ultimately, a lot like your favorite pair of yoga pants, this isn't really a one-size-fits-all question. However, for casual day hikes and fair weather treks, yoga pants or hiking leggings should suit you just fine, and if you already own a pair, wearing them on the trail will save you some money.
That said, if you're planning on wet weather or winter hiking or traversing rugged terrain where scrambling or thorny bushes might be involved, a sturdier pair of technical hiking pants like the Fjӓllrӓven Keb Trousers Curved might be a better bet.
For something a step up from yoga pants, check out some hiking leggings like the BAM Bamboo Kennick leggings which feature added protection and features without losing that stretchy appeal.
All the latest inspiration, tips and guides to help you plan your next Advnture!
Julia Clarke is a staff writer for Advnture.com and the author of the book Restorative Yoga for Beginners. She loves to explore mountains on foot, bike, skis and belay and then recover on the the yoga mat. Julia graduated with a degree in journalism in 2004 and spent eight years working as a radio presenter in Kansas City, Vermont, Boston and New York City before discovering the joys of the Rocky Mountains. She then detoured west to Colorado and enjoyed 11 years teaching yoga in Vail before returning to her hometown of Glasgow, Scotland in 2020 to focus on family and writing.