How top ultra runner John Kelly smashed the record for the iconic Wainwrights round
John Kelly reveals his strategy for success – including nutrition tips – after setting new time for the 320-mile course in the UK's Lake District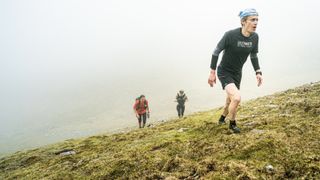 (Image credit: Steve Ashworth)
High achieving ultra runner John Kelly has set a new record on an epic route to reach all 214 Wainwright Fells in the UK's Lake District – a success he puts down to teamwork, support from his family, and a new fuelling strategy.
The Wainwrights are a set of mountains referred to in The Pictorial Guide to the Lakeland Fells – a set of seven books written by fell walker Alfred Wainright. They are one of the most popular peak challenges in the UK.
Kelly – an American who has been living in Britain for several years – ran a new fastest time of five days, 12 hours and 14 minutes to compete the 320-mile (515km) challenge with a total ascent of 36,000m (118,000ft). The previous record was held by Sabrina Verjee at five days, 23 hours and 49 minutes.
John Kelly's new nutrition strategy
Key to 37-year-old Kelly's success was overcoming stomach issues that have plagued his challenges in recent years.
Kelly (@RndmForestRunnr on Twitter) revealed that stomach problems ended one of his earlier attempts at the Barkley Marathons, one of the world's toughest running races, although he has been a finisher. In 2017, he became one of only 15 runners to finish in the history of the US event.
In July 2020, he dealt with what were described as "significant stomach issues" when he set a new record on the Pennine Way (a record that was broken just eight days later by Damian Hall).
Kelly made another attempt on the Pennine Way in May 2021, hoping to avoid the gastrointestinal problems which had restricted him the previous year. This time he ran the Way from north to south, as Hartley and Hall had done on their record runs.
Despite periods of heavy rain, Kelly finished the 260 miles (420 km) in a time of 58:04, reducing the record by over three hours.
He attempted to break the Wainwright record in July 2021, but then it was foot problems and high temperatures that ended the bid early.
Kelly told Advnture that, prior to the record-breaking Wainwright round, he had specifically focused on his nutrition strategy.
"I'd been suffering with gastrointestinal problems while running and also outside of running, too," he said. "I had some medical tests but there has been no specific diagnosis, so I have been working on finding a way to overcome the issues.
"I was delighted during this run that things went really well. There were only a few times when I had slight stomach issues and some cramps and I will be going back over these to think about what might have caused them.
"However, on the whole, I was thankfully free of the previous stomach and nausea issues."
Kelly's doctor prescribed PPIs (proton pump inhibitors) with the aim of reducing the amount of acid made by his stomach – something he believes has been helpful. In addition, his race nutrition strategy was to eat small amounts frequently. Many runners use a mix of running gels and normal food for longer events, and it was a strategy that seemed to work for Kelly as well.
"I aimed for about 300 calories per hour, but broken down into 75 calories every 15 minutes," he explained. "I never fully achieved this, but it was the aim."
Half the calories came from Tailwind dissolved in water. This is a form of fuel, with a mix of energy and electrolytes, that can be dissolved into water carried in a hydration bladder or a water bottle.
A quarter of the calories came from Supernatural Fuel pouches – a form of energy gel that Kelly likened to baby food and found easy to consume when running. (Our when to use running gels guide explains more about consuming gels when out on the trails.)
The final quarter of calories were supplied by "anything small that I craved at the time, such as chocolate or crisps".
Then at each support stop, Kelly chose different food to consume, such as pizza or pasta. "I tried not to overdo what I was eating and to stick to a plan of small amounts and often," he said. "It really seemed to work this time."
Great support on Wainwrights round
Kelly, part of the La Sportiva team, also believes he would not have been able to set a new record if it wasn't for the "huge team effort". "I had an amazing support team, both runners and on the road at stop and meeting points," he said.
"I trusted that they would look after everything for me, especially the small things, so I could focus on the running and moving forwards.
"Part of this was knowing they would be there with the food, fuel and water I had planned. Without all the people I would not have been able to do this challenge."
During his record bid this month, he had only around fours of sleep in total. "It was obviously very tough at times," he explained, "especially towards the end and on some steep climbs, but I was thankful to my supporters for keeping me chatting, or trying to get me to chat, when all I wanted to do was stop and sleep."
The final part of his success came from his family. Kelly and his wife have four children: an eight-year-old, twins aged five, and a one-year-old.
"Every time I felt the challenge was too hard physically or mentally, I thought of my family," Kelly said. "I was looking forward to seeing my children, especially towards the end. I very much wanted to run to the end with them. These thoughts kept me going."
Kelly, who is due to return to the US at the end of the month, described his new record on the Wainwrights round as "incredible". He added: "It was very tough at times so it was fantastic when the finish finally came."
All the latest inspiration, tips and guides to help you plan your next Advnture!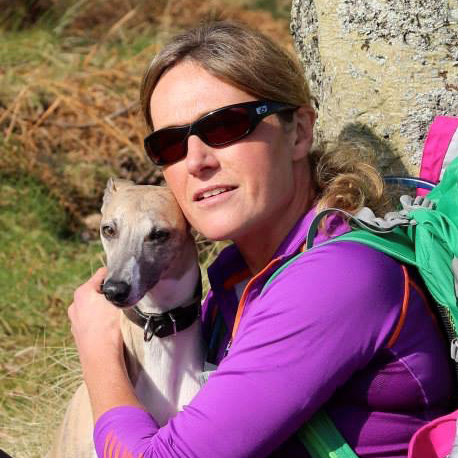 Fiona Russell is a widely published adventure journalist and blogger, better known as Fiona Outdoors. She is based in Scotland and is an all-round outdoors enthusiast with favorite activities including trail running, mountain walking, mountain biking, road cycling, triathlon and skiing (both downhill and backcountry). Aside from her own adventures, Fiona's biggest aim is to inspire others to enjoy getting outside and exploring, especially through her writing. She is also rarely seen without a running skort! Find out more at Fiona Outdoors.