What is a moorland?
Going hiking in the UK? You're probably wondering what a moorland is, and what you need for hiking on one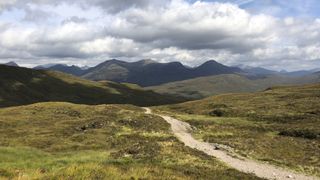 (Image credit: Catherine Sempill)
What is a moorland? If you're going hiking in the UK, you'll have heard the term. You may even know that it is likely to be windswept. But beyond that literary detail from Emily Brontë, what exactly is a moor? And what type of gear are you likely to need to cross one on foot? Will hiking boots do the trick or is this a crampon situation?
Though moors aren't restricted to the UK by any means, they do make up some of our most iconic landscape and hiking areas, and not everyone coming from abroad will have encountered them before. If you're coming hiking here, read on to discover what defines these enchanting wild spaces, and where to find the best ones for hiking and wild camping.
What makes a land a moor?
According to The Wildlife Trusts, a moorland is a general term that traditionally describes upland (meaning high lying, above sea level) areas that are uncultivated. These areas dominate the UK landscape and historically have been naturally occurring at levels above treeline (around 2,000 feet in the UK). Moorlands feature acidic soil, which means they have poor water holding capacity and are supportive to low scrub but not trees. For this reason, UK moors tend to be rich in plants like gorse, heather, bracken and mosses, depending on where you are.
While the term "heathland" was traditionally used to describe similar areas that occur in low lying areas, experts disagree on what distinguishes the two and the climate of Scotland means that moorlands can be found in low lying areas, too. Though moorlands are naturally occurring in the UK, some such as those in the Pennines are thought to have been cultivated by human behavior then maintained by the climate here.
Another feature of moorlands is the existence of bogs, in poorly draining areas, and peat, which covers the top layer. Bogs can seem irritating when you're trying to enjoy a hike, but they are enormously important to our ecosystem – they store huge amounts of water to help prevent flooding, and they remove carbon dioxide from the atmosphere and store it. So these landscapes are extremely precious as well as beautiful.
When you're standing on a moorland, it can seem quite devoid of life, but these habitats are home to a great many bird species such as harriers, skylarks, merlin and grouse which you might startle out of the scrub as you walk, so bring your best binoculars, and you're bound to see butterflies and dragonflies dancing from blossom to blossom in spring and summer.
What does a moor look like?
Moors look captivating, eerie, wild and bleak, depending on the day. These wide open spaces aren't blighted by trees and the low lying scrub which means you can see across them for miles. The ground underfoot can be brown or burst into vibrant yellow or purple when the gorse and heather are in bloom. Moors are related to tundra and if you've ever hiked at high elevations in places like Rocky Mountain National Park, you'll actually find the landscape quite familiar.
Where are the moors in the UK?
Moorlands form an extensive area in the UK, which holds about 15 percent of the world's moorlands, according to the BBC. Moorlands are found in northern and southwest England, mid Wales, northern Ireland and all over Scotland. Some of the most famous moors include:
Can you hike and camp on the moors?
The UK's moorlands do provide lots of our best hiking, and footpaths can be found in many moorlands such as those in Yorkshire Dales National Park and the Brecon Beacons. When there are designated footpaths, it's good to stick to them, but many of England's moors are considered "open access land" and you can hike anywhere. In Scotland, due to what is locally known as "right to roam," you can hike on the moors even when there aren't footpaths present.
For hiking in the UK, hiking boots are best since the ground is often boggy and if you're off-trail it can be uneven. Gaiters are also highly recommended to keep your feet from getting too wet, and wool hiking socks are best since they'll keep your feet warm even when wet.
As for wild camping, take care. In Scotland, you can wild camp anywhere and you'll just want to find a spot that isn't too boggy. However, in the rest of the UK wild camping without permission from the landowner is not permitted. Even in Scotland, you should wild camp respectfully, setting up late and leaving early, and always obey the principles of Leave No Trace to keep these lands pristine for the enjoyment of others and the wildlife that calls it home.
All the latest inspiration, tips and guides to help you plan your next Advnture!
Julia Clarke is a staff writer for Advnture.com and the author of the book Restorative Yoga for Beginners. She loves to explore mountains on foot, bike, skis and belay and then recover on the the yoga mat. Julia graduated with a degree in journalism in 2004 and spent eight years working as a radio presenter in Kansas City, Vermont, Boston and New York City before discovering the joys of the Rocky Mountains. She then detoured west to Colorado and enjoyed 11 years teaching yoga in Vail before returning to her hometown of Glasgow, Scotland in 2020 to focus on family and writing.