Is Naia fabric really fast drying? I took it to the trails to find out
What is Naia fabric? Is it really fast-drying? We put it through its paces on the trail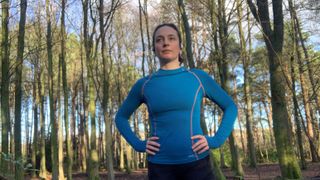 (Image credit: Julia Clarke)
For me, at least, the only kind of running top I'm wearing in Scotland in the winter months is a long sleeved base layer. It's cold, it's wet, and even with a running jacket over the top, I just don't ever get too hot, no matter how far I run. I might work my way up to removing my running gloves, but that's about it.
Luckily for me, I've been inundated with base layers this winter, so I've been putting some time into finding the perfect one for my chilly trail runs. Now in general, I tend to opt for those made using merino wool. It's warm, breathable and quick drying, which means when I do get sweaty, I don't have to worry about carrying a spare one to change into for the drive or bus journey home. I'm not a fan of synthetic fabric for base layers, because it gets so stinky (or maybe I'm extra smelly, who knows?) and honestly I'm a bit so-so on bamboo. On the one hand, I really love the way it feels against my skin, but I've always found it to be slow drying, which as you may know means that once you stop running and cool down, if the air temperature is on the cold side then you get chilled, which is no fun.
So when I heard about the new BAM Novea base layer, made from a blend of bamboo viscose and a new fabric called Naia that promises to be quicker drying, I was intrigued. BAM is a UK-based 'planet positive' company that makes bamboo viscose athletic gear, and the Novea is aimed specifically at high intensity workouts.
Now, the folks at BAM did warn me not to expect this garment to be as quick drying as a synthetic version, but if I could find something as soft against my skin as bamboo that doesn't take an age to dry, or have the price tag of merino wool, I'd consider that a win, so I took it for a spin to se how it held up.
What is Naia fabric?
I hadn't heard of Naia, so I went ahead and looked it up while I was waiting for my new base layer to arrive. Turns out that Naia is a cellulosic fiber, which is a type of fiber made using the bark, wood or leaves of plants. Naia is made by a company called Eastman, which is a chemical company based in Tennessee that according to their most recent sustainability report has been placed on several 'most sustainable company' lists.
The company has produced two Naia fabrics now, Classic and Advance, and according to its website both are "responsibly sourced from sustainably managed pine and eucalyptus forests and plantations to ensure no deforestation of ancient and endangered forests" and use safe and environmentally sound chemicals. The resulting fabrics are said to be soft, easy-to-care-for fabrics that are quick drying and good at reducing pilling. It all certainly sounds promising, though I notice that it's being promoted as a key component in fashionwear, so I'm curious to see how it holds up against higher intensity activities.
How does it perform?
My new base layer arrives in a lovely bold blue color called Nimbus, after the cloud presumably, with flattering orange stitching. I pull it on and, like most bamboo clothing I've worn, it's like wearing a newborn puppy in the most non-creepy way possible. The flatlock seams also mean that there won't be any chafing anywhere. The label reveals that it's 59% bamboo viscose, 32% Naia and 9% elastane, so it's really figure hugging but not at all see-through, which can be another issue with bamboo gear. Another win. It's also got quite long sleeves and thumb loops, which cover half of my hands and dispel the need for wearing gloves, which is nice if I want to be using GPS on my phone.
I set off on my local 10k run and it's chilly out so I'm wearing my North Face Lightrise Futurelight running jacket over the top. After about half an hour, I can tell I have a decent sweat going, though I'm not the sweatiest of runners overall. I plot out my circuit so that I stop running about five minutes from home and set a timer for 10 minutes. My armpits are well-saturated with sweat and I want to see how long it takes to dry.
Once inside the house, instead of peeling off my sweaty base layer the way I normally would, I keep it on and when my timer goes off, I can't say I see much difference in the sweat patches under my arms. I set the timer for another 10 minutes, and this time I can see a little change. By 30 minutes after the end of my run, the patches are still there but noticeably drier, but I'm starting to feel chilled even inside my house.
If I'm being honest, I don't think 30+ minutes can really be considered super fast-drying, as it would be a long time to be outside in the cold wearing a wet top. For comparison, a few days later I try the same experiment wearing my Highlander Bamboo Base Layer. The day is a little warmer, but otherwise I keep everything the same – I run the same circuit, I wear the same running jacket and set the timer for 30 minutes at the end of my run. This base layer is 95% bamboo viscose, so I expect it to be noticeably slower to dry, but I think it's about the same.
So, my test of whether Naia fabric is much quicker drying in this extremely unscientific experiment didn't exactly yield the results I was hoping for, unfortunately. Having looked at the company website a little more, I suspect where the fabric dries faster is after it's been washed, as BAM mentions that it requires less of a spin cycle, so perhaps when it's been soaked through it needs less time to dry, but that doesn't translate into noticeable differences on the trail. That said, I have thrown this base layer in the washing machine and it still looks as good as new, unlike others I've tested, so I think it's potentially more durable and that's a bonus.
When it comes to bamboo base layers for high intensity activities like trail running, I think I'm back to square one for now. However, I'd definitely wear this base layer for mild weather hikes, rock climbing and yoga, so all is certainly not lost, and if you love bamboo clothing you're going to love this top.
All the latest inspiration, tips and guides to help you plan your next Advnture!
Julia Clarke is a staff writer for Advnture.com and the author of the book Restorative Yoga for Beginners. She loves to explore mountains on foot, bike, skis and belay and then recover on the the yoga mat. Julia graduated with a degree in journalism in 2004 and spent eight years working as a radio presenter in Kansas City, Vermont, Boston and New York City before discovering the joys of the Rocky Mountains. She then detoured west to Colorado and enjoyed 11 years teaching yoga in Vail before returning to her hometown of Glasgow, Scotland in 2020 to focus on family and writing.