Benefits of bamboo clothing (plus the disadvantages)
Is bamboo really a miracle fabric? We discuss the benefits of bamboo clothing and bust some myths about what it is and how it really performs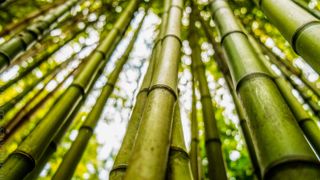 (Image credit: Christine Kress)
As a major contributor to the world's landfills, there's been mounting pressure in recent years for outdoor brands to improve their carbon footprint. As part of this trend, a preference for outdoor clothing made using natural materials has emerged, with bamboo being one of the leading contenders in recent years.
The benefits of bamboo clothing touted by its champions center around its lower impact on the environment, but include everything from added comfort to exceptional odor control. But while it certainly feels right that a running top made from a plant must be better for earth and your body than one made from plastic, is that actually true?
In this article, we clarify what bamboo clothing actually means, present some main benefits of bamboo clothing and also bust some myths about the benefits of bamboo clothing by explaining some of its disadvantages.
What is bamboo clothing?
Nowadays, you can find everything from hiking pants and base layers to hiking socks and trail running shorts all made with bamboo, but how on earth can you get such soft, stretchy clothing out of such a tough, reedy plant? In truth, most clothing marketed as bamboo is made using bamboo rayon (known as bamboo viscose in the UK) which means it has been heavily processed using chemical treatments until it no longer possesses any trace of the original plant, according to the FTC. The bamboo rayon is then typically blended with other fabrics, such as cotton, merino wool or elastane to give it other properties, such as increased breathability or stretch.
What are the benefits of bamboo clothing?
Let's start with the benefits of bamboo clothing. Because bamboo rayon is typically interwoven with other fabrics such as cotton and merino wool, the performance of a garment will vary, but what follows are some general advantages of clothing that contains bamboo rayon.
1. It's super soft
Of all of the materials that your outdoor gear can be constructed from, the chances are that bamboo will be the softest and most comfortable against your skin. Not only is it unlikely to irritate your skin the way wool can, it's actually hypoallergenic meaning those with sensitive skin can wear it without worrying.
2. It's breathable
Obviously, the main requirement for any garment that you're likely to be sweating in is that it's breathable. Bamboo rayon absorbs the moisture from your skin unlike synthetic fabrics such as nylon and polyester which repel moisture and leave you feeling horribly clammy. Like all breathable fabrics, this helps you regulate your temperature – it will provide some warmth when you're cool and dry and help you cold down when you're warm and sweaty.
3. It can be eco-friendly
For many of us, bamboo rayon seems like it would be more eco-friendly than a synthetic material derived from the petrochemical industry and while all manufacturing impacts the environment and not all bamboo rayon is produced sustainably, there is certainly some good potential when it comes to using bamboo over other crops like cotton.
First, bamboo is naturally high yield, meaning it grows quickly and easily, and because it's a grass, it regrows when it's harvested. In simple terms, this means less industrial resources are put into making it grow in the first place. Bamboo is also incredibly dense, meaning you can grow a lot of it in a smaller area than other crops, so it involves less soil erosion. In fact, because bamboo is not uprooted during harvesting, the root system is maintained and this helps to hold the soil together.
Further, bamboo doesn't require chemicals like pesticides to help it grow, so if you seek clothing made from bamboo that's organically grown, you may reduce your carbon footprint. Bamboo has also been shown to produce more oxygen than trees, according to research by Central European University. Finally, bamboo rayon is biodegradable, taking around a year to break down according to Green Eco Friend, which means if it does end up in a landfill, it's not there until the end of time.
4. It doesn't get as stinky as synthetics
Another desirable attribute of any outdoor gear is how stinky it gets. After all, you're almost always going to be sweating in it, and while odor doesn't reduce a garment's performance, it certainly makes it less appealing to wear again the next day. Washing your clothes frequently isn't good for your clothes or the environment, and if you end up having to wash bamboo rayon clothing with every wear, it negates any of the eco-friendly benefits we've just discussed. Though many brands claim that bamboo rayon is antibacterial, which means it doesn't get stinky easily, the FTC warns that it's the trees themselves that have this property and not the fabric. That said, it does seem to be more odor resistant than synthetic materials, even if it is less so than merino wool, and can typically be worn more than once.
What are the disadvantages of bamboo clothing?
Now for the disadvantages of bamboo clothing. Remember when we said that bamboo clothing has typically been so heavily processed that it's lost all the original properties of the plant itself? This means that many of the benefits you hear about apply to the plant, not the t-shirt you take home, and in fact sometimes it behaves the opposite to how we've been led to believe.
1. It can be slow to dry
Compared to merino wool, bamboo clothing is often slow to dry. In fact, while it's often touted as superior to cotton because of its breathability, if it's made with a high content of bamboo rayon, it actually behaves more like cotton once it's wet – becoming heavy, damp and possibly making you chilly. If the garment is blended with merino wool, it will be faster to dry, so it really depends on the garment at hand.
2. It's not as durable as other fabrics
Outdoor gear in particular takes more wear and tear than clothes you wear for working at the office or lounging around at home in, and for this reason, you want it to be made from fabric that's going to hold up against sweat, rough surfaces and frequent washing. While bamboo linen is known to be quite sturdy, bamboo rayon will have variable durability depending on what other materials it's blended with. As such, consumers often notice that their bamboo rayon clothing tends towards shrinking in the wash, pilling and loses its stretch or fades more easily than other fabrics. This again doesn't just mean unsightly clothes; it also reduces the sustainability of the clothing because it needs to be replaced faster.
3. It may not be as eco-friendly as you think
By now, you've probably guessed that bamboo rayon isn't always as eco-friendly as advertised. Bamboo is an invasive species, which means its cultivation for industrial purposes can upset the natural balance of the surrounding ecosystem. Further, while it can be easily sustainably grown, the process of transforming it into rayon does require the use of toxic chemicals, primarily carbon disulfide, which is seriously hazardous to the health of workers in plants where the rayon is processed, according to the EPA.
Of course, all manufacturing has an impact on the environment, so when you're shopping for new gear, it's important to do your own research on each company, read their sustainability pact and understand how their products are manufactured. You can learn more in our article on the best eco-friendly outdoor brands.
All the latest inspiration, tips and guides to help you plan your next Advnture!
Julia Clarke is a staff writer for Advnture.com and the author of the book Restorative Yoga for Beginners. She loves to explore mountains on foot, bike, skis and belay and then recover on the the yoga mat. Julia graduated with a degree in journalism in 2004 and spent eight years working as a radio presenter in Kansas City, Vermont, Boston and New York City before discovering the joys of the Rocky Mountains. She then detoured west to Colorado and enjoyed 11 years teaching yoga in Vail before returning to her hometown of Glasgow, Scotland in 2020 to focus on family and writing.