Rock cairns: meaning and history of the ubiquitous trail feature
Navigational device or work of art? We look at rock cairns, their meaning and history to illuminate this fixture on our trails, parks and beaches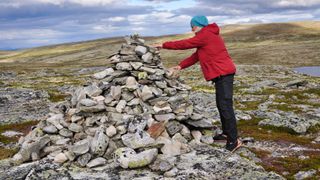 (Image credit: Ingunn B. Haslekaas)
Stacks of stones, everywhere. On the hiking trail up above treeline, in National Parks, at the beach and perhaps most of all, on Instagram. Stone stacks, or rock cairns as they are more traditionally known, seem to be cropping up at every turn. If you've seen them, you may have wondered about them. Who put them there and what are they for? In this article, we take a look at rock cairns, their meaning and history to illuminate this ubiquitous fixture on the hiking trails.
What are rock cairns?
Cairns are man-made rock piles. The word "cairn" is a Scottish Gaelic word literally meaning "heap of stones" but while they are a common sight in rural Scotland, rock cairns are also found on every continent across the globe.
Rock cairns range in size from the small ones you might see when you're hiking that are just a foot or two high to hulking constructions such as the Brown Willy Summit Cairn in Cornwall, England which towers at over 16 feet tall.
They are used as navigational tools in hiking, burial sites in many ancient cultures and more recently are being constructed as a form of artistic expression, or even a competitive game like a game of Jenga in the wild.
What is the history of rock cairns?
Rock cairns have been built since prehistoric times and are used across many different cultures as landmarks, burial sites and trail markers. The Aberystruth Archaeological Society in Wales recently revealed ancient cairns dating back 4,500 years that they believe were used to bury the leaders of neolithic tribes.
In Scotland, it is traditional to bring a rock with you when you climb a mountain to place it on the pile at the top, while highlanders returning from battle would remove a stone from a pile to mark their survival. In northern Europe and North American indigenous cultures they've been used to mark gravesites, while in Scandinavia they were historically used to mark coastal pathways. In Peru, rock cairns are built as shrines and they hold symbolism in folklore from Britain, Ireland and Greek mythology.
Finally, there are many rock cairns across the world that archaeologists still haven't uncovered a meaning to.
How do I use rock cairns in hiking?
One setting where we do understand the meaning of rock cairns is in hiking. Today, rock cairns are most often constructed and used for navigation in the wilderness, and even form part of the national survey grid in some countries, placed at the highest peaks across the land.
For hikers, they're basically the original compass or GPS device. Though states like Colorado and Montana are known for their well-marked trails, rock cairns are particularly useful and common in places like Scotland, where trails are a little less well-established, and in barren areas of mountainous states, such as in alpine tundra zones, or boulder fields on your way up a 14er. In such areas, if you lose the trail you can stop and search for a cairn to take you in the right direction. When you arrive at that cairn, if the trail is still unclear, look for the next one and follow them like that until you either find the trail again or arrive at your destination.
The one caveat to this is that in recent years, people have taken to building rock cairns for artistic, rather than navigational, purposes. These may appear like harmless outdoor fun, but experts warn they can be dangerous on the trails as they might unintentionally lead unsuspecting hikers astray. To ensure this doesn't happen to you, look for rock piles that are pyramid-shaped and appear as though they've been there a while (they may be covered in lichen, for example). If a pile of stones appears precarious and looks like it's recently been stacked, it's probably just the recreational endeavour of a modern day stone-stacking enthusiast.
Are rock cairns bad for the environment?
This brings us to an increasingly common topic of debate: are rock cairns bad for the environment? They seem benign at worst and aesthetically pleasing at best, however while stacking stones at the ocean's edge isn't a problem since that ecosystem changes with the tides, inland the activity may pose a problem.
Some opponents argue that cairns fly in the face of the Leave No Trace rule of recreating in the outdoors, while ecologists suggest that stacking stones disturbs the natural ecosystem of the landscape and exposes soil to unnecessary erosion. Some wildlife experts even argue that precarious piles of rocks can pose the danger of falling and harming insects and animals.
The real problem seems to lie in the recent explosion of creating rock piles everywhere, seemingly for photo opportunities and social media posts. Ultimately, the common sense message seems to be that true rock cairns on hiking trails have been there a long time and serve an important purpose, but any time you head out in your hiking boots, you should leave the rocks alone.
All the latest inspiration, tips and guides to help you plan your next Advnture!
Julia Clarke is a staff writer for Advnture.com and the author of the book Restorative Yoga for Beginners. She loves to explore mountains on foot, bike, skis and belay and then recover on the the yoga mat. Julia graduated with a degree in journalism in 2004 and spent eight years working as a radio presenter in Kansas City, Vermont, Boston and New York City before discovering the joys of the Rocky Mountains. She then detoured west to Colorado and enjoyed 11 years teaching yoga in Vail before returning to her hometown of Glasgow, Scotland in 2020 to focus on family and writing.