What are the Seven Second Summits? And why are there eight?
Meet one of mountaineering's most punishing feats, and discover why it's so complicated to determine what makes a second summit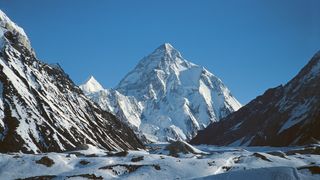 (Image credit: Getty)
The mountaineering world is all about fear, reward, and setting and breaking new records. Alpine climbers don their best winter hiking boots and crampons every day, load up their ice axes and ropes, and pluck up the resilience and courage it takes to conquer the world's tallest peaks.
These days, many are racing to make record time conquering the 14 peaks, or mountains over 8,000 meters, while previous years saw infamous climbers like Reinhold Messner and Richard Bass being among the first to tackle the tallest summits on each continent. There is another series of peaks to be climbed that, until now, is a little less decorated but may be even be more challenging, and that's the Seven Second Summits.
What are the Seven Second Summits?
The Seven Second Summits are the second-highest mountains found on each of the seven continents. These mountains are considered separate peaks from each continents' highest summit, rather than a sub-peak of its highest point.
So, that all sounds pretty straightforward, except if you've read our article on the Seven Summits – that's the tallest peak on each of the seven continents – then you'll know that it's not that simple. The issue isn't over which peaks are tallest – or second tallest – but what constitutes a continent.
For a quick recap, even though we all probably learned in elementary school that there are seven continents, it all depends on whether you consider Europe to be a continent in its own right, or whether it is part of Eurasia. Further, if you think Europe should be considered its own continent, then you have to decide where the boundary line is between Europe and Asia to determine whether the highest peak is Mont Blanc, which some climbers accept, or Russia's Mount Elbrus, which is more common. If, however, you classify Europe and Asia as one continent, then neither of those peaks makes the cut because they're totally overshadowed by Mount Everest.
As if that wasn't enough to sufficiently muddy the waters, determining the seven summits, and their next-tallest counterparts, also requires deciding whether the Australian continent includes just the country of Australia, or the entire continental shelf. If you go with the former, then Mount Kosciuszko is the tallest mountain on the continent, but if you go with the latter, then it's New Guinea's Puncak Jaya. Unless, of course, you consider Indonesia to be part of the Australian continent, in which case it's Mount Wilhelm. Still following us?
In summation, the variations in continent definition mean that there are a mind-boggling seven different versions of the Seven Summits, with the Bass version and the Messner version being the most widely accepted in the mountaineering community, both named for the climbers who first achieved them. And all of that means that there's a wild variety of different interpretations of what the Seven Second Summits actually are.
Okay, so what are the Seven Second Summits?
So that this article doesn't go on until the end of time, it's easiest just to explain the differences between the Bass and Messner lists of the Seven Second Summits, and worth noting that neither climber summited these peaks – the lists are just compiled based on the original Seven Summits.
Basically, Bass's list considers Australia's Mount Kosciuszko to be the Australian continent's highest summit, making Mount Townsend the second highest, while Messner uses Western New Guinea's Carstensz Pyramid as the highest peak, which makes Puncak Mandala on New Guinea the second highest of the Australian continent.
Fortunately for our brains, both lists count Mount Elbrus as the highest peak in Europe, which makes Russia's Dykh-Tau, the second-highest summit in Europe. However, if you did consider Mont Blanc to be the highest mountain in Europe, then Monte Rosa, which straddles Switzerland and Italy, would be the second-highest summit on your list.
Anyway, without further ado, here are the eight possible Seven Second Summits according to both lists:
Swipe to scroll horizontally
The Seven Second Summits

| Continent | Second summit | Elevation (feet/meters) | Country |
| --- | --- | --- | --- |
| Asia | K2 | 8,611 / 28,251 | Pakistan |
| North America | Mount Logan | 5,959 / 19,551 | Canada |
| South America | Ojos del Salado | 6,893 / 22,615 | Argentina / Chile |
| Europe | Dykh-Tau | 5,205 / 17,077 | Russia |
| Africa | Mount Kenya | 5,199 / 17,057 | Kenya |
| Antartica | Mount Tyree | 4,852 / 15,919 | Row 5 - Cell 3 |
| Australia | Puncak Mandala OR Mount Townsend | 4,760 / 15,617 OR 2,209 / 7,247 | Indonesia OR Australia |
How do the Seven Second Summits compare to the Seven Summits?
Because the Seven Summits are taller, and include Everest, no one would blame you for thinking that the second-tallest mountains pose an easier challenge. A dress rehearsal, if you will, for those setting their sights on the ultimate prize. However, in his book Into Thin Air, author Jon Krakauer surmises that the second summits actually pose a great challenge, and he's not alone in the idea.
The Seven Second Summits actually entail some of the most difficult climbing in the world. After all, climbing the Seven Second Summits means climbing Pakistan's K2 instead of Everest, and as we explain in our article on the world's most dangerous mountain, this remote mountain features a long approach and is known for treacherous weather and deathly avalanches. From 1906 to 2008 only 264 people managed to reach the top, and this treacherous mountain has claimed the lives of many mountaineers, such as Alison Hargreaves. Compared to Everest's average one percent death rate, the percentage of climbers who die attempting to climb K2 is reported by NASA to be around 25 percent.
In Africa, the summit of Mount Kenya requires a rock climb, while Mount Kilimanjaro is not a technical mountain to climb, with the main challenge of course being high altitude. In North America, Canada's Mount Logan entails a more difficult approach than Denali, which is more easily accessible by place. In Europe, Dykh-Tau is much harder to climb than Mount Elbrus and in Antarctica, compared to Mount Vinson which presents little climbing difficulty, Mount Tyree is so challenging that it has only been summited by a total of 15 people.
How many people have climbed the Seven Second Summits?
Owing to how difficult the Seven Second Summits are to climb, hardly anyone has done so. In 2012, Italian mountaineer Hans Kammerlander did claim to be the first person to complete the mission, but unfortunately he climbed Puncak Trikora, which is now believed to be lower than Puncak Mandala, while it's thought he didn't quite make it to the official summit of Mount Logan.
The following year, Austrian mountaineer Christian Stangl became the first person known to have climbed every peak (he made sure to climb 12 different peaks to satisfy all variations).
On June 1, 2023, American Jenn Drummond set a world record as the first, and only, woman to climb all seven peaks, which took her three years to accomplish. Mountain climbers do love a challenge, and we expect to see this list growing before long as more take up the grueling quest of the Seven Second Summits.
All the latest inspiration, tips and guides to help you plan your next Advnture!
Julia Clarke is a staff writer for Advnture.com and the author of the book Restorative Yoga for Beginners. She loves to explore mountains on foot, bike, skis and belay and then recover on the the yoga mat. Julia graduated with a degree in journalism in 2004 and spent eight years working as a radio presenter in Kansas City, Vermont, Boston and New York City before discovering the joys of the Rocky Mountains. She then detoured west to Colorado and enjoyed 11 years teaching yoga in Vail before returning to her hometown of Glasgow, Scotland in 2020 to focus on family and writing.