Hiking a glacier on Mont Blanc Massif
A glacier trek to Col d'Entreves is a beginner-friendly but exhilarating and high-risk experience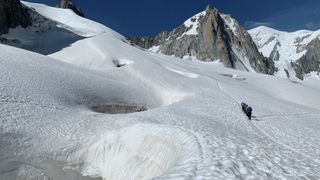 (Image credit: Julia Clarke)
From high up on the Mont Blanc Massif, our group of 10 mountaineers huddles together on a small stand of jagged granite rocks poking through the snow covering the Col d'Entreves. At 11,538 feet above sea level, the col is a saddle resting between Aiguille d'Entreves and the Tour Ronde, two peaks on the French/Italian Alps.
Besides those mountains, we're surrounded on all sides by stunning peaks such as Mont Blanc du Tacul, Mont Maudit, Mont de Rochefort, the Matterhorn in the far distance and nearby, Mont Blanc itself reigns highest among them wearing its snowy cap. Below us, the Italian resort of Courmayeur sits in an emerald green valley, untouched by snow for months now and quenched by the melting ice caps above.
At this altitude, the sun beats down in the way you'd anticipate on the first day of July and makes the snow around us glitter and sparkle, but overhead the sky is already swirling with ominous gray clouds and we hastily fuel up on baguettes, cheese and salami knowing that we can't stay for long.
Within minutes, we're clambering clumsily off the rocks and back onto the snow in our crampons, clipping ourselves together by attaching a shared rope to locking carabiners on our harnesses, and preparing for our retreat back across the Glacier du Géant.
Though I'm no stranger to high altitude hiking – I spent some 11 years living at above 8,000 feet – I'm lightheaded and can feel the effects that come with arriving here so quickly. Only two days ago, I flew into Geneva to take part in the Arc'teryx Alpine Academy in Chamonix. Yesterday, my planned mountaineering event was canceled due to a storm that was socked into the valley so we stuck to lower hiking trails.
Then this morning at just after 7 a.m., we emerged, blinking into a sun-drenched Italy which we'd reached by driving through the Mont Blanc Tunnel, a 7-mile feat of engineering that passes under Mont Blanc. We boarded the Skyway Monte Bianco, otherwise known as the world's most expensive cable car. A rotating gondola provides you with a 360-degree view of the surrounding mountains as you quickly rise almost three thousand feet to a midway station. From here another gondola whizzed us up another four thousand feet to begin our trek from Pointe Helbronner. All this for just 110 million Euros.
The views from the top of the cable car are already enough to have me grappling with my phone, but at this altitude the cold wind whips at my exposed skin and the focus quickly turns to pulling on my hat, gloves and a waterproof jacket. It's just turned 8 a.m. and already other keen mountaineers are pulling on gear to cross the glacier, while a nearby camping tent pitched in the snow reveals who is the most ambitious among us. From this perspective, the snow-covered bowl between the jagged tooth of Pointe Sella and Gros Rognon looks like solid, sublime terrain for a skier like myself, but one of our guides, Alain, warns that this world can be treacherous.
"Under there are the bodies of two tourists, who came out here months ago wearing shorts and T-shirts and just walked out onto the glacier and disappeared," he tells us, pointing out at the area where the unfortunate – and admittedly underprepared – climbers fell into a hidden crevasse.
The danger of crevasses is a theme that pursues us as we set out across the glacier, rounding The Aiguille de Toule where other, more daring adventurers are scaling the cliff faces on belay. We're roped together in groups of five and working our way across the snow. It means that you can neither walk too fast, or you'll leave too much slack between you and the climber in front of you to be safe if they fall, nor so slow that they end up pulling you uphill.
At one point, a member of our group asks if we can take a break to try to fix her trekking pole, and our guide Walter, who has thus far been warm and amenable brusquely says no, not yet.
"I'm not usually this strict, but here is a really dangerous spot where it's easy to fall through."
We move on for another 50 feet or so until we're on safer ground, and while she fixes her pole he points out to us how to spot crevasses. Where there are steeper slopes or depressions in the lay of the land, the slow-moving glacier tends to crack and split before solidifying again as it meets flatter terrain.
Walter explains that all you really need is an area about one meter wide and deep for a safe crossing, but without that, it's easy to plunge through the surface. If that happens, we're instructed to sit down, dig our ice axes into the snow and wait for rescue. The good news, he tells us, is that crevasses tend to form in the same area time and time again, so if you know the geography, you can predict where they might lie – another reason, I think, to come to these places with a guide.
When we reach our destination, we marvel at the alpine landscape spread out beneath us and muse at that mountaineer's experience of once-large problems suddenly shrinking into irrelevance when you reach the clouds.
"Or maybe it's just that we only have real problems up here. Like staying alive," proposes Walter.
The exhilarating hike is billed as beginner-friendly and suitable for those of us with no prior mountaineering experience. In total, we walk only 3.5 miles, and though it's hard work, before long we're back at the Refugio de Torino, a high mountain hut, where we sip world-class cappuccinos (after all, our guides point out, we're in Italy) and giddily revel in our adventure.
But the high stakes are not lost on me. This is a walk that guides take beginners out on almost daily, but between variable snow conditions, human error and the fast-changing weather found at high altitude, your safe return is never fully guaranteed.
"Don't rely on all the guides. They're only human beings. Get the training," Walter comments as we pass a group doing crevasse training, where they deliberately fall into a crevasse to practice survival and rescue skills.
Giving the glacier one last glance, I turn to board the gondola, now packed with tourists in shorts and T-shirt coming up for a photo opportunity, and I'm reminded of my friend and mountaineer Ellen Miller's mantra: respect the mountain.
What I wore for the glacier trek to Col d'Entreves
The Arc'teryx Alpine Academy will return to Chamonix in 2024. Details can be found at www.chamonix.arcteryxacademy.com
All the latest inspiration, tips and guides to help you plan your next Advnture!
Julia Clarke is a staff writer for Advnture.com and the author of the book Restorative Yoga for Beginners. She loves to explore mountains on foot, bike, skis and belay and then recover on the the yoga mat. Julia graduated with a degree in journalism in 2004 and spent eight years working as a radio presenter in Kansas City, Vermont, Boston and New York City before discovering the joys of the Rocky Mountains. She then detoured west to Colorado and enjoyed 11 years teaching yoga in Vail before returning to her hometown of Glasgow, Scotland in 2020 to focus on family and writing.