Can you wear toe socks for running?
If you suffer from blisters on your toes after a long run, you might just want to give your toes a little alone time with toe socks for running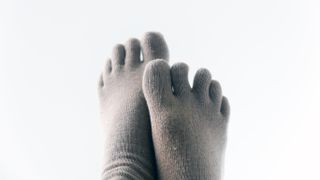 (Image credit: Mete Basar)
Do you suffer from annoying blisters on and around your toes after a long run? If so, there are a few quick blister-prevention actions you'll want to take, including trimming your toenails, re-considering the size and fit of your trail running shoes or road running shoes, and ensuring that your socks are made using moisture-wicking material, since damp socks leads to friction which causes those fluid-filled foes. But if you've tried all that to no avail, and you don't want to quit running, it might just be time to consider toe socks for running.
Yes toe socks. Those glove-like equivalents to the normal mitten-type socks you wear on your feet that you probably thought were a novelty item but actually come designed for various sports such as running and hiking. We recently wrote about the advantages of toe socks for hiking, and some of you want to know whether they can work for the faster-footed adventurer too. Read on to find out the pros and cons of wearing toe socks for running, and whether your toes could benefit from a little more personal space.
Can you wear toe socks for running?
You can definitely wear toe socks for running, and for all the same reasons as they can make a good choice for hiking. In fact, we gave the Injinji Outdoor Midweight Crew NuWool toe socks 4.5 stars for their performance on the trail in our pick of the best trail running socks, noting that they reduce rubbing, deliver great comfort and promote the natural movement of our feet and toes.
That said, whether or not toe socks for running work for you is probably down to personal preference, so read on for some of the possible pros and cons you'll experience when wearing toe socks on fast-paced adventures, and try yours out on a couple of shorter runs to see how you feel about them.
Toe socks for running: the pros
The main advantage of wearing toe socks for running is that your toes are separated from each other by fabric, as opposed to being bunched together the way they are in a normal sock. This carries three benefits. First, the reduction of friction caused by skin-on-skin contact means you will no longer be plagued by annoying and painful blisters on your toes, which will be a huge relief if this has been an issue for you.
Second, it means that the moisture-wicking fabric of your socks is coming into contact with your entire foot, including in between your toes, which means more sweat is being drawn away from your skin reducing a humid environment that can cause rubbing as well as encouraging fungus and bacteria to thrive.
Third, while there's no scientific study on this matter, champions of toe socks herald their ability to give your toes natural splay. When you're wearing a normal sock, your toes get pressed together a little, which some say inhibits your ability to use the muscles of your feet optimally, and certainly this feels true for me. Naturally, a wider toe box in your running shoes can help with this, but so can having a little fabric separating your toes. It's not exactly the same as wearing one of those foam separators when you're getting your toenails painted at the salon, but you get the idea. The slight splaying of your toes allows you to get full use of your toes and feet muscles while running, which could arguably improve your performance and lower your risk of repetitive stress injuries. Again, there's no study on this, it's just a theory.
Finally, toe socks are really pretty comfortable, so while they can look a bit weird, you really might be quite happy running in them.
Toe socks for running: the cons
Now for the disadvantages of toe socks. While you were reading about the slight splaying of your toes while wearing toe socks, you might have wondered how comfortable that is once your foot gets stuffed inside your running shoe. It's definitely true that your toes will take up a little more space when you're wearing toe socks, so you may need to reconsider your running shoes. I find that toe socks make my Hoka Bondi 8 road shoes a little too snug for comfort, but they feel fine with my Merrell MTL Long Sky 2 trail shoes which have a wider toe box to begin with.
Another disadvantage, which was brought up by my Advnture colleague Pat Kinsella, is how darn long the things take to put on. When you're short on time or just itching to get out on the trail, often the last thing you want to do is sit down and work each toe into its individual pouch. It feels great once they're on, and if you're prone to toe blisters, you'll consider it a small price to pay, but just know that the time component can feel like a burden.
Finally, while you can definitely fork out a lot for a good pair of regular running socks, in general a pair of toe socks for running will come at a more premium price, since they use more fabric and have a more detailed design. Again, if they make the difference between you limping or sprinting to the finish line, you won't mind a few extra bucks, but make sure to take good care of yours and trim your toenails to keep them lasting longer.
All the latest inspiration, tips and guides to help you plan your next Advnture!
Julia Clarke is a staff writer for Advnture.com and the author of the book Restorative Yoga for Beginners. She loves to explore mountains on foot, bike, skis and belay and then recover on the the yoga mat. Julia graduated with a degree in journalism in 2004 and spent eight years working as a radio presenter in Kansas City, Vermont, Boston and New York City before discovering the joys of the Rocky Mountains. She then detoured west to Colorado and enjoyed 11 years teaching yoga in Vail before returning to her hometown of Glasgow, Scotland in 2020 to focus on family and writing.