Ultra running tips: champion athlete Tom Evans reveals 12 secrets for success in training and races
British distance runner Tom Evans reveals 12 top ultra running tips, picked up from some of the world's toughest endurance events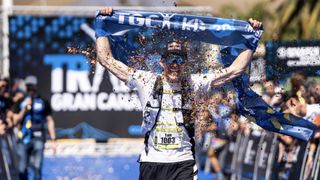 (Image credit: Red Bull Content Pool)
Ultra runner Tom Evans rose to fame in the ultra-running world in 2017 when he came third in the 251km desert ultra, the Marathon des Sables . After an enforced period away from the sports due to an injury that required surgery, the former British army captain returned this year with a comeback victory at the Transgrancanaria in the 62k Advanced category. Tom now has his sights on the UTMB Mont-Blanc in August.
But before that, Tom is taking on a different type of challenge as a Wings for Life ambassador. Taking place on May 8, virtual event Wings for Life challenges people from all over the world to start at the same time and push, run or walk as far as they can before the "Catcher Car" catches up to them and finishes their race. The faster you run, the further you go! Everyone's full entry fee goes to spinal cord research to find a cure for spinal cord injury.
With all his experience of endurance events, we asked Tom for his ultra running tips.
Tom's top ultra running tips
Tom has a wealth of experience of long-distance running. To be successful you need to train well but also pay attention to the details. Here are some of Tom's top ultra running tips for success.
1. Feel your pace
Running on how you "feel" is a really important skill. Try pacing some of your training without relying on your watch. While tools, such as the best GPS watches, are useful, there is no substitute for knowing your own body and being alert to the changes that take place as the event goes on.
That said, when it comes to Wings for Life I will be running as hard as I can to stay away from the catcher car!
2. Use tried and tested kit
Never race in new kit or clothing. Make sure that you use all your gear for at least a couple of long runs before race day. Anything that irritates you even a little bit on a short run will drive you nuts in an ultra.
3. Know your nutrition
Plan a nutrition strategy and practise it during your training session. Your stomach needs "training" to handle the amounts of carbs you need to consume during a long event.
Plan your caffeine strategy to help in low-energy moments. Regulated caffeine sources such as Red Bull are ideal.
Choose food and drink that you enjoy. It doesn't matter how high quality your sports nutrition, if you don't eat it because you don't fancy it. During long events your taste buds change and some runners find that milder flavours and salty foods appeal more than very sweet things.
4. Plan a station/checkpoint strategy
Learn the route and where each feed station and checkpoint will be. Have a plan for what you are going to do in each one, not just what you are planning to eat or drink, but also kitchanges or if you need to change batteries or charge any electrical devices. If you plan ahead, you won't waste time thinking about it all when you get to the station.
5. Carb up
Several days before your race, it's a god idea to focus on your nutrition, especially increasing your carbohydrate – also called carb loading – and ensure you are drinking plenty of water to help with storage and absorption.
6. Take salt
If you know your event is going to be hot, then slightly increase your salt intake in the days before if you know you sweat a lot or normally avoid salt in your food. Many runners will have salt tablets to hand if they need the during a race.
7. Think and plan, just in case
Mental preparation is critical to success in ultra races. You need to have a plan for every eventuality you can think of so that when something happens and you are tired, you don't have to think about what the action needs to be, you can just put the plan into action.
But, you also need to be mentally flexible. You cannot plan for every eventuality, life and racing always throws curve balls. Think about how you want to react when the unexpected happens.
8. Focus on a goal
Goal-setting is a really important part of your preparation and effective goal-setting is something that needs work. A finishing time or place is seldom a good goal.
Focus on the things you can control, such as following your nutrition plan, or how you pace hills. If you can say afterwards you ran your best race that is success, regardless of the outcome.
9. Go out in all weather
Don't dodge bad weather in training. See every very wet, cold or hot run as an opportunity to work on a skill you are going to need in a race one day. You can't control the weather, but you can control how you feel about running in it.
10. Sort your pre-race packing early
It's really basic but pack your kit bag a few days in advance so you can be 100% sure nothing is forgotten and if your favourite item of kit is not in the wash just when you need it. Also take the time to be sure of how much you are intending to carry. Packing in a hurry almost always leads to you carrying more than you need.
11. Think strong
It's a cliché, but it's your head not your legs that carry you through an ultra. During your run, be mindful of the environment you are in, the pleasure of being part of a big event and the camaraderie of other runners. If you can stay in the moment and enjoy it then it will help to keep you feeling strong and focused.
12. Recover well
Plan your recovery meals, particularly if you are doing a multi-day event. Think about your nutritional needs but don't neglect the psychological comfort and motivation of having a little treat to look forward to.
You can keep track of Tom Evans and his ultra running races.
All the latest inspiration, tips and guides to help you plan your next Advnture!
Fiona Russell is a widely published adventure journalist and blogger, who is better known as Fiona Outdoors. She is based in Scotland and is an all-round outdoors enthusiast with favourite activities including trail running, mountain walking, mountain biking, road cycling, triathlon and skiing, both downhill and back country. Her target for 2021 is to finish the final nine summits in her first round of all 282 Munros, the Scottish mountains of more than 3,000ft high. Aside from being outdoors, Fiona's biggest aim is to inspire others to enjoy the great outdoors, especially through her writing. She is also rarely seen without a running skort! Find out more at Fiona Outdoors.