Trekking poles vs hiking staff: which is best?
We tackle the debate over trekking poles vs hiking staff to find out which one comes up on top for hikers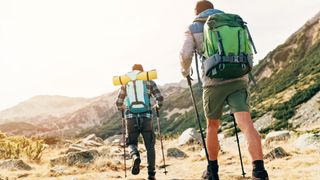 (Image credit: Getty)
There's no doubt that some kind of walking stick is useful on a hike, whether you need to take the strain off your knees on a steep downhill, maintain your balance on slippery terrain or whack your way through the overgrowth. Some of us have embraced the trend towards a lightweight pair of technical carbon trekking poles on hikes while others prefer to stride with a hiking staff or simply snatch a single good looking stick out of the woods. But are there any clear advantages of one over the other? In this article, we tackle the debate over trekking poles vs hiking staff to find out which one comes up on top for hikers.
What is the difference between a walking staff and a trekking pole?
First, what is the difference between the two? Trekking poles come in pairs and are usually made from aluminium or carbon with rubber or cork hand grips and wrist straps. Trekking poles are retractable and extendable and are used to help your arms bear some of your weight while walking, especially on the downhill, as well as for balance or to test terrain before you step.
A walking staff might conjure up images of Gandalf landing in Grey Havens as it's essentially just a single, long stick that can be made from a variety of materials – though usually wood – perhaps with a wrist strap, that you carry in one hand for a little support, to clear your path or test the waters when you're crossing a river. As we've mentioned, some people simply use a stick that they find on the trail, but you can also buy walking staffs from outdoors stores and even non-hiking stores.
It's worth noting that both walking staffs and trekking poles are considered hiking accessories and while some hikers wouldn't leave home without them, many people don't use either aid. If you are thinking of investing in something to give your knees a little more support but you're not sure which is best, read on to learn more about the differences and similarities between the two.
Trekking poles vs hiking staff: support
First, and most importantly, if you're considering using either trekking poles or a hiking staff, it's probably because you want some support, whether that's to keep you upright or take the strain off your knees. Because there are two of them, trekking poles definitely help you maintain your balance. If you stumble, no matter which way you start to fall, you have a decent chance of catching yourself before you go down because you have a pole in each hand. As we've discussed in our article on hiking injuries, some of the most common are strains and sprains, and while not all injuries are preventable, a pair of trekking poles can certainly help. They also provide good, even support for both of your knees by allowing you to transfer some of your weight into your arms.
A hiking staff can definitely give you some support, but of course you only use one so if you fall towards the side that isn't holding the staff, it doesn't do you a whole lot of good. For steep descents, a hiking staff really only supports the knee on the side that you're holding it in, which if you only have one bad knee could seem like enough, but it's definitely not going to give your knees the even support of a pair of trekking poles. For us anyway, trekking poles are the clear winner in giving you the best support.
Trekking poles vs hiking staff: technique
Another area where trekking poles differ from a hiking staff is how they help – or hinder – your technique while you're walking, which may be another reason why you're considering them in the first place. Though you shouldn't really use either as a replacement for working with a trainer to master good form, walking with trekking poles encourages you to use your whole body when you're walking. This can allow you to be more efficient and conserve energy, may speed up your pace and means you'll probably burn more calories. Though trekking poles can take a little getting used to, they don't require too much skill or any training to master. Learn more in our article on how to use trekking poles.
On the other end of the spectrum, a hiking staff probably doesn't do a whole lot to improve your walking technique. It may not hinder anything, but you'll definitely be adopting a more asymmetrical approach to walking, and at worst you might end up leaning to one side, or even limping, which could affect your gait, use more energy or simply slow you down. This is another area where we think trekking poles clearly have the upper hand.
Trekking poles vs hiking staff: versatility
Versatility is something we often look for in any item that's going to cost money – can it be adapted to suit your unique needs, and can it be used for anything else? When it comes to trekking poles, as we've already mentioned, they're typically adjustable, so you can set them to the right length for your body's proportions, and even adjust them between the uphill and the downhill when you're using them for both. Further, there are some tents and tarps that can work with trekking poles instead of tent poles, so if you're planning on doing some ultralight camping, you'll want to consider trekking poles to help lighten your load.
A hiking staff isn't particularly versatile, in that it's not adjustable in length and can't easily be used in place of a tent pole – though it can be great for air guitar – so again, we think trekking poles win out here but we'd be remiss if we didn't mention that you can of course use a single trekking pole as staff and therefore enjoy more versatility.
Trekking poles vs hiking staff: packability
In terms of transporting your poles or staff, the adjustability of trekking poles makes them easy to fit in your backpack. Most trekking poles these days fold up neatly and fit in the smallest of daypacks when you're not using them, which means that you can always have them on hand but you don't need to constantly be carrying them if you don't want to.
A hiking staff, meanwhile, is usually longer and since it doesn't fold up, the best way to carry it is by hand. You're not likely to carry it in your backpack, which isn't ideal if you're doing any scrambling and need both hands, but then again, if you're using a stick from the woods you can always toss it aside and find another one later. Even with that caveat, however, it's clear that trekking poles win out in the packability category, though again, you could use a single trekking pole.
Trekking poles vs hiking staff: cost
Finally, an area where the old school hiking staff might win out is the cost involved. You can definitely pick up a cheap pair of trekking poles for as little as $30 but for a really lightweight and high tech pair, you can be looking at over $150. Meanwhile, you could pick up a simple wooden hiking staff for as little as $15, and if you're using a stick from the woods then of course it's completely free.
Swipe to scroll horizontally
Trekking poles vs hiking staff

| Header Cell - Column 0 | Trekking poles | Hiking staff |
| --- | --- | --- |
| Support | Support on both sides, allow you to transfer some of your weight from your legs to your arms, especially helpful for your knees going downhill | Not as much support, only on one side |
| Technique | Can help you improve your walking technique, making you more efficient and faster | Doesn't really help technique, may cause you to lean to one side or limp |
| Versatility | Adjustable length, it's possible to use them as tent poles | Don't adjust, not usually a replacement for tent poles |
| Packability | Typically fold up and fit in a small backpack | Doesn't fold up or fit in a backpack |
| Cost | Range from $30 to over $150 | As cheap as $15 |
Trekking poles vs hiking staff: verdict
When you're deciding between trekking poles vs hiking staff, it's clear that the answer lies in your own needs. If you're looking for something that gives you really good support when you're hiking, helps improve your walking technique and packs away in your backpack when you're not using it, then trekking poles are clearly the way to go, and while they can be pricey, there are lots of great budget options out there.
However, if you just want something for light support, clearing the trail or looking like a wizard, you'll probably be totally happy with a hiking staff, and as we've mentioned, you could hike with a single pole, like a staff. It's also possible that you won't enjoy using either, so we recommend borrowing or renting them first and trying them out before you splurge.
All the latest inspiration, tips and guides to help you plan your next Advnture!
Julia Clarke is a staff writer for Advnture.com and the author of the book Restorative Yoga for Beginners. She loves to explore mountains on foot, bike, skis and belay and then recover on the the yoga mat. Julia graduated with a degree in journalism in 2004 and spent eight years working as a radio presenter in Kansas City, Vermont, Boston and New York City before discovering the joys of the Rocky Mountains. She then detoured west to Colorado and enjoyed 11 years teaching yoga in Vail before returning to her hometown of Glasgow, Scotland in 2020 to focus on family and writing.