12 hiking accessories to retrofit your kit
These lightweight, packable hiking accessories list will bring you comfort if things don't go as planned, and help keep you safe if things get out of hand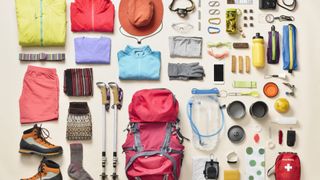 (Image credit: Yagi Studio)
Whether you're sprucing up your hiking kit or looking for a gift for the hiker in your life, our list of hiking accessories has you covered. If you're in the market for must-haves like hiking boots, backpacks and water bottles, start with our article on hiking essentials. This article goes into detail about smaller items that you certainly might be able to live without, but will definitely aid you in comfort if things don't go as planned, and can even help keep you safe if things get out of hand.
If you thought you were all ready to hike and are now discovering that there's 12 more items you need before you hit the trail, don't be alarmed. The hiking accessories on our list are all lightweight, packable and come in affordable options, and while we think they're all equally important, you won't need all of them for every hike.
1. First aid kit
The old adage of safety first is a good rule to live by when it comes to spending time in the outdoors. You might hike a hundred days and come home every time without so much as a scratch, but the one day you're five miles in and get a blister, trip and cut your hand or need an anti-inflammatory for a swollen ankle, you'll be glad to have a first aid kit. For an easy fix, check out our list of best first aid kits for hiking, or for a more thorough approach, read our article on building your own first aid kit. We recommend bringing a first aid kit on all hikes.
2. Navigational tools
We love the best navigation apps as much as the next hiker, but if you're heading out into the backcountry, you really should bring a map and/or compass (and know how to use it). We know they might sound old fashioned, but they can be more accurate than a GPS device and they never run out of batteries. If you're hiking a well-marked trail that you walk weekly, you might forego any navigational tools, but bring these for new hikes.
3. Sun protection
Sunburn and heat stroke are no laughing matter and can even be fatal when hiking in the desert. Always bring sun protection with you on a hike, even if the forecast calls for clouds. This category actually involves more than one item, as you should pack sunscreen, sunglasses and a brimmed hat for each hike. And yes, you even need sun protection in winter.
4. Hiking poles
Not everyone considers hiking poles an accessory but not everyone considers them essential either so we're adding them to the list. Hiking poles are not just for old people or those with knee injuries. They're great for taking the load off your knees on long, steep descent and keeping you upright in rocky, icy conditions. These days, they come in ultra light, folding designs that can be stashed in your backpack and only pulled out when you need a little support.
5. Rain cover
Even the best backpacks aren't always completely waterproof and in a deluge, your electronics and lunch might get soggy which can range from annoying to disastrous. Keep a rain cover in your backpack on all hikes and throw it over the top if the heavens open.
6. Bivy sack
While it might seem like overkill for a short day hike, a bivy sack is an excellent piece of emergency gear for a longer, more adventurous hike. These incredibly lightweight and compressible sleeping sacks can save your life if you ended up spending an unplanned night in the wild and are definitely easier and cheaper than carrying a sleeping bag everywhere you go.
7. Water filter
Once again, if you're heading out on a short day hike on a trail you're familiar with and that is well used, a water bottle might be enough. But if disaster hits and you get lost, trapped by weather or injured, you don't want to add to your danger level by drinking contaminated water. Carry a water filter and you'll never have to worry about going thirsty in the wild again. We particularly like designs like the Lifestraw which isn't much bigger than a pen and water filtration tablets also take up little room in your pack.
8. Folding knife
A folding camping knife is a quintessential piece of kit we think should go with you on any hike. You might just want it to cut up some cheese for your lunch, but it becomes indispensable if you need to fix your gear or cut into clothes to make emergency bandages.
9. Headlamp
We often think of this item as reserved for camping, but it's a good idea to carry a headlamp on hikes, especially if you're leaving early, hiking in winter or out on a long day hike which could easily run over. If you do find yourself on the trail after sunset, you want to know exactly where you're placing your feet and highlight any low hanging branches after all.
10. Binoculars
How many times have you been out on a hike and wished you had a set of lenses to zoom in on some distant speck on a mountain or rare bird sighting? Of all the hiking accessories on our list, binoculars seem the most luxurious but the trade off for a little room in your pack is being able to magnify the wonders of nature, and after all isn't that why you get outdoors in the first place? Plus, with so many lightweight options these days, you'll barely notice the extra weight.
11. Lighter
Any time you're setting out on a hike, bring a lighter or a box of matches in a sealed ziploc bag. If you end up spending a night in the wild, your ability to build a fire could be the difference between life and death. Make sure to test your lighter regularly too to make sure it still works.
12. Portable charger
This is another one that you might only carry on more adventurous treks, but one more modern convenience for to consider for your list is a solar-powered portable charger. If you're relying on your phone or GPS device for safety and navigation, you might be out of luck if they run out of juice which can happen easily in bad weather and extreme temperatures.
All the latest inspiration, tips and guides to help you plan your next Advnture!
Julia Clarke is a staff writer for Advnture.com and the author of the book Restorative Yoga for Beginners. She loves to explore mountains on foot, bike, skis and belay and then recover on the the yoga mat. Julia graduated with a degree in journalism in 2004 and spent eight years working as a radio presenter in Kansas City, Vermont, Boston and New York City before discovering the joys of the Rocky Mountains. She then detoured west to Colorado and enjoyed 11 years teaching yoga in Vail before returning to her hometown of Glasgow, Scotland in 2020 to focus on family and writing.