What is 'scrambling' in hiking?
In this post, we answer the question "what is scrambling?" and provide further insights into how scrambling compares to regular hiking, climbing, and mountaineering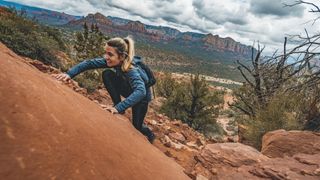 (Image credit: Getty)
Even if you're relatively new to the world of hiking, the chances are you've already heard mention of something called "scrambling?" But what is scrambling? In hiking parlance, scrambling refers to an activity that is, essentially, a middle ground between hiking and moderate rock climbing. This bare-bones definition, however, fails to do justice to something that is a stand-alone recreational activity all of its own, has thousands of dedicated participants the world over, and has far more nuance than the oversimplified handle of "hiking-climbing hybrid" suggests.
Below, we explain the various ins and outs of scrambling and take a look at the types of scrambles you could take on when ready to make the step up from two- to four-limbed travel in the mountains.
What is 'scrambling' in hiking? A definition (or two)
The Cambridge Dictionary defines scrambling thusly: "to move or climb quickly but with difficulty, often using your hands to help you."
While we'd be loath to quibble with the custodians of our language, we have two points of contention with the above definition. First of all, scrambling does not have to be done quickly – in fact, the steepness of the terrain tackled when scrambling is such that attempting to go quicker than a crawl is highly inadvisable. Secondly, a more accurate definition would swap the "often" for an "always", because the precise point where hiking becomes scrambling is, in fact, that at which your hands are required to safely negotiate the terrain.
We'll attempt our own in-a-nutshell answer to the question "what is scrambling in hiking?" here:
Scrambling is the act of using both your hands and your feet to progress safely in steep, often exposed backcountry terrain.
What is scrambling in hiking? The grading system for scrambles
Different countries around the globe use different systems to grade the difficulty of scrambling routes. Below, we've added a brief overview of what to expect on scrambles of varying grades in the UK and US Yosemite Decimal Scale (YDS) systems.
Grade 1 UK/Grade 2 YDS
A route on which you'll need to use both your hands and feet without making any "technical" (read: difficult, as in rock climbing) moves. These routes have limited exposure and, in most cases, do not require the use of ropes.
Some examples of Grade 1 UK scrambles include the Ledge Route on Ben Nevis and Devil's Ridge in the Mamores. Grade 2 YDS scrambles include Mt. Sneffels southeast ridge route in Colorado and the Blueberry Ledge Trail on New Hampshire's Mt. Whiteface.
Grade 2 UK/Grade 3 YDS
Scrambling on steeper terrain with increased exposure. While these routes are unlikely to require sustained technical moves, there may be a few sections that feel more like easy rock climbing than advanced hiking (see: What is hiking?). Examples of Grade 2 UK scrambles include Crib Goch on Snowdon and the Aonach Eagach Ridge in Glencoe; popular grade 3 YDS scrambles stateside include the Sawtooth on Colorado's Mt. Evans and Zion National Park's increasingly infamous Angels Landing (see: Why do so many people die at Angels Landing?)
Grade 3 UK/Grade 4 YDS
These scrambles are, essentially, moderate rock climbs. You can expect plenty of exposure, more technical moves, and in most cases will need to use a rope, harness, and helmet for safe progression. Examples of grade 3 UK scrambles include the Isle of Skye's epic Cuillin Ridge, Curved Ridge on the Buchaille Etive Mor, the Lake District's Pinnacle Ridge, and Elbow Ridge in the Peak District.
What is scrambling in hiking? Five rules to follow on your scrambles
If you're interested in giving scrambling a try, here are five tips that will help you do so safely:
Maintain three points of contact with the rock at all times To help maintain balance and ensure you'll be able to prevent a fall if you slip.
Wear appropriate footwear Grippy rubber outsoles will make a big difference, as will a stiffer "climbing zone" in the toe (a feature found on many of our best hiking shoes and best hiking boots).
Test handholds before committing your weight to them …because you never know when you'll come across a loose one!
Gear up On all but the most basic scrambles, it's a good idea to wear a helmet and rope up with your partner. Even if you are confident in your ability to negotiate the scramble, you never know when you might lose balance as a result of a loose handhold or rocks knocked down by scramblers above you on the route.
Up is easier than down Downclimbing is always much more difficult than upclimbing, mainly because of the difficulty of spotting suitable footholds and handholds from above. This being so, it's best to find a walk-off route for your descent rather than trying to climb back down the same way you go up.
All the latest inspiration, tips and guides to help you plan your next Advnture!
Former Advnture editor Kieran is a climber, mountaineer, and author who divides his time between the Italian Alps, the US, and his native Scotland.
He has climbed a handful of 6000ers in the Himalayas, 4000ers in the Alps, 14ers in the US, and loves nothing more than a good long-distance wander in the wilderness. He climbs when he should be writing, writes when he should be sleeping, has fun always.
Kieran is the author of 'Climbing the Walls', an exploration of the mental health benefits of climbing, mountaineering, and the great outdoors.