Wetting out: why it happens and what you can do about it
By Julia Clarke published
Unexpectedly soggy on the trail? Understanding how wetting out happens and what you can do about it can help you stay protected on your hikes, no matter the weather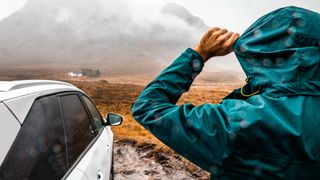 (Image credit: Artur Debat)
Have you ever set off on a rainy adventure armed with your best waterproof jacket only to discover that after a while you're soaked through? This common mishap, known as "wetting out," plagues hikers in rainy climes and can make for a chilly day on the trail, or worse, pose the risk of hypothermia once you become unable to dry off. Understanding how wetting out happens and what you can do about it can help you stay protected on your hikes, no matter the weather.
Wetting out: why it happens
As we explain in our article on layering in hiking, your layering system should draw moisture away from your skin and out towards the surface where it can evaporate, leaving the base layer next to your skin dry.
The outermost layer on a wet day will of course be made of a breathable waterproof fabric, which is designed to both repel external moisture, and allow internal moisture such as sweat to evaporate out. Most waterproof jackets are made using two or three layers, the external layer being treated with a Durable Water Repellent (DWR) finish that repels rain and an inner membrane that allows moisture to travel away from your skin.
Though your best waterproof jacket should hold off light rain on a hike, wetting out happens during sustained rainfall, when the air around you cannot contain any more moisture. When the DWR on your waterproofs starts to wear off and you find yourself in heavy, continuous rain, the outer layer of your jacket becomes saturated and the moisture building up on the inside has nowhere to go, leaving your mid layer soggy.
Wetting out: what you can do before you hike
Though you can't control the weather, you don't have to stay home any time it rains. In fact, there are two things you can do that will help to prevent wetting out from occurring.
1. Wash your gear
First, you can ignore the myth that washing your waterproof gear will ruin its ability to keep the rain out. When dirt particles build up on your waterproofs, it can prevent the DWR from doing its job, so washing them can actually help restore their function. That said, there's a few precautions to take so make sure you read our article on how to wash your waterproof jacket and trousers before you head to the laundry.
2. Rewaterproof your gear
Not everyone knows that you can also rewaterproof your jacket and trousers. When these items are new, you should be able to see the rain form a pleasing bead on their surface and roll away, keeping you warm and dry inside. When the DWR starts to wear off, the water will soak through meaning it's time for you to rewaterproof. Fortunately, this is an easy process that we outline in our article on how to waterproof a jacket.
These two steps will help mitigate the effects of finding yourself in a deluge, and will make your waterproof clothing last longer, keeping them out of landfills and saving you a pretty penny.
Wetting out: what you can do about it on the trail
There are some other measures you should take if you're planning on a rainy hike or if you're already on the trail and find yourself unexpectedly caught in one.
1. Choose synthetic over down
The first is to wear a synthetic mid layer rather than a down jacket. Though down is generally speaking warmer, it doesn't insulate when wet as explain in our article on down vs synthetic insulation. Synthetic insulation continues to keep you warm when wet, so it's always the better choice for rainy days. More and more, leading brands are manufacturing their synthetic jackets using recycled materials, such as The North Face Thermoball Eco Jacket, which lessens the impact of these items on the environment.
2. Unzip
It may seem contrary to common sense to unzip anything in a downpour, but if your jacket and hiking pants have venting zips, use them! This will allow trapped moisture to escape quickly.
3. Pack extra layers
Finally, it can be a good idea to carry an extra base layer and mid layer in your backpack. If the rain is relentless, these too will eventually soak through, but they will provide extra protection and warmth in the meantime.
Julia Clarke is a staff writer for Adventure.com. She is an author, mountain enthusiast and yoga teacher who loves heading uphill on foot, ski, bike and belay. She recently returned to her hometown of Glasgow, Scotland after 20 years living in the USA, 11 of which were spent in the rocky mountains of Vail, Colorado where she owned a boutique yoga studio and explored the west's famous peaks and rivers. She is a champion for enjoying the outdoors sustainably as well as maintaining balance through rest and meditation, which she explores in her book Restorative Yoga for Beginners, a beginner's path to healing with deep relaxation. She enjoys writing about the outdoors, yoga, wellness and travel. In her previous lives, she has also been a radio presenter, music promoter, university teacher and winemaker.
All the latest inspiration, tips and guides to help you plan your next Advnture!
Thank you for signing up to Advnture. You will receive a verification email shortly.
There was a problem. Please refresh the page and try again.