How to waterproof a jacket: stay dry with our easy, step-by-step guide to reproofing
Follow these simple steps on how to waterproof a jacket to rejuvenate the performance, extend the life of your shell and enjoy days on the trails no matter the weather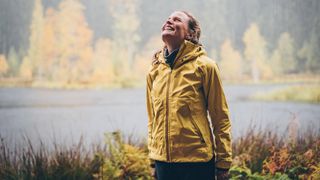 (Image credit: Getty)
Knowing how to waterproof a jacket could save you a pretty penny. If you've been hiking for long enough, you'll have got to that moment when your previously heroic waterproof jacket stops repelling the gnarly conditions and starts letting them in instead. When this happens, you'll either feel a tinge of sadness that your once mighty jacket has failed you, or annoyance at its treachery and the fact you now have to fork out for a new one. Or do you?
Being able to waterproof a jacket removes the need to splash (excuse the pun) out on a new jacket. Your waterproof shell's first line of defence is its Durable Water Repellent (DWR) coating, a thin layer that can be compromised by the onslaught of wind, rain, terrain, mud, UV rays and everything else the outdoors throws at it.
So, how do you know when it is time to start the reproofing process? With a fully waterproof jacket, you should see water bead on the fabric, pleasingly rolling off like rain on a car windscreen. Eventually, once the DWR is past its best, water will start to soak in, finding its way through to your inner layers and also stopping moisture from escaping the other way. This happens to even the best waterproof jackets, so it is inevitable at some point.
Fortunately, our guide is here to show you how to bring your jacket back to its rain repelling best.
How to waterproof a jacket: step-by-step instructions
1. When to reproof
This depends heavily on use – how dirty is your jacket and how much abrasion has it suffered from hiking backpack straps and rock faces? To test whether it needs reproofing, pour water onto the shoulders and arms of your jacket. If the water beads on the surface there's no need to take action: if it soaks in ("wets out") it's time for a re-proof.
2. Clean your washing machine
The residue of detergent washing powders is kryptonite to DWR (check out our 'What is DWR?' explainer), so it's important to clean out the powder drawer of your washing machine, and ideally put the machine through a wash cycle with nothing in it to make sure it's clean.
3. Wash your jacket
Choose a specialist cleaner, such as Nikwax Tech Wash or Grangers Performance Wash, pour the recommended dose into the detergent drawer of your washing machine, and set the temperature according to the jacket's care instructions. A full cycle at 85°F/30°C is normally about right. Don't be tempted to stuff your entire outdoor wardrobe into the machine – for optimum performance no more than two jackets should be washed at the same time. Make sure to empty the pockets and zip up all zippers of the jacket before washing. For more detailed instructions, read our article on how to wash your waterproof jacket and trousers.
4. Reproof your jacket
There are two options here to waterproof a jacket. Firstly, use a waterproof spray such as Granger's Performance Repel Plus or Nikwax TX.Direct Spray-On, and apply to a clean, damp jacket from a distance of about 15-20cm. Wipe away any surplus spray after a few minutes.
Alternatively, use a wash-in waterproofing agent, such as Nikwax TX.Direct Wash-In or Grangers Clothing Repel. Pour the recommended dose of the wash-in cleaner into the detergent drawer of your machine and wash again on a full cycle. After washing, hang up the jacket to dry.
To save time, there are two-in-one wash and reproof products, such as Grangers Wash & Repel Clothing 2 in 1.
5. Boost the DWR
To optimise the DWR finish, tumble dry the jacket (if its care instructions allow), or use a hairdryer to apply modest heat to the surface of the fabric. Using an iron on a very low heat has the same positive effect, but make sure there is a tea towel between the iron and the jacket, and keep the temperature on the lowest setting.
6. Check the seams
As a final step, check that the internal taped seams are still intact and in place. If not, use a glue, such as Stormseal Seam Sealer or Stormsure Flexible Repair, to re-attach the seams. If the seam has perished, you can do a DIY repair with 20mm, iron-on seam seal tape, which is specially made for three-layer laminate fabric jackets.
All the latest inspiration, tips and guides to help you plan your next Advnture!
After spending a decade as editor of Country Walking, the UK's biggest-selling walking magazine, Jonathan moved to edit Outdoor Fitness magazine, adding adrenaline to his adventures and expeditions. He has hiked stages or completed all of the UK's national trails, but was once overtaken by three Smurfs, a cross-dressing Little Bo Peep, and a pair of Teletubbies on an ascent of Snowdon. (Turns out they were soldiers on a fundraising mission.)