How to wash waterproof trousers
By Julia Clarke
We explain how to wash waterproof trousers so they're fresh for your next adventure, and still keep you dry on rainy days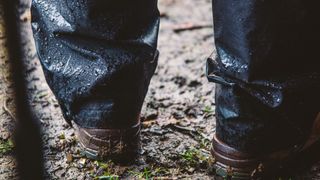 (Image credit: Jia Liu)
Though you certainly don't need to wash your waterproof trousers after every use, it's a common misconception that washing them will cause damage. In fact, you can machine wash your waterproof trousers so long as you take a few precautions, and doing so might make them function better. In this article, we walk you through how to wash waterproof trousers so they're fresh for your next adventure, and still keep you dry on rainy days.
Oftentimes, we avoid putting our waterproof gear in the washing machine for fear it will wash off the Durable Water Repellent (DWR) treatment, but it may actually be the dirt on your waterproof trousers that's causing the problem by covering up the DWR. If you've noticed that your waterproof trousers are letting moisture in and you haven't washed them in a long time, don't throw them away or re-waterproof them just yet. Start by washing them and you might find they act like new again.
While you're freshening up your gear, you might also be interested in our handy guides to cleaning your tent and cleaning your backpack.
1. Buy a gear clear for technical outerwear
In preparation for washing your waterproof trousers, it's important to know that you never want to use ordinary detergent, as this actually can break down the waterproof coating. Get yourself a gear cleaner designed for outerwear.
2. Prepare your waterproof trousers
Using a soft brush or damp cloth, brush off any dirt or dust that you've picked up on the trail. Close any zips and fasten any flaps, poppers or buttons.
3. Prepare your washing machine
Since you don't want to wash your waterproof trousers using regular detergent, take a damp cloth and quickly wipe out the detergent compartment of your washing machine to make sure it's clear. Then add your gear cleaner to the detergent compartment according to the instructions on the bottle.
4. Wash your waterproof trousers
Place your waterproof trousers in the machine. You can wash them alongside one other waterproof item, like your waterproof jacket, but don't add any other items in with your wash. Wash your waterproof trousers on a gentle, 30-degree cycle (occasionally waterproof trousers can take a 40-degree wash, so consult the label for exact details).
5. Dry your waterproof trousers
Generally speaking, you should air dry your waterproof trousers – though some will take a low heat tumble dry, you should consult the label for instructions.
6. Re-waterproof your trousers
This step is not necessary every time you wash your trousers, but when you notice that your trousers are absorbing water instead of rain beading and rolling off them, it's time to follow our step-by-step guide to re-waterproofing your garments.
Julia Clarke is a staff writer for Adventure.com. She is an author, mountain enthusiast and yoga teacher who loves heading uphill on foot, ski, bike and belay. She recently returned to her hometown of Glasgow, Scotland after 20 years living in the USA, 11 of which were spent in the rocky mountains of Vail, Colorado where she owned a boutique yoga studio and explored the west's famous peaks and rivers. She is a champion for enjoying the outdoors sustainably as well as maintaining balance through rest and meditation, which she explores in her book Restorative Yoga for Beginners, a beginner's path to healing with deep relaxation. She enjoys writing about the outdoors, yoga, wellness and travel. In her previous lives, she has also been a radio presenter, music promoter, university teacher and winemaker.
All the latest inspiration, tips and guides to help you plan your next Advnture!
Thank you for signing up to Advnture. You will receive a verification email shortly.
There was a problem. Please refresh the page and try again.