What is ecotherapy? How time in nature improves your health
A newer approach to mental health called ecotherapy focuses on the benefits of outdoor activity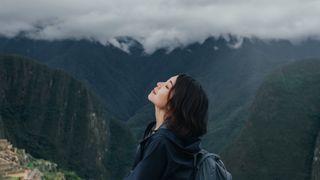 (Image credit: Getty Images)
Many of us hit the trail to blow off steam after a long day at the office, and now some clinicians are actually prescribing outdoor activity as a form of therapy in a practice called ecotherapy.
Proponents of ecotherapy claim it offers an impressive array of proven benefits from pain reduction to stress relief. We've covered some of the mental health benefits of outdoor exercise in our article on green exercise, and here we dive into some different ways of engaging with nature that ecotherapy practitioners say may also support your physical and mental health.
So what is ecotherapy?
What is ecotherapy?
Ecotherapy, sometimes called nature therapy or green therapy, is a clinical practice rooted in the theory that your health is directly impacted by your surroundings and uses physical interaction with nature as a tool for healing. Ecotherapy is the practical application of ecopsychology, a term coined by a group of scholars, environmentalists and psychologists in the mid 1990s to describe the study of the relationship between humans and the earth.
In principle, there's nothing new about ecotherapy. Indigenous cultures have always been shaped by the belief that there is a direct connection between human health and the natural world. But 250 years after the onset of the industrial revolution markedly reduced the amount of time most humans spend outdoors, the impact of nature on human health has become clearer than ever before. As a result, ecotherapy has been gathering steam in recent years, even being named a top wellness trend of 2020 (opens in new tab).
How does ecotherapy work?
In simple terms, the idea behind ecotherapy is that your health depends on the health of the ecosystem you live in. Without clean air to breathe, pure water to drink and fertile soil with which to grow your food, your physical health will clearly suffer. Even when those things are in abundant supply however, not having regular interaction with your natural environment, known as nature deprivation, may have serious health implications according to the International Journal of Environmental Research and Public Health (opens in new tab), with disorders like anxiety and depression increasingly on the rise as humans spend more and more time on screens.
Ecotherapy gets you to engage in a wholesome activity in a natural environment, such as a garden or mountain. According to Florence Williams, author of the bestselling book The Nature Fix (opens in new tab), this has an almost instant therapeutic effect (opens in new tab) on your body and mind, with benefits ranging from improved immunity to happiness. She explains that getting away from screens and traffic removes the volume of artificial sensory input that is constantly stressing your nervous system, and the mental health organization Mind (opens in new tab) says that engaging in an activity while you're there, like meditation or gardening, gives your mind something productive and nourishing to focus on.
What are the benefits of ecotherapy?
The suggested benefits of Ecotherapy are wide-ranging. A 2018 review (opens in new tab) cited it for helping with pain reduction, ADHD, obesity, medical recovery and stress as well as improving mood, creativity, productivity and problem solving ability. And the benefits don't just stop at your personal health – one study even suggests that it lowers crime rates and improves community cohesion (opens in new tab).
How do you practise ecotherapy?
While there is no one singular definition of ecotherapy, it generally involves working with a qualified therapist in a natural setting such as a forest or a beach, and engaging in an activity that requires you to interact with your surroundings. And while data from publications like Extreme Physiology and Medicine suggest that outdoor exercise like hiking can have some amazing health benefits, (opens in new tab) the activity can actually be almost anything.
Here are a few common ecotherapy practices:
Exercising in nature
Also known as green exercise, taking your workout outdoors is believed by some to surpass the benefits of exercise in a gym, particularly when it comes to your mental health. According to an article from Business Insider (opens in new tab), in addition to the serotonin high you get from your workout, you'll experience increased levels of Vitamin D which can balance your melatonin levels, helping to regulate your sleep cycle.
Nature meditation
There's a good reason why meditation retreats traditionally took place high in the mountains and deep in the forest – in nature, you can both minimize the distractions that stress your mind and nervous system, and tune your senses back into the sounds and smells of nature which has been linked to reduced blood pressure in articles like this one from Scientific Reports Nature Research (opens in new tab). Best of all, you don't have to shell out on an expensive trip to the Himalayas to reap these benefits – a nearby beach or a quiet spot under a tree at your local park can provide plenty of inspiration.
Forest bathing
The Japanese practice of forest bathing, which involves immersing yourself in a forest environment rather than actual bathing, has been linked to reduced blood pressure, lower cortisol levels and improved concentration and memory according to Dr Qing Li (opens in new tab) from the Nippon Medical School in Tokyo. He believes the chemical phytoncide, which is released by trees and plants, provides a boost to the immune system and has the power to counter certain illnesses.
Gardening
In addition to the obvious health benefits of gardening such as growing healthy food and physical activity, there's a growing body of research suggesting that horticulture has some serious mental health benefits, such as this article from Psychiatric Nursing (opens in new tab) linking it to improved mood and concentration. The article explains that since disorders like anxiety and depression are often linked to feelings of isolation and disconnection, something as simple as tuning in to the seasons through what's growing currently in your garden can be a great way to reconnect with your surroundings. It also focuses your mind on the task at hand.
Conservation projects
Getting involved with projects that help restore the earth is a fantastic way to develop a sense of purpose and support the health of the planet. Programs like trail maintenance, tree planting and community gardens are great opportunities to help you connect to nature in a positive, constructive way and form meaningful relationships with other like-minded individuals.
Julia Clarke is a staff writer for Advnture.com and the author of the book Restorative Yoga for Beginners. She loves to explore mountains on foot, bike, skis and belay and then recover on the the yoga mat. Julia graduated with a degree in journalism in 2004 and spent eight years working as a radio presenter in Kansas City, Vermont, Boston and New York City before discovering the joys of the Rocky Mountains. She then detoured west to Colorado and enjoyed 11 years teaching yoga in Vail before returning to her hometown of Glasgow, Scotland in 2020 to focus on family and writing.
All the latest inspiration, tips and guides to help you plan your next Advnture!
Thank you for signing up to Advnture. You will receive a verification email shortly.
There was a problem. Please refresh the page and try again.