What is skijoring? The winter sport you can do with your dog
What is skijoring? We look at the historic sport that combines snowy recreation with exercising your pet to keep you and your canine companion in shape through the colder months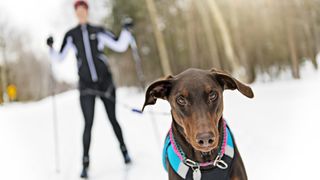 (Image credit: LSOphoto)
So you're looking for a winter sport that keeps you outdoors in colder months but you also have a dog that needs regular exercise? Ice skating, resort skiing and ice climbing are probably off the list, but don't worry, you need look no further than skijoring. What is skijoring, you ask? In this article, we take a look at this unusual winter sport that combines snowy recreation with exercising your canine companion to keep you both in shape through the colder months.
What is skijoring?
Skijoring is a type of cross country skiing where you are pulled by a dog (or dogs), a horse or sometimes even a vehicle.
Like most traditional types of skiing, skijoring is believed to have started out thousands of years ago as a mode of transportation. There is evidence that people during the Yuan and Ming dynasties of China used dogs to pull them on skis, while the Sami people who are indigenous to Nordic countries are known to harness reindeer to pull them across snow-covered landscapes.
Reindeer skijoring has been an official sport of the Nordic games since 1901. The Swiss and French picked it up around 1912 and started using horses, and equine skijoring took off, making its way to North America where it was used by the 10th Mountain Division to return home after the war, and also as a form of recreation in snow states.
Equine skijoring, where a skier is pulled behind a horse being ridden by a second person, has only appeared once in the Winter Olympics so far, all the way back in St Moritz in 1928. Today, equine Skijoring remains a niche but thriving sport in states like Colorado, Montana, Idaho, Wyoming, Minnesota and Wisconsin.
Meanwhile, skijoring with dogs has kept a bit of a lower profile, but there are some dog skijoring races held in North America, Scandinavia and Russia and it is picking up as a form of recreation. In fact, it's not completely unusual to see folks out doing it in places where you might go snowshoeing or cross country skiing these days.
What does the word skijoring mean?
The word "skijoring" is derived from a Norwegian word meaning "ski driving" and denotes the action of steering your animal instead of relying solely on your own locomotion, the way you would with typical cross country skiing techniques. When anglicized, the "j" is pronounced but in Norwegian, it is pronounced like a "y."
That said, when skijoring with your dog, you're not actually pulling on reins to steer. Instead, you'll use voice commands and rely on your dog's instinct to pull. And while your dog is certainly pulling hard, you're not relaxing in the backseat; instead, you're using your legs and poles to ski in your typical nordic skiing technique and your dog is supporting your effort so you can go faster.
What skijoring equipment do you need to get started?
Well, for starters, you'll need one to three medium to large sized dogs. There are lots of different breeds of dogs used in skijoring, from huskies, sled dogs and mastiffs to pointers, shepherds and golden retrievers. In addition to being of medium to large size, your dog shouldn't be a puppy or too old, should be in good physical shape and respond to voice commands well.
To hook up with your dog, you'll need to wear a specialized harness around your waist that has a quick release system in case your dog goes off piste, and a proper pulling harness for each of your dogs.
Then, you'll need a rope to connect your harness to your dog's. The rope should be 10-12ft long and have a little bit of stretch in it, to help with the initial jolt when your dog takes off and to take up any slack.
Obviously, you'll need a pair of cross country skis – both classic and skate skis work – as well as cross country ski boots, bindings and poles. And you'll want to dress for cross country skiing with clothing like a good base layer for wicking away sweat and protecting you from the cold.
Finally, remember to bring water for both you and your dog. Cross country skiing is thirsty work and it's even harder for your dog. You'll want to clip your bottle to your belt and bring a collapsible bowl.
Is skijoring good for dogs?
As long as your dog isn't too small, too young or old and is active and healthy, skijoring can be great exercise for your dog. Remember that you're not relying entirely on your dog's effort and this is a joint effort. Naturally you don't want to do it in extreme cold conditions, and you'll need to have a practice run to see if your dog is up to the task, but if they respond well, consider this an excellent winter sport with incredible benefits for both you and your furry friend.
All the latest inspiration, tips and guides to help you plan your next Advnture!
Julia Clarke is a staff writer for Advnture.com and the author of the book Restorative Yoga for Beginners. She loves to explore mountains on foot, bike, skis and belay and then recover on the the yoga mat. Julia graduated with a degree in journalism in 2004 and spent eight years working as a radio presenter in Kansas City, Vermont, Boston and New York City before discovering the joys of the Rocky Mountains. She then detoured west to Colorado and enjoyed 11 years teaching yoga in Vail before returning to her hometown of Glasgow, Scotland in 2020 to focus on family and writing.