What to wear cross country skiing: dress for the ultimate winter workout
By Julia Clarke
Knowing what to wear cross country skiing is all about protecting yourself from the cold while not getting overheated on the inside so you can glide with ease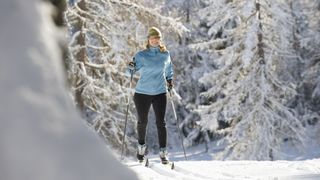 (Image credit: Westend61)
Knowing what to wear cross country skiing is more than just wrapping up warm on a cold day. In fact, as we've previously mentioned, cross country skiing is one of the best cardiovascular workouts around and you're likely to work up quite a sweat even in the coldest of weather. Whereas you might own insulated ski pants, gloves and jackets for downhill skiing, cross country skiing requires a whole different wardrobe.
Dressing for cross country skiing is all about protecting yourself from the cold outside while not getting overheated on the inside and managing moisture from perspiration so that you can glide with ease and don't get chilled if you slow down or stop. Instead of bundling up, you'll want to wear breathable, lightweight layers that allow unrestricted movement and can be removed as needed, and work together to quickly move sweat away from your body, known as moisture wicking.
Base layer
The first layer on your upper body should be a lightweight, long sleeve base layer made of wool or a synthetic material that will draw sweat away from your body. Make sure it has lots of stretch so you can move properly without rubbing.
Mid layer
You'll want an insulating layer over your base layer, such as a light fleece jacket or perhaps a light softshell jacket. This should be one you can tie around your waist if you get hot.
Outer layer
On very cold days or if there's a wind, wear a windproof layer on top, such as a hardshell waterproof jacket.
Tights
Rather than insulated ski pants or overalls where you'll overheat and won't be able to move as freely, you'll want to wear cross country ski tights that allow lots of movement and are meant for sweating in. Choose a thicker pair that offer some wind resistance if you're planning going out on colder days.
Headwear
A fleece headband is ideal for cross country skiing, to cover your ears and keep the sweat out of your eyes without being too warm. You can also wear a thin beanie.
Thin, mid-calf socks
You don't want thick, knee high ski socks as these will likely be too warm. Opt for lightweight, thin socks and go for mid-calf since cross country ski boots don't come up as high as alpine boots.
Liner gloves
Leave your bulky ski gloves at home and go for thin liner gloves like trail running gloves that wick sweat away from your hands and allow you to grip your poles properly and remove layers without having to take them off.
Cross country ski belt
Needless to say, you'll need something to carry your water and perhaps outer layers, but a backpack will hinder your movement, so invest in a cross country ski belt which you wear around your waist to carry your gear.
Julia Clarke is a staff writer for Adventure.com. She is an author, mountain enthusiast and yoga teacher who loves heading uphill on foot, ski, bike and belay. She recently returned to her hometown of Glasgow, Scotland after 20 years living in the USA, 11 of which were spent in the rocky mountains of Vail, Colorado where she owned a boutique yoga studio and explored the west's famous peaks and rivers. She is a champion for enjoying the outdoors sustainably as well as maintaining balance through rest and meditation, which she explores in her book Restorative Yoga for Beginners, a beginner's path to healing with deep relaxation. She enjoys writing about the outdoors, yoga, wellness and travel. In her previous lives, she has also been a radio presenter, music promoter, university teacher and winemaker.
All the latest inspiration, tips and guides to help you plan your next Advnture!
Thank you for signing up to Advnture. You will receive a verification email shortly.
There was a problem. Please refresh the page and try again.