Why buy an inflatable tent?
By Julia Clarke
Long eschewed by traditionalists, advances in technology make inflatable tents an attractive alternative for those seeking a hassle-free camping experience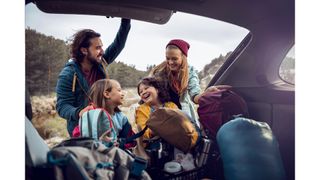 (Image credit: Marko Geber)
Why buy an inflatable tent? It's the question pitting camping purists against modern, hassle-free campers and we're here to try to answer it for you.
Tents in general have come a long way in the past 20 years, much to the relief of those of us who grew up wrestling with tent poles that never seemed to fit the canvas until we cried tears of frustration. Nowadays, tents come in all shapes and sizes to fit a variety of purposes, and in addition to traditional pole tents, many outdoor retailers are rolling out inflatable tents that you can blow up with a pump in a matter of minutes.
Are inflatable tents as good as pole tents?
Understandably, when making a tent purchase you're going to be concerned about quality, but we've already done a deep dive on the question of air tents vs. pole tents which found the durability and quality of the two to be largely comparable. Contrary to popular belief, inflatable tents aren't necessarily any heavier than pole tents of a similar size, but you do of course need to factor in the pump, which takes up more space.
So, if you're looking for a backpacking tent, you'll probably want to skip this for now and head straight to our handy guides to one-person or two-person tents, since you definitely don't want to be carrying a pump on the trail. But, if you're car camping with your family or heading out on the festival circuit, you'll definitely want to give inflatable tents a second look.
Here are a few compelling arguments we've uncovered for buying an inflatable tent:
Speedy assembly
Honestly, if you have hungry kids that need your attention or your favorite band is about to hit the stage, you don't want to spend one more second than you have to on pitching your tent. By far the best benefit to inflatable tents is the speed with which you can assemble them and best of all, no matter the size of the tent, they can all be erected by one person. Roll your tent out of the back of your car, attach the pump and within minutes your tent is standing strong and you're relaxing and having fun.
No missing or broken poles
A missing or broken tent pole can definitely put a damper on your camping experience, from making your tent less stable to tearing at the fabric meaning a cold night and a costly repair. Inflatable tents replace the traditional poles with inflatable beams that are integrated into the tent itself so there's no worry of poles getting broken in transit, setup or bad weather. Of course, there are other things that can go wrong, like forgetting the pump, but we still consider this to be a hefty advantage.
They withstand the elements
This is another area where a traditionalist might assume that a pole tent offers more protection, but if you're camping in extreme weather, you might actually prefer the inflatable option. Due to its built-in beams, rather than poles, the inflatable tent will flatten in a strong wind which would otherwise run the risk of snapping your tent poles and even ripping the fabric.
Easy repairs
When it comes to big ticket items like cars, it's true that the more technologically advanced they get, the more difficult it often becomes to repair them on your own. The same is not true, however, for inflatable tents. Like most camping repairs, you can probably tend to anything minor on your own, as long as you come prepared. A small tear in an inflatable tent can be temporarily dealt with using good old duct tape.
Quick breakdown
The end of a camping trip when you're tired and ready for your own bed always seems to contain twice the hassle. You have to break down and pack up your campsite only to have to unpack everything again when you arrive home. Short of making a costly investment in a camper van, an inflatable tent is the best solution we can think of to make this process as painless as possible. You use the pump at the end of your trip to quickly deflate the tent and before you know it, you're packed up and hitting the road.
Julia Clarke is a staff writer for Adventure.com. She is an author, mountain enthusiast and yoga teacher who loves heading uphill on foot, ski, bike and belay. She recently returned to her hometown of Glasgow, Scotland after 20 years living in the USA, 11 of which were spent in the rocky mountains of Vail, Colorado where she owned a boutique yoga studio and explored the west's famous peaks and rivers. She is a champion for enjoying the outdoors sustainably as well as maintaining balance through rest and meditation, which she explores in her book Restorative Yoga for Beginners, a beginner's path to healing with deep relaxation. She enjoys writing about the outdoors, yoga, wellness and travel. In her previous lives, she has also been a radio presenter, music promoter, university teacher and winemaker.
All the latest inspiration, tips and guides to help you plan your next Advnture!
Thank you for signing up to Advnture. You will receive a verification email shortly.
There was a problem. Please refresh the page and try again.