Why walking helps us think: a philosopher's take
We ask a scholar for some ideas on why walking helps us think as well as strengthening our lungs and legs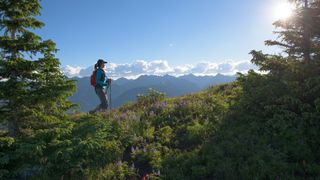 (Image credit: Jack Affleck)
Do you find that walking helps to clear your mind in addition to tiring out your legs? You're not alone. While many of us get out in our hiking boots because hiking is good exercise, many famous walkers and great thinkers have long theorized that regardless of destination or even the view, the very act of walking provides a source of inspiration, clarity of thought and perhaps even expansion of consciousness. So what is the connection between walking and thinking? We recently attended a talk with British scholar and researcher Graeme Tiffany at the Fort William Mountain Festival called "The Philosophy of Walking" where he lent us a few ideas on why walking helps us think.
Tiffany, who is published in Contemporary Approaches to Outdoor Learning, has a background in youth work, community education and community development, work which has involved him in introducing young people to the practice and benefits of getting outside, sometimes for the first time. He revealed that for him, walking's impact on the mind became apparent as early as childhood.
"My mother had very many children, and when there was havoc going on in the house, she would announce 'I'm off for a walk, to clear my mind.' She'd go off and she'd come back refreshed," recalls Tiffany. Though he doubts his mother had ever read Nietzsche, he points to this idea being a common thread in the German philosopher's work, who said "Walking empties the mind (...) in order that new thoughts can become present."
Whether it's focusing on uneven ground, the rhythmic, physical exertion, the distraction of beautiful views, the distance from technology today, or an elixir of all of the above, it seems undeniable that walking allows us to set aside some of the mental chatter and into that new void, devise new ideas, formulate new perspective. In fact, while we usually correlate hiking with recreation and tend to associate recreation with hobbies and pastimes, Tiffany points out that the origins of the word come from the Latin for "to recreate" hinting that recreational activities aren't just a way to pass time – they can give us an opportunity to start anew in our perspectives and approach to life.
Rather than deliver us hard, scientific answers, Tiffany outlined several more subtle lines of inquiry that might explain why walking helps us think or if nothing else, give you some food for thought on your next hike.
1. Walking gives us a gradual immersion into a place
The first aspect of walking that Tiffany points to is that no matter where you're going, when you travel on two feet you have time to be present with the act of arriving, which may be healthier for your mind than hopping on a redeye flight after dinner and simply waking up on a new continent. Furthermore, when you walk anywhere, you get yourself there rather than relying on someone else to drive, fly or steer you, which may be more empowering.
"Walking gives us a gradual immersion into a place," he says, paraphrasing Michael Palin in his 1997 documentary series about long journeys titled Full Circle. Of course, the sights, sounds and smells you experience while hiking also help your mind to tune in more deeply to your surroundings than sitting on a high speed train with earphones in, staring at a screen.
When you walk, Tiffany surmises that you get to experience "landing slowly," which gives you time to process your experience and participate with the journey in a way that can increase your awareness of being there.
2. Walking slows time down
Leading on from the first point, not only does walking adopt a pace more supportive of engagement and reflection, Tiffany remarks that it also seems to have a way of slowing time down.
Now obviously, if you run 5km you'll get to your destination faster than if you walk the same distance, but if you try running for an hour, you'll notice that time seems to go faster than if you walk for the same amount of time. When it comes to travel, you will definitely save many hours by jumping on a plane, but you usually feel like you just lost a day in transit, a feeling you never have when you take a day-long walk.
"It is a truth universally accepted that one saves time travelling only two hours from one point to another instead of spending eight hours on the same journey, writes Erling Kagge in the book Walking: One Step at a Time. "While this holds up mathematically, experience teaches us the opposite: time passes more quickly when I increase the speed of travel."
In other words, the faster we go, the less we are able to focus on our surroundings and embody our experience, and instead of gaining time, we seem to lose it in momentum. In comparison to a more rapid pursuit like trail running or mountain biking where you might be more focused on your technique or pace or not falling, walking is a natural and leisurely enough activity that it offers you a means to reflect on life and the world, and not just about how to put one foot in front of the other. Perhaps it's from this opportunity for reflection that you might finally have time to consider more than just the mundane nature of the daily tasks and obligations that probably keep you occupied for most of the day and some of the night, and be more immersed in learning new things.
3. Walking expands our moral concerns
Going deeper, Tiffany muses that walking and the time it gives us to reflect may not be solely for personal benefit, but even for the greater good. In discussing Plato's characters Socrates and Phaedrus, he posits that when the two men get out of the city and take a long walk together in nature, it teaches them to expand their moral concerns beyond just humans and to animals and plants. This is an area we've previously written about in our article titled Plus size hiker – if we don't spend time with nature, how can we possibly know it's worth protecting?
To further cement this final point, Tiffany turns to Thoreau who is famous for his treatise Walden in which he reflects upon spending time in nature as being a means of escaping the restrictive binds of capitalism and.
"For him, walking is the epitome of this – a metaphor that draws attention to the distinction between profit and benefit."
Perhaps, when you're not thinking about the reward at the end, you receive more in return without taking from anyone else.
All the latest inspiration, tips and guides to help you plan your next Advnture!
Julia Clarke is a staff writer for Advnture.com and the author of the book Restorative Yoga for Beginners. She loves to explore mountains on foot, bike, skis and belay and then recover on the the yoga mat. Julia graduated with a degree in journalism in 2004 and spent eight years working as a radio presenter in Kansas City, Vermont, Boston and New York City before discovering the joys of the Rocky Mountains. She then detoured west to Colorado and enjoyed 11 years teaching yoga in Vail before returning to her hometown of Glasgow, Scotland in 2020 to focus on family and writing.