Yoga for leg strength: hike stronger with these 7 moves
Our yoga for leg strength poses make sure the time you spend on your yoga mat benefits you on the mountain, too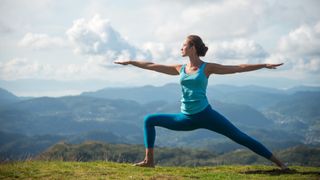 (Image credit: Tatiana Kolesnikova)
Plenty is known about the therapeutic effect of yoga for hikers and backpackers as a means of restoring mobility and recovering from long days on the trail, but yoga can also be a great training ground for activities like hiking. Strong hamstrings, quads, glutes and calves all help power you up that steep slope more efficiently, as well as preventing injuries by keeping you from becoming overly tired, so it's no question that leg strength is a good thing for hikers.
While hiking itself is a great way to strengthen your lower body, you might be looking to add some training on the days when you can't be on the hill. Not everyone has access to a gym, or can indeed tolerate the thought of entering one, but approached in the right way, lots of yoga poses can be great for strengthening your lower body and can be done at home. Our yoga for leg strength poses can be practiced on their own or peppered through your existing yoga practice to make sure the time you spend on your yoga mat benefits you when you're out in your hiking boots, too.
For these poses, we've focused on four of the main muscle groups that need to be strong to support you on your hiking adventures, and will also benefit runners and skiers. Strengthening your hamstrings, quads, glutes and calves doesn't just make you more efficient in the mountains, it helps stabilize your low back, pelvis, knees and ankles to offset pain and injury too. When adding in new exercises to your routine for the first time, it's a good idea to consult a qualified physical therapist or trainer to ensure you are doing them correctly. We suggest holding each pose for 5 - 10 slow breaths then repeating once or twice more if you feel like you can.
One legged bridge
Strong hamstrings are key to pulling you up those steep slopes. Bridge is an extremely common yoga pose, and it's really easy to do it in a way that largely bypasses your hamstrings, but change it up just a little and you'll feel your hamstring quiver. Lie on your back, bend your knees and lift your hips. To bring your hamstrings online, move your right foot a little closer to the center of your mat and lift your left leg up. Now, without moving your right foot, energetically drag it backwards on your mat to feel your hamstrings turn on.
Pointer dog
This pose is favored by physical therapists and yoga teachers for teaching balance and strengthening your core, but it can also be a great way to strengthen your glutes against gravity which helps with climbing. Come to your hands and knees and draw your abdominal muscles in. Left your left arm and extend your right leg back behind you, keeping it straight so your hamstrings don't muscle their way in and let your glutes take the back seat. Now, squeeze your right glutes to lift your leg higher, but keep your abdominal muscles engaged and try not to let your lower back dip down – even though that feels like it lets you lift your leg higher, it's not your glutes that are doing it.
Chair pose on tiptoes
Chair pose is often used to strengthen your quads, but done a little differently it can also be a bit of a calf burner and strong calves help to stabilize your ankles on long treks. You can start this pose from a standing forward bend if it's okay for your low back. Bring your feet together and come high up onto your tiptoes. Slowly bend your knees a lot as though you were sitting down on a chair, then keep your heels up and your knees bent, lift your chest and reach your hands towards the ceiling. Keep lifting your heels and pressing the tops of your feet forward to keep your calves working.
Warrior 3
Warrior 3 is a great pose to strengthen your glutes and your hamstrings at the same time while you're working on balance, so it has all kinds of benefits for hikers. From standing, shift your weight into your right foot and draw your left knee up to your chest. Make a small bend in your right knee then lean your chest forward and extend your left leg straight back (no need to extend your arms forward here if it bothers your low back). This strengthens your right leg hamstrings, kind of like doing a single leg deadlift, and if you squeeze your left buttocks, it targets your glutes too.
Crescent lunge
Because both feet are on the ground in crescent lunge, it can be quite easy to just hang out here, but it's a great pose to strengthen your quads when you do it in a specific way. From standing, step your left foot back and bend your right knee so it's more or less over your ankle. To target your quads here, bend your back knee a little, and then energetically drag your feet towards each other to feel your quads on both legs light up. Stay here in a static position, or slowly bend and straighten your front leg to move in and out of the pose a few times.
Goddess pose
Goddess pose is a quad shredder at the best of times if you don't rest your hands on your thighs. Add in one extra move and it becomes a calf burner too. Step your feet wide, turn your toes out and bend your knees, using the strength of your outer hips to press them wide. You can bring your hands together in front of your heart here so you're not tempted to use them for support. After a few breaths, rise as high as you can up onto your tiptoes and hold.
All the latest inspiration, tips and guides to help you plan your next Advnture!
Julia Clarke is a staff writer for Advnture.com and the author of the book Restorative Yoga for Beginners. She loves to explore mountains on foot, bike, skis and belay and then recover on the the yoga mat. Julia graduated with a degree in journalism in 2004 and spent eight years working as a radio presenter in Kansas City, Vermont, Boston and New York City before discovering the joys of the Rocky Mountains. She then detoured west to Colorado and enjoyed 11 years teaching yoga in Vail before returning to her hometown of Glasgow, Scotland in 2020 to focus on family and writing.